The writing is on the wall, or rather on the blackboard.  It is more and more apparent that Houghton Mifflin Harcourt does not consider Channel One News an important part of its company.
In 2014 Houghton Mifflin acquired the assets of Channel One from ZelnickMedia for an undisclosed amount of money. Obligation believes the amount was zero dollars, or ZelnickMedia paid Houghton Mifflin to take the company off their hands.
This HMH press release is about a new social studies product for K-6 grades.  Social studies and current events used to be what Channel One was suppose to be about.  Although this new HMH Kids Discover Social Studies curricula is in the form of a magazine, the release mentions HMH has digital content that will augment the magazine.  Channel One wasn't mentioned and that is odd.
Linda Zecher was the CEO of Houghton Mifflin when they acquired Channel One.  When Zecher was terminated last year, Channel One employees knew their future employment was in doubt.
Hopefully soon Channel One News the great commercial exploiter of schoolchildren will go dark for good.
Houghton Mifflin Harcourt Launches Next Generation Social Studies Program for Grades K-6 to Inspire Connections Between Students and their World
HMH Kids Discover Social Studies provides easily digestible content in a student-friendly magazine-style format that brings history and geography to life 
Feb 21, 2017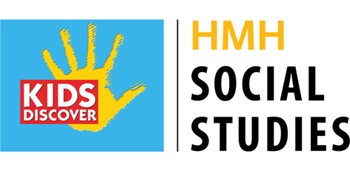 BOSTON – Global learning company Houghton Mifflin Harcourt (HMH) today announced the release of HMH Kids Discover Social Studies ©2018, its social studies curricula for grades K – 6. The standards-based program includes a wide array of history and geography materials that develop active inquiry skills among elementary students. Presented in a student-friendly magazine-style format, HMH Kids Discover Social Studies combines hands-on lessons with digital assets that allow students to experience content in a fun, bold and engaging manner.
Built in partnership with Kids Discover, a leading provider of dynamic, engaging Science and Social Studies curriculum, this next generation curricula series supports both ELA and Social Studies requirements for reading, critical thinking and skills support so teachers can confidently implement cross-curricular instruction while preparing students for college, career and beyond.
"As our new generation of informed citizens, it's critical that elementary students develop active analytical skills early on in their lives," said Mary Cullinane, Executive Vice President and Chief Content Officer, Houghton Mifflin Harcourt. "This innovative core program takes a new approach by providing teachers the opportunity to foster inquiry among young learners and help them establish meaningful connections with the world around them through immersive learning experiences."
Key HMH Kids Discover Social Studies components that inspire curiosity and cultivate analytical skills for students include: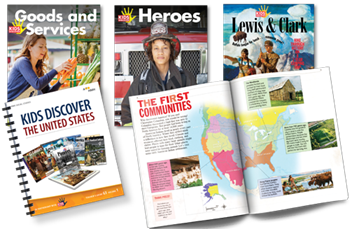 Integrated Activities and Projects: Intellectually challenging questions and access to primary sources frame the teaching and learning inquiry path, providing students with the experience to think and act like historians;
Streamlined Student Magazines: Engaging bite-sized informational text, containing captivating photography, illustrations and facts that bring history and geography to life;
Online Student Center: Digital access to Student Magazines with full audio support in English and Spanish;
Educator Support: Print Teacher Guides, the Online Teacher Center and Professional Learning Services that give educators the necessary support and scaffolding to enable student success.
"Today's learners are hungrier than ever for material that will tap into their innate curiosity," said Ted Levine, President and CEO, Kids Discover. "Educators are eager to provide learning experiences that will engage and excite. This program delivers on both fronts."
HMH Kids Discover Social Studies is available via Ed: Your Friend in Learning, the online learning system that personalizes the teaching and learning experience for teachers and students by combining the best technology, HMH content and instruction. Both digital and print versions of HMH Kids Discover Social Studies will be available for the 2017-18 school year. For more information or to sign up for a free trial, please visit hmhco.com/kids-discover-social-studies.
##
About Houghton Mifflin Harcourt
Houghton Mifflin Harcourt (NASDAQ:HMHC) is a global learning company dedicated to changing people's lives by fostering passionate, curious learners. As a leading provider of pre-K–12 education content, services, and cutting-edge technology solutions across a variety of media, HMH enables learning in a changing landscape. HMH is uniquely positioned to create engaging and effective educational content and experiences from early childhood to beyond the classroom.  HMH serves more than 50 million students in over 150 countries worldwide, while its award-winning children's books, novels, non-fiction, and reference titles are enjoyed by readers throughout the world. For more information, visit www.hmhco.com.
Follow HMH on Twitter, Facebook and YouTube.
About Kids Discover
For more than 25 years, Kids Discover has been creating beautifully crafted nonfiction products for kids. With a specialty in science and social studies, the team of talented writers, award-winning designers and illustrators, and subject experts from leading institutions is committed to a single mission: to get children excited about reading and learning. For information, please visit kidsdiscover.com.
Media Contact
Meghan Kelly Daly
617 351 5270
Houghton Mifflin Harcourt
Meghan.Daly@hmhco.com