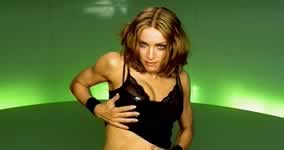 Developing story: Madonna's recording company, Maverick Records, is now
a very significant advertiser on Channel One News. Channel One is running
a major contest that is loaded with problems for teachers, principals and
school boards. On Channel One's web site the "top story" of the
day, a Monday, was the introduction of this contest. (Nothing else must
have been going on in the world over the weekend.)
In 1992, Madonna did two things: she put out the hardcore pornographic
book, The Sex Book, and she also began Maverick Records with Warner Brothers.
Maverick wants Channel One to promote its record label and one of its newest
singers, Michelle Branch. Students as young as eleven are being asked by
Channnel One to enter a contest co-sponsored by Channel One and Madonna's
Maverick Records. The winner will get Maverick's Branch or another artist
under contract to Madonna to perform a concert at the winner's school.
Channel One is instructing children who enter the contest to secure a
letter from their principal agreeing to the use of the school to promote
Madonna's record company, singer and Channel One. Channel One requires
permission to be given for Channel One's "news" crew to film
the whole affair.
Obligation's Metrock said, "No public school principal has the right
to misuse government-owned buildings to promote any private company much
less Madonna's record company. Using a school gym to promote the financial
interests of Channel One and Madonna could be the last official action
of that administrator."