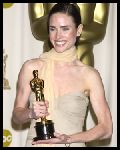 The Oscars returned to Hollywood last night for the first time since 1960. Lucky for school kids, Channel One's studio is in Hollywood so it was easy for them to cover this important current event.
Below is part of today's transcript.
[OSCAR WRAP]
[AIRDATE=03/25/02]
[PRO=ENAS]
[TALENT=KRYSTAL]
(KRYSTAL ON CAM)
IT WAS AN EXCITING NIGHT IN HOLLYWOOD BECAUSE THE STARS WERE OUT FOR THE 74TH ANNUAL ACADEMY AWARDS…AND DERRICK SHORE HAS A WRAP UP OF THE OSCAR WINNERS. HEY DERRICK
(DERRICK ON CAM)
HEY KRYSTAL – I'M IN HOLLYWOOD AND IT WAS AN EXCITING TIME FOR ALL THE ACTORS, ACTRESSES, PRODUCERS AND DIRECTORS HONORED FOR THEIR WORK. AND THE WINNERS WERE:
(FS)
JENNIFER CONNELLY FOR BEST SUPPORTING ACTRESS FOR HER ROLE IN "A BEAUTIFUL MIND."
(FS)
JIM BROADBENT FOR BEST SUPPORTING ACTOR IN "IRIS."
(FS)
AND HALLE BERRY MADE SOME HISTORY… SHE BECAME THE FIRST BLACK WOMAN TO EARN THE BEST ACTRESS OSCAR FOR HER ROLE IN "MONSTER'S BALL."
(FS)
AND DENZEL WASHINGTON WALKED AWAY WITH A BEST ACTOR AWARD FOR "TRAINING DAY…. AND THAT'S ONLY THE SECOND TIME A BLACK **MAN** HAS WON THAT AWARD.
(FS)
RON HOWARD WON FOR BEST DIRECTOR FOR THE MOVIE "A BEAUTIFUL MIND"
(FS)
AND FINALLY, THE OSCAR FOR BEST PICTURE… "A BEAUTIFUL MIND."
(DERRICK ON CAM)
A BEAUTIFUL MIND ENDED UP WITH FOUR OSCARS… THE SAME AS THE LORD OF THE RINGS – THE FELLOWSHIP OF THE RING. AND FOR THE FIRST TIME IN 42 YEARS, THE OSCARS WERE ACTUALLY HELD IN HOLLYWOOD… THE CEREMONY'S BEEN HELD IN DOWNTOWN LOS ANGELES SINCE 1960.
Obligation's Jim Metrock said, "This is revolting. It is hard to imagine one second of school time being taken up with Academy Award nonsense. I guarantee the state graduation exam will not have one question like "Who won the Oscar for best supporting actor in 2002?". It comes down to this: A school that wastes time with Channel One is wasting tax money and their school board is a discredit to the community for allowing that to happen."