From Jim Metrock:
Channel One News has to find new revenue sources.
So they are selling magazines. And books, CDs, and DVDs.
As we reported, Channel One is now in the business of marketing these products to young people that visit their web site. Their "Shop" section is a bold move for this controversial company.
Channel One offers a few books and CDs for young visitors to buy. Once a child clicks on "Buy It" he or she is taken to a screen that says one is leaving Channelone.com and is going to Amazon.com. They warn that there will be some products there that are not endorsed by Channel One.
Nice try, Channel One News, but it won't work. You cannot escape responsibility to the children by using language like this.
Once a child is on Amazon.com they can simply type in "Playboy" or another age-inappropriate magazine or book or CD or DVD and there it is. Channel One instructs children to have a credit card ready for their purchases on Amazon. There is no firewall to prevent a child from going all over the Amazon site.
Channel One News is simply dumping children onto the Amazon site and hoping they make a purchase.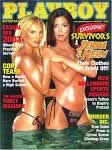 Channel One drives kids to Amazon and if a purchase is made, then Channel One makes some money. Will Channel One make money from sale of a Playboy subscription to a 7th-grade student? We don't know for sure, but it looks that way. We have asked Channel One for clarification. If I receive a reply, it will be published here.
This is very similar to the disaster Channel One suffered in 1998 when they linked their site to a website called The Mining Company, which later became About.com, which later became a sister company to Channel One when Primedia purchased the company in 2000. The Mining Company had links to hardcore porn. When Trey Ireland, a Shelby County school board member, waved a thick binder with the porn links that were just a few clicks away from Channelone.com, Channel One's newly-hired VP of Education, Paul Folkemer, was almost speechless in the Shelby County boardroom. Channel One ended their linkage to the Mining Company but it was too late for many schools. Shelby County, for one, withdrew their 18,000 students who had been watching Channel One for 8 years, in large part due to the recklessness of their web team.