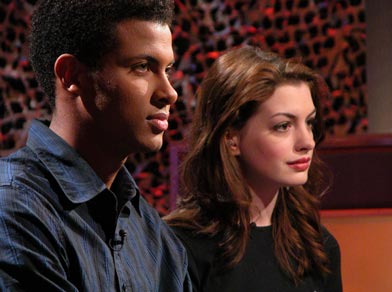 Photo from www.channelone.com
Money passed hands. The deal was sealed. Anne Hathaway would get an opportunity to talk directly to millions of young people while they were at their desks at school.
Who is Anne Hathaway? And why would she want to appear on classroom TVs?
She is an actress that has a movie coming out in April. Miramax movie studio paid Channel One News so Hathaway could become a "news anchor" in order to plug her movie.
Doing this is unethical; it violates Channel One's own "news standards" that they handed out to educators several years ago; it is a journalistic disgrace, but this is what Channel One does. Under its current president, Jim Ritts, Channel One News has prostituted itself in about every way it can. Channel One routinely sells anchor positions to music artists, TV and movie stars and sports stars. If someone needs to pitch a product to kids, then Channel One has a "anchor" position for sale.
The picture above is from a photo gallery Channel One put on their web site to further promote Hathaway's movie (Ella Enchanted – PG). The photos were taken right before or right after the taping of the show. The man is Errol Barnett. He is a regular "news anchor" for the show. When he is teamed with a guest news anchor, his job is to be the "set-up" person. He is instructed to ask something like, "What have you been up to?" Then, of course, the guest anchor says something like, "Well, funny you asked. I have a new movie coming out next week."
Ms. Hathaway was on screen for longer than 45 seconds but that is the amount of time we will consider as promotional time for herself and her movie. Multiplying 45 seconds by 6,000,000 students (a rough estimate of Channel One's audience) means that Ms. Hathaway wasted 75,000 student hours just to plug her movie.
This young actress ought to hang her head in shame. She wasn't concerned with wasting learning time for millions of children. She wants to make a bundle of money with this movie and she interrupt school time to promote it. Taxpayers shouldn't be subsidizing this movie or any other movie.
Here is the last part of the script from the March 23 show:
GOODNIGHT]
[AIRDATE=3/23/04]
[PRO=ENAS]
[TALENT=ERROL & ANNE]
ERROL: AND AS ALWAYS, THANK YOU FOR THOSE COMMENTS. AND THAT'S
IT FOR NOW, BUT BEFORE WE HEAD OUT … ANNE – I KNOW THAT YOU
HAVE A NEW MOVIE COMING OUT APRIL 9TH, "ELLA ENCHANTED." WHAT
MANY PEOPLE DON'T REALIZE IS THAT YOU WERE THE FIRST AND ONLY
TEEN ADMITTED TO AN AWARD-WINNING ACTING PROGRAM IN NEW YORK.
ANNE: YEP. YEP.
ERROL: WHICH IS
AMAZING. WHAT WOULD YOU SAY TO TEENS OUT THERE ABOUT PURSUING
THEIR OWN ACTING CAREER?
ANNE:
UM, I'D HAVE TO TELL YOU, MAKE SURE YOU GET AN EDUCATION
BECAUSE, UH, IT'LL-IT'S REALLY GOING TO SET YOU APART AND
IT'LL SERVE
YOU VERY, VERY WELL. AND, UM, AND, YOU KNOW, DON'T BE AFRAID
TO HAVE MORE THAN ONE DREAM, YOU KNOW, JUST, AND JUST FOLLOW
THAT. MAKE SURE YOU'RE PASSIONATE ABOUT IT, REALLY, IS
ALL.
ERROL: DEFINITELY, A
VERY GOOD MESSAGE. AND DON'T FORGET YOU CAN LEARN
MORE ABOUT ANNE BY HEADING TO CHANNELONE.COM AND CLICKING
ON – WHAT ELSE – 'Q&A WITH ANNE HATHAWAY.'
ANNE: AND, IF I MAY,
UM, MY LITTLE BROTHER, TOM, GOES TO A CHANNEL ONE SCHOOL,
SO I JUST WANTED TO SAY – TOM, GOOD LUCK WITH LACROSSE AND
LATIN.
ERROL:
HE IS THE COOLEST KID IN CLASS RIGHT NOW. WE'RE OUT
OF TIME. THANKS FOR BEING HERE.ANNE: THANK YOU SO MUCH FOR
HAVING ME.
ERROL:
WE'LL SEE YOU GUYS LATER.
ANNE: ALL RIGHT, BYE!
Obligation's Jim Metrock said, "These students don't need Ms. Hathaway telling them to get an education. They are sitting in class and it is Ms. Hathaway that is wasting their time plugging her movie. If this lady really cared about kids getting an education, she would never have agreed to appear on Channel One News. Can't Miramax advertise this movie without coming into the school house?"