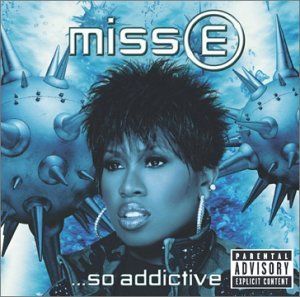 * Song title from Missy Elliott.
Missy Elliott is a rap singer whose lyrics are filled with violence, graphic sex and an incredible amount of drug references. Her musical world is an ugly, raunchy, doped up world.
This week Channel One News is promoting Ms. Elliott's latest endeavor – a TV show on UPN. Channel One is helping to sponsor a contest to help give her better name-recognition with middle and high-school students. Channel One is playing up the angle that she is helping a domestic violence nonprofit, but anyone who knows her music sees the irony in that. Elliott makes millions with her violence-drenched lyrics.
Elliott's record label needs more kids to buy her sleazy records. If you don't know her music, please take a look at some of her more "respectable" lyrics below.
Rolling Stone magazine says, "Missy also speaks out in favor of drugs ("X-tasy"), sex ("Dog in Heat"), violence ("Slap! Slap! Slap!")."
Why would Channel One News promote a singer whose music encourages children to use drugs and alcohol? Why would they promote a singer who uses every gutter profanity ever uttered? Why glorify violence?
Obligation's Jim Metrock said, "Channel One's web site is a children's web site. Children even younger than 10 come to their site. It is just wrong to promote this explicit artist to kids. Jim Ritts may see nothing wrong with treating children this way. Jeff Ballabon may see nothing wrong with the utter filth in her songs. Beverly Chell may think there is a constitutional right for Ms. Elliott to sing pro-drug songs, but I bet most people would be appalled at Channel One's poor decision to help Missy Elliott advertise her vulgarity."
Thanks
to David Bott, a Colorado teacher, who informed Obligation of
Channel One's Missy Elliott contest.
Warning: The lyrics below are from a few of the tamer songs of Missy Elliott. The lyrics below may not offend Channel One News fat cats, but they are very explicit:
]
[Missy]
Uhh, yo
This is for my m***** f *****g club heads, you feel me?
AAAAOOW!!
[Missy]
People, gangstas, and pimps and people
Smokin that deeper reefer
Up in the club wit speakers
I had some base and tweeters
DJ is jockin needle
Sweat till I catch a fever
Call me the illest diva
Yo I'm on FIRE!!!!!
People go head and drink up
Get in the club get f****d up
See me you got get lucked up
Someone to touch your rubber
Show me some love, strip off your clothes, and take off your socks
[HOOK:]
This is for my people, my party people
This is for my people, my m***** f *****g people
C'mon, c'mon, get down, get, get on down
C'mon, c'mon, get down, get, get on down
This is for my people, my party people
This is for my people, my ecstasy people
C'mon, c'mon, get down, get on down
C'mon, c'mon, get down, get, get on down
[Missy]
I'm at the bar now, and I'm buying drinks
And I got this feeling, and it's all over me
I wanna dance with you, and lick your face
Take me on the dance floor to feel some ecstasy
—-
P***y don't fail me now
I gotta turn this nigga out
So he don't want nobody else
But me and only me
I know hes a man and men have intentions
To sleep with someone else
But that's why when I make love to him
Im ruling
Try to give him my best hey
P***y don't fail me now
I gotta turn this nigga out
So he don't want nobody else
But me and only me
P***y don't fail me now
I gotta turn this nigga out
So he don't want nobody else
But me and only me
As long as the p***y good
Its alright
Aint gotta worry about my man
Cuz he knows ma's
Is one of a kind
And that's why he keeps staying
The p***y good
Its alright
Aint gotta worry about my man
Cuz he knows ma's
Is one of a kind
And that's why he keeps staying
[Verse 2: Missy]
Strange muthaf**ka's wanna be my nigga
Turn your man to a ass-licker
Cheatin ass men means, cheatin as men
Time to stop gamin and stay the f**k in
Fell the rhythm, I'm bout to kill em
Beware of the dogs, off the chain
F**k your whips at the club we piss in the parkin lanes
Blow it up ten frames so you see it wide
If your broad ain't f**kin she don't need to ride (beat it)
She can crawl in the trunk with her knees inside
by the spare, she hungry I'll feed her fries
Cause I'ma, dog nigga, shot-call nigga
My shotgun talk with a lecture hall scripture
Applaud {*ahh*} bitch, shake that ass
I getcha, drunk and high and duct tape that ass fast
Then leave you on your daddy front lawn (ding dong)
with your hair all f**ked up, with one pump on
Get stomped on, I take the money and run
I'm a dog, s**t I f**k right in front of your son
If you ain't got Missy and Meth
want me to spit the hot s**t for you? Nigga, write your check
Yo yo I wanna gangsta BOOGIE with my GANGSTA BITCH
Love it when the p***y talk back thanks to d**k
All my dogs (woof) playin the wall, get at these broads
You ain't got no-ass-at'all, we ain't f**kin wit y'all
I'm not your smooth lovin, see me at Casbah thuggin
Hands where your Stove Top be stuffin
Never catch Tical hand-cuffin, I'm in your party puffin
Smellin like that Wu-Tang production
Cousin tried to tell me p***y come a dime a dozen
Read between the lines
Ecstacy, a place of fullfillment and fantasies
Were your dreams become reality's
Mhm, ecstacy
It enhances your most inner desire
to become more free with your guts and feelings
E-E-E-ecstacy
Boy let me free your mind, lets hook up tonight
Take you on a flight, high, high
Make you warm inside, I won't waste you're time
My love is so divine, it feels like I'm on..
[Chorus: Missy]
Ecstaacyy, I'm willing, to do the things I said I wouldn't do
On ecstaacyy, the feeling makes me feel like I'm in love with you
[Missy]
Boy look into my eyes, I'm so energized
Make it last long time, touch mee
Everything feels sweet, my body feel your breeze
up all against me, it feels like I'm on..
[Chorus]
[Missy]
Oh it feels like I'm on, ecstaacyy
Everybody jump in and do something
Feel so free, I feel like making love to you
So what you wanna do? (AHH.. ahhh.. AHH!)
Ecstaacyy, everybody jump in and do something
Feel so free, I feel like making love to you
So what you wanna do? (AHH.. ahhh.. AHH!)
From Focus on the Family's web site review of Missy Elliott:
"That same cut identifies the Lord as the power behind her obscene, violent, drug-laced lyrics. Riddled with f-words and other gutter language, Missy's World features explicit references to oral sex ("You Don't Know") and promiscuous behavior ("U Can't Resist," "Dangerous Mouths," "Stickin' Chickens"). The artist's ideal man carries a handgun on "Hot Boyz." Seven other tracks glamorize violence (from blasting someone at close range to slitting a man's throat). One of them, "Busa Rhyme," finds guest rapper Eminem proudly abusive to women ("Punch a b–ch in the nose till her whole face explodes/There's three things I hate: girls, women and b–ches"). Even Elliott degrades women–herself included–by calling them "b–ches" and "hos." She may be trying to defang misogynistic males by borrowing their lingo, but the term is no less contemptuous. Eight of these songs promote alcohol and/or marijuana (referred to as "blunts," "philly," "funk" and "ganja"). Writer, rapper and producer Melissa Arnette Elliott will reportedly donate some of the proceeds from this disc to a non-profit group fighting domestic violence. Huh? Her greatest contribution would be to quit promoting violence in her music."