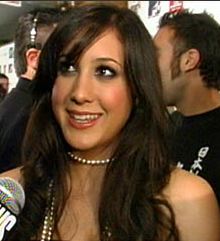 Give Vanessa Carlton a Grammy for "unmitigated gall."
The students at Red Mountain High School in Mesa, Arizona thought they won a Channel One contest and the first prize was a Vanessa Carlton concert at their school. On the surface that appears to be just what happened, but it doesn't take much brainpower to understand that this high school was used in another clever PR campaign by a Channel One advertiser.
A&M Recording artist Vanessa Carlton needs to pump up sales of her second CD "Harmonium." It was just released three months ago. How better to get in front of a captive audience of up to 8 million record buyers than to do a concert on Channel One.
The show today was one big commercial for Vanessa Carlton. The reading program at the high school? You need something to "honor" so the shameless promotion of Carlton doesn't look so shameless.
Ms. Carlton was on camera for over 3 minutes today. (That's up to 24,000,000 minutes of school time lost.) Several of her songs were played at the commercial breaks. She ended the show by singing one of her new songs.For a recording artist, it doesn't get any better than this – an audience of millions who cannot turn you off – an audience of millions who MUST hear your music.
It is no coincidence that Ms. Carlton wanted to do her concert on Channel One in February. Her national tour starts March 8. Perfect timing. She should reimburse taxpayers from Arizona to Virginia for the school time she used to advance her career. We imagine that If she was presented with the bill for the time she misappropriated today, she would be singing a different tune.
Below is some of the transcript from today's show.
[AIRDATE=2/17/05]
SOFIA: HEY, GUYS, I'M SOFIA LIDSKOG.
ERROL: AND I'M ERROL BARNETT. TODAY, WE'RE
COMING TO YOU FROM RED MOUNTAIN HIGH SCHOOL HERE IN BEAUTIFUL
MESA, ARIZONA.
SOFIA: AND WE HAVE A VERY SPECIAL GUEST
FOR YOU TODAY … VANESSA CARLTON.
ERROL: THAT'S RIGHT. YOU KNOW, A GROUP OF
STUDENTS HERE AT RED MOUNTAIN ARE INVOLVED IN A GREAT COMMUNITY
SERVICE PROJECT THAT EARNED THEM A SPECIAL CONCERT WITH VANESSA.
SOFIA: NOW, WE'LL TELL YOU ALL ABOUT THAT
PROJECT LATER, BUT FIRST, VANESSA'S INSIDE, SO LET'S HEAD IN
AND GET THE SHOW STARTED.

[SET UP]
[TAL=ERROL/SOFIA]
[PRO=TAMI]
[AIRDATE=2/17/05]
ERROL: WHAT'S GOING ON, RED MOUNTAIN HIGH SCHOOL? I HAVE ONE QUESTION,
I HAVE TO KNOW … ARE YOU GUYS READY FOR THIS?
SOFIA: ALRIGHT, ALRIGHT, EVERYBODY, LISTEN
UP. AS YOU ALL KNOW, TODAY'S BIG EVENT IS A CONCERT WITH VANESSA
CARLTON.
ERROL: GIVE IT UP.
VANESSA CARLTON: HEY, GUYS. BUT I WOULDN'T
HAVE HAD THE OPPORTUNITY IF IT WEREN'T FOR THE STUDENTS IN MRS.
HECK'S "READING IS FUNDAMENTAL" PROGRAM. THE "R.I.F." STUDENTS
SENT IN A TAPE SHOWING US HOW THE PROGRAM IS HAVING AN IMPACT
ON THE COMMUNITY, AND THEY WON CHANNEL ONE'S NATIONAL CONTEST, "IN
CONCERT."
ERROL: THAT'S RIGHT. AND VANESSA WILL ACTUALLY
TAKE THE STAGE IN A FEW MOMENTS, BUT WE HAVE A LOT TO GET TO
IN TODAY'S SHOW. SO LET'S BEGIN WITH OUR TOP STORIES.
At the end of the show:
ERROL: AND SPEAKING OF "IN CONCERT" …
IT'S JUST ABOUT TIME FOR VANESSA TO TAKE THE STAGE. MOUNTAIN
LIONS … YOU GUYS EXCITED? YOU ALL STAY RIGHT THERE … VANESSA
CARLTON IN CONCERT — NEXT.

[TOSS AND BYE]
[TAL=SOFIA/ERROL]
[PRO=TAMI]
[AIRDATE=2/17/05]
SOFIA: ALRIGHT, EVERYBODY, IT IS JUST ABOUT TIME TO TURN IT OVER TO VANESSA
CARLTON.
ERROL: THAT'S RIGHT, BUT BEFORE WE GO OUT,
EVERYONE, I WANT TO THANK EVERYBODY HERE AT RED MOUNTAIN HIGH
SCHOOL FOR HOSTING US TODAY. GIVE IT UP FOR YOURSELVES. AND CONGRATULATIONS
TO THE "R.I.F." CLUB AND MRS. HECK FOR MAKING THIS
ALL HAPPEN. GIVE IT UP FOR THEM, TOO.
SOFIA: NOW, FOR THE REST OF YOU, YOU CAN
WATCH THE FULL CONCERT VANESSA'S ABOUT TO GIVE ON OUR WEB SITE.
LOOK FOR "CHANNEL ONE IN CONCERT" TO PLAY THE VIDEO.
AND WHILE YOU'RE THERE, YOU CAN TAKE THE ONLINE QUIZ TO LEARN
MORE ABOUT VANESSA. ERROL: AND NOW, THE TIME YOU HAVE ALL BEEN
WAITING FOR … LADIES AND GENTLEMEN … VANESSA CARLTON!

[VANESSA CONCERT]
[TAL=VANESSA CARLTON]
[AIRDATE=2/17/05]
VANESSA CARLTON: JUST A DAY, JUST AN ORDINARY DAY … JUST TRYING TO
GET BY … JUST A BOY, JUST AN ORDINARY BOY … BUT HE WAS LOOKING TO
THE SKY … AND AS HE ASKED IF I WOULD COME ALONG I STARTED TO REALIZE
… THAT EVERYDAY HE FINDS JUST WHAT HE'S LOOKIN' FOR … LIKE A SHOOTING
STAR, HE SHINES … AND HE SAID, 'TAKE MY HAND' … 'LIVE WHILE YOU CAN'
… AND IF WE WALK OUT WE WILL DIVIDE AND CONQUER THIS LAND