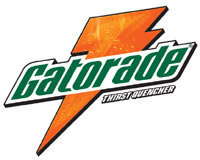 Note: Gatorade has been for over a decade, and is currently, a
major advertiser on Channel One News. Each Friday, Channel One
runs a long-form advertisement for the product called the "Gatorade
Play of the Week." Students send in video clip of a sports
play and then if their clip is chosen the school wins a Gatorade
cooler and Gatorade mix. This is in addition to regular Gatorade
ads that run all through the week.
Obligation has sent an email request to Beverly Chell, PRIMEDIA's
chief counsel, asking her to refrain from advertising Gatorade.
Our request is based not only on this disturbing report from dentists,
but because for many of the students that drink Gatorade it is
a "junk drink" with too many unneeded calories and sodium
and other ingredients. Also, the Wall Street Journal reported last
week that Gatorade is introducing a new formula called "Endurance." It
will be aimed at teens along with adults. The amount of sodium
in this new formula will be much greater than the regular – which
is bad enough.
The public should list Gatorade ads as another reason to remove
Channel One News from its classrooms.

From
the Academy of General Dentistry
New Study Indicates That Popular Sports Beverages
Cause More Irreversible Damage to Teeth Than Soda
CHICAGO (February 15, 2005) – While sports and energy drinks help athletes
re-hydrate after a long workout, if consumed on a regular basis they
can damage teeth. These beverages may cause irreversible damage to
dental enamel, potentially resulting in severe tooth decay according
to a study reported in the January/February issue of General Dentistry,
the Academy of General Dentistry 's clinical, peer-reviewed journal.
Dental enamel is the thin, outer layer of hard tissue that helps
maintain the tooth structure and shape, while protecting it from
decay.
"This study revealed that the enamel damage caused by non-cola and sports
beverages was three to 11 times greater than cola-based drinks, with energy drinks
and bottled lemonades causing the most harm to dental enamel," said J.
Anthony von Fraunhofer, FRSC, FADM, lead author, Professor of Biomaterials Science
at the University of Maryland Dental School. "A previous study in the July/August
issue of General Dentistry demonstrated that non-cola and canned iced teas can
more aggressively harm dental enamel than cola."
The study continuously exposed enamel from cavity-free molars and premolars
to a variety of popular sports beverages, including energy drinks,
fitness water and sports drinks, as well as non-cola beverages such
as lemonade and ice tea for a period of 14 days (336 hours). The
exposure time was comparable to approximately 13 years of normal
beverage consumption.
The study findings revealed that there was significant
enamel damage associated with all beverages tested. Results, listed
from greatest to least damage to dental enamel, include the following:
lemonade, energy drinks, sports drinks, fitness water, ice tea
and cola. Most cola-based drinks may contain one or more acids,
commonly phosphoric and citric acids; however, sports beverages
contain other additives and organic acids that can advance dental
erosion. These organic acids are potentially very erosive to dental
enamel because of their ability to breakdown calcium, which is
needed to strengthen teeth and prevent gum disease.
"These findings are important and suggest that
caution should be exercised when consuming popular sports beverages
over long periods of time," said AGD spokesperson and president-elect
Bruce DeGinder, DDS, MAGD. "We recommend altering or limiting
the intake of soda and sports drinks and choosing water or low
fat milk instead, to preserve tooth enamel and ultimately protect
teeth from decay."
General Dentistry, a peer-reviewed, bi-monthly scientific
journal is the leading authoritative source of dental information
to more than 65,000 general dentists nationwide. The journal contains
relevant information on the latest research findings, clinical
techniques and self-instruction exercises for continuing education
credit enabling dentists to provide the best possible patient care.