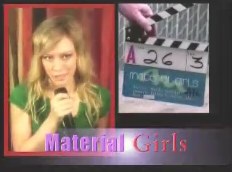 Madonna is using taxpayers again to help Maverick, her record and movie company.
Schoolchildren watched what appeared to be a public service announcement. It was a PSA but it included a shameless plug for a new Maverick movie co-produced by Madonna – the original "Material Girl." Maverick is Madonna's own record label and movie production company. It is a division of Warner Brothers.
The name of the movie is – surprise – "Material Girls."
The actress Hilary Duff is on screen and she says she is on location filming Material Girl. While a program called "Team Safe-T" is mentioned (it is a group that helps young people understand what to do in case of an emergency) students see clips of the movie.
Obligation's Jim Metrock said, "This is so 'Channel One.' Everything is to be commercialized. Everything, even safety issues concerning teens, is diluted with crass commercial plugs. Be assured that more ads for this movie will be playing in classrooms. Madonna has a long history of using Channel One News to guarantee success for her company's projects."
Channel One News agree to promote Madonna-signed artists.
Madonna's new group gets plug on Channel One News.
Madonna inks another deal with Channel One to promote Michelle Branch.