From Jim Metrock:
Today, Channel One News had a "special" news anchor share the duties with C1N regular Errol Barnett.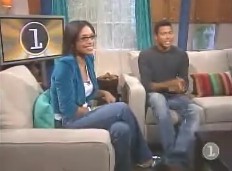 The guest news anchor was Rosario Dawson. She has a mission being on Channel One this morning.
Channel One would tell us that that mission is to help promote tolerance, to help students overcome their prejudices. There is even a feature story on today's show about the a visit to the Museum of Tolerance in Los Angeles about three miles from Channel One's Hollywood studio.
Ms. Dawson's comments on today's show may indeed help some student become more accepting of other people, but that is not the reason she is taking up class time this morning. She is selling something.
Channel One is selling something.
Selling Something is the essence of Channel One News. If a person doesn't know that, then they haven't seen the program – ever.
Rosario Dawson is an actress in the new movie RENT based on the Broadway play. The movie will not do well with children because the subject matter is decidedly adult in nature. Here is description of the play/movie:
Rent tells the story of one year in the life of friends living the Bohemian life in modern day East Village New York. Among the group are our narrator nerdy, love struck filmmaker Mark; the object of his affection his former lover, Maureen; Maureen's Harvard educated, public interest lawyer, lesbian lover Joanne; Mark's roommate HIV+ former junkie, Roger; Roger's lover the HIV+ drug addicted, S&M dancer, Mimi (That's today's guest anchor); their former roommate HIV+ computer genius Tom Collins; Collins' HIV+ drag queen street musician lover Angel; and Benjamin Coffin III a former member of the group who married money and has since become their landlord and the opposite of everything they stand for.
Some parents may have a problem with their child buying a ticket to this one. So that is where Channel One News is its most effective. They provide a way for advertisers to bypass parents. What is advertised on Channel One is not going to be generally known to parents. Sony Pictures has a lot riding on this movie and that is why Ms. Dawson is pitching the film to teens and preteens this morning.
The actress tells students that Rent is a "very family sort of film." Boy, she is a good actress. She said that with a straight face.
| | |
| --- | --- |
| | |
| Here Ms. Dawson, looking like a librarian, pitches her "family film" to children forced to watch today's Channel One News. | C1N's Barnett asks her about her character Mimi. She fails to mention that she is a heavy drug user who is a S&M exotic dancer. Above is a still from the movie. Channel One's guest news anchor in her role as Mimi. |
This whole guest anchor thing today isn't about tolerance much at all. It is about advertising. It is about Channel One News making a buck. It's about a movie studio that needs theater seats packed no matter if they are kids or not. This movie is a "hard PG13." The drug content alone is disturbing.
The MPAA warning for this Channel One News-endorsed, "family film" reads: "PG13 – Parents strongly cautioned – Mature thematic material involving drugs and sexuality, and for some strong language."
Ms. Dawson's character is a heroin user. The sexual content comes mainly from the lesbian and gay relationships that are a significant part of the play and movie. A major character is a transvestite.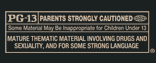 In 1999, the Southern Baptist Convention passed a resolution urging all schools to remove Channel One News. That resolution is still in place. In an effort to make the Baptists feel a little better about their company, Channel One made a written promise to not advertise PG13 movies to students under 13.
That was a lie.
Since that promise, they have advertised PG13 movies to kids down to 10-years-old. Today is the most recent example. There is no formal commercial for the movie because a huge part of the program is devoted to promoting the movie. Middle schools and elementary schools watched the same plugs for the movie that high school students saw. C1N has no problems whatever advertising movies with sexual, drug and violent content to the youngest of children in its captive audience. The new president of Channel One, Judy Harris, has no qualms about pushing a movie like RENT on children as long as she and the company make a little cold hard cash.
Errol Barnett asks the dumb "set up" questions of Ms. Dawson. One cue, he smiles and tells the students that the movie comes out on November 23. He is nothing but a shill for the advertiser. Another bad day for journalism at Channel One's studio.
At the beginning, middle and end of today's program, Channel One featured singers from a Santa Monica high school singing a song from the soon-to-be released Sony Pictures movie. Good grief. These students probably thought it was neat for Channel One to invite them to the studio (a few miles away) to sing a nice song and to get national exposure, but shouldn't they be paid for performing in a commercial?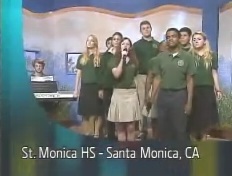 Today's script:
OPEN + HELLOS
ERROL: WHAT'S GOING ON, EVERYONE? I'M ERROL BARNETT, IT'S MONDAY, NOVEMBER 7TH. SO LET ME TELL YOU, WE HAVE A GREAT SHOW FOR YOU. STUDENTS FROM SAINT MONICA HIGH SCHOOL ARE HERE, AS YOU JUST HEARD, PERFORMING  THE SONG "SEASONS OF LOVE" FROM THE BROADWAY HIT MUSICAL AND SOON TO BE RELEASED MOVIE "RENT." ALSO, ONE OF THE STARS FROM THE FILM, ROSARIO DAWSON IS HERE TO GUEST ANCHOR TODAY. THANKS SO MUCH FOR BEING HERE.
ROSARIO DAWSON — ACTRESS: THANK YOU SO MUCH FOR HAVING ME. I WISH I WOULD HAVE HAD THIS IN MY SCHOOL. I DIDN'T HAVE IT, SO I'M REALLY EXCITED TO BE HERE.
ERROL: ALRIGHT, WELL WE'LL SPEAK WITH YOU A LITTLE BIT LATER, BUT FIRST, LET'S BEGIN WITH OUR TODAY'S TOP STORY.
at the end of the program…
GOODBYES
ERROL: NOW, ROSARIO, I KNOW THAT ONE OF THE THEMES FROM "RENT" IS THE IDEA OF BEING TOLERANT TOWARD OTHERS. WHAT WAS IT LIKE FOR YOU TO WORK ON THAT PROJECT?
ROSARIO: IT WAS AMAZING, ACTUALLY. I THINK WHAT'S GOING TO BE SO INCREDIBLE ABOUT SPREADING THAT THEME OF TOLERANCE IS THE MUSIC ITSELF. I THINK EVERYONE UNDERSTANDS, YOU HAVE A U2 SONG THAT YOU LOVE AND IT KIND OF IS POPULAR ALL AROUND THE WORLD, HOW IT CAN BRIDGE THOSE GAPS. ERROL: NOW TELL ME MORE ABOUT YOUR CHARACTER, MIMI.
ROSARIO: MIMI IS AN 19-YEAR-OLD GIRL, SHE'S H-I-V POSITIVE, SHE'S A DANCER AND SHE'S JUST LOOKING FOR PEOPLE TO LOVE AND TO LOVE IN RETURN. I THINK THAT'S WHAT YOU'RE GOING TO FIND IS A VERY FAMILY SORT OF FILM OF PEOPLE WHO ARE MAYBE STRUGGLING WITH THE DIFFERENT ISSUES THAT THEY HAVE IN THEIR LIVES, BUT MAKING RELATIONSHIPS THAT BLOSSOM AND ARE BEAUTIFUL.
ERROL: ALRIGHT, WE KNOW THAT "RENT" OPENS ON NOVEMBER 23RD. THANK YOU SO MUCH FOR STOPPING BY. YOU'RE, OF COURSE, WELCOME ANYTIME.
ROSARIO: THANK YOU, PLEASE.
ERROL: SO COME BACK. NOW WE'RE GOING TO HAVE THE SINGERS FROM SAINT MONICA TO SING US OUT TO THE END OF THE SHOW. WE'LL SEE YOU GUYS TOMORROW. TAKE CARE.