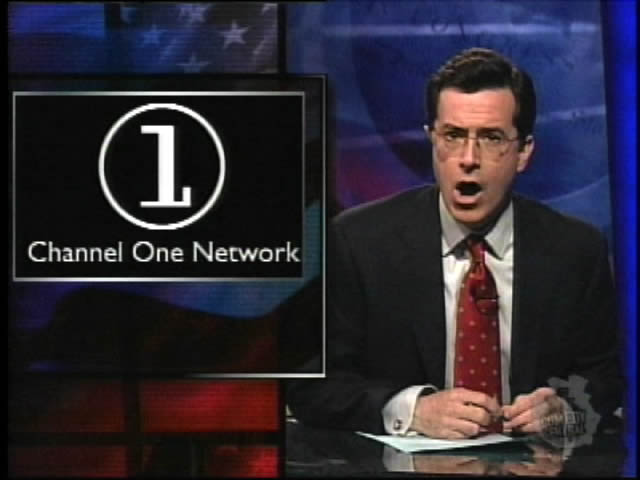 Last night on The Colbert Report, March 7, 2006
The Colbert Report is a spin-off of the Daily Show with Jon Stewart on the Comedy Channel.
On the show last night the host reported on the study in the American Academy of Pediatrics journal Pediatrics. The study said that Channel One poses an "ethical dilemma" for schools (that is why the overwhelming majority of secondary schools refuse Channel One's expensive trade-off of school time for the rental use of antiqued TV equipment.) The study also noted that students remember the ads more than the news stories.
That comes as no shock since Channel One is in the advertising delivery business not the news gathering business. They buy news footage from others and run it a day after it is news. The presidents of the company have been ad and marketing people. The current president Judy Harris is a marketing person.
The purpose of Channel One News is to deliver memorable and motivating commercials to a captive audience of young people who control not only billions of dollars of their own money but who influence billions of dollars of parental purchases also.
We keep the film rolling for the next report on pediatric obesity.
There is a reason they are back-to-back on the show. Channel One News shares a lot of the blame for the childhood obesity crisis. The years and years of advertising M&Ms, Snickers, Twix, Pepsi McDonalds and Twinkies (to name just a few) sent students the message that eating junk food was perfectly OK. It was not and now millions of young people are paying the price.
Half of kids are going to be obese? When you have irresponsible marketing people like Channel One in our schools, it is no wonder parents feel like they are fighting a losing battle against the junk food industry.
Here is the clip from the Colbert Report.
Thanks to Karen Miller in Texas.