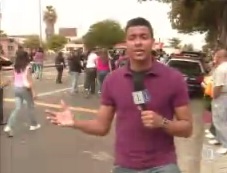 Channel One's Errol Barnett showcases teens who skip school to protest.
From Jim Metrock:
This week, I received a Google news alert that referred to an incident at an Arizona high school. I was in the middle of a project so I just glanced at the news article. This is the article:
From
the Arizona Daily Star
Hundreds of Tucson students march in protest of immigration legislation
Tucson, Arizona | Published: 03.29.2006
Hundreds of Tucson high school students have walked out of class, apparently prompted by similar walk-outs around the country aimed at protesting proposed tougher immigration laws.
Officials with the Tucson Unified School District said the protests apparently began around 11 a.m., at Cholla High Magnet School,
2001 W. Starr Pass Blvd., after students watched a segment on Channel One, the in-school television cable system, about the
other protests.
Students from Cholla marched to nearby Pueblo High School, 3500 S. 12th Ave., and called on other students to join them. The
larger group then headed north again and was still marching around 1 p.m.
TUSD officials said they knew of no violence surrounding the protest. Further details were sketchy.
In Phoenix on Tuesday, hundreds of students left school and rallied outside the Arizona Capitol. Police estimated that about 1,000
students held up traffic along several streets there as they made their way to the Capitol.
In Mesa, about 150 students marched through streets and gathered in a local park before returning to school. In northwest Phoenix, 400 students converged in a park to protest. An estimated 20,000 people marched in Phoenix on Friday.
Thousands of other young people also have walked out in other U.S. cities the past few days to protest legislation on Capitol Hill
that would crack down on the nation's 11 million illegal immigrants. Among other things, the legislation would make it a crime to
be in this country illegally.
A Monday walkout in Los Angeles County involved an estimated 36,000 students.
My first, quick thought was this was good news for Channel One because it was a rare indication that some students were actually watching the program. Then I thought it could be serious trouble for them.
I then received an email from Ken McNatt, the fearless college student who runs the National Campaign Against Channel One at www.ncaco.org. Ken copied the article to me and I realized that I needed to look deeper into the story.
I read the script for the show that caused students in at least one school to walk out of their classrooms. The pertinent part is below. To read the full script go to channelonenetwork.com.
Channel One News script from March 28 show.
Words in BOLD type are Obligation's emphasis.
MELISSA: HEY, YOU ALL — WE HAVE A LOT TO COVER, SO LET'S
GET RIGHT TO OUR TOP STORY.

INTRO IMMIGRATION

MELISSA: YESTERDAY IN SEVERAL CITIES ACROSS THE COUNTRY, TEENAGERS
JOINED IN THE BATTLE OVER THE BORDER AS THE SENATE BEGAN
WORK ON A BILL AIMED AT ILLEGAL IMMIGRATION. THERE WERE
PROTESTS OUTSIDE A NUMBER OF SCHOOLS. ERROL BARNETT HAS
THE STORY.

IMMIGRATION
ERROL: SEVERAL HUNDRED HIGH SCHOOL STUDENTS WALKED OUT IN
HOUSTON.
THERE WAS A BIG DEMONSTRATION IN DETROIT…
… AND MORE PEOPLE, PREDOMINANTLY LATINO STUDENTS,
PROTESTED IN LOS ANGELES.
RIGHT NOW, I'M ON THE PROTEST ROUTE. THESE STUDENTS, THOUSANDS
OF THEM, HAVE BEEN MARCHING PAST DIFFERENT HIGH SCHOOLS
IN THE SOUTH L-A AREA. RIGHT NOW, WE'RE OUTSIDE FREEMONT
HIGH SCHOOL. YOU CAN KIND OF SEE SOME STUDENTS BEHIND
THOSE BARS WATCHING AS THE STUDENTS COME BY. YOU CAN HEAR THEM
RIGHT NOW — WALK OUT, WALK OUT! — ENCOURAGING
THE STUDENTS TO WALK OUT AND JOIN THE PROTEST.

PROTESTERS: WALK OUT, WALK OUT!

ERROL: WE FOLLOWED THE MARCH AS IT MADE ITS WAY THROUGH
THE CITY, JAMMING TRAFFIC. HELICOPTERS WATCHED FROM THE
SKY AND BYSTANDERS CHEERED FROM THE SIDEWALKS.
AS TEENS MOVED BY THE CARLOAD,
THEY TOLD ME WHY THEY WERE THERE.
SO WHY ARE YOU OUT PROTESTING TODAY?

UMBERTO USCANGA, 14: BECAUSE THEY'RE SAYING THAT HR 4437,
AND THEY'RE KICKING OUT IMMIGRANTS OUT OF THE UNITED STATES.
I MEAN, THAT'S WRONG BECAUSE MY PARENTS CAME HERE SO I
COULD HAVE A BETTER LIFE. THEY DON'T WANT ME TO BE STRUGGLING
LIKE THEY'RE STRUGGLING RIGHT NOW.
I was startled at what I read. Channel One was playing up the teen angle, focusing on only a small part of the protest march participants. By doing so Channel One created a false reality for students watching this report.
Viewers would think teens everywhere are putting down there books and marching in the streets.
This wasn't just lousy reporting, it was reckless.
I then went to Channelone.com to see the video of that show. Only be viewing the report can you understand why students would want to march out of their classroom just like the Los Angeles teens did. Channel One News made this truancy very glamorous.
Channel One's studio is in Los Angeles. To save money, Channel One will often find stories or experts to interview in LA. Here was a march not far from their studio on Melrose Avenue in Hollywood. The cost of obtaining a story is now an important factor for C1N news team. This was a cheap "top story." No plane tickets, just a few minutes in the car.
The reporter, Errol Barnett, made the protest look exciting to students viewing his report. He didn't mention that 60 truancy citations were issued during this march and that parents would have to appear in court with their child and that a truancy fine in Los Angeles can be up to $250. If the producer of this piece, had gathered these facts and added them to the story, maybe the students in Arizona might have stayed in school.
You can see the video at http://www.channelone.com/video/ Click on March 28.
Truant protestor gets
interviewed.

Teens hanging on to cars in the streets of
LA. All these images are from C1N's in-school TV show.
Students marching in LA, inspire Arizona
student walk out after watching Channel One's show.