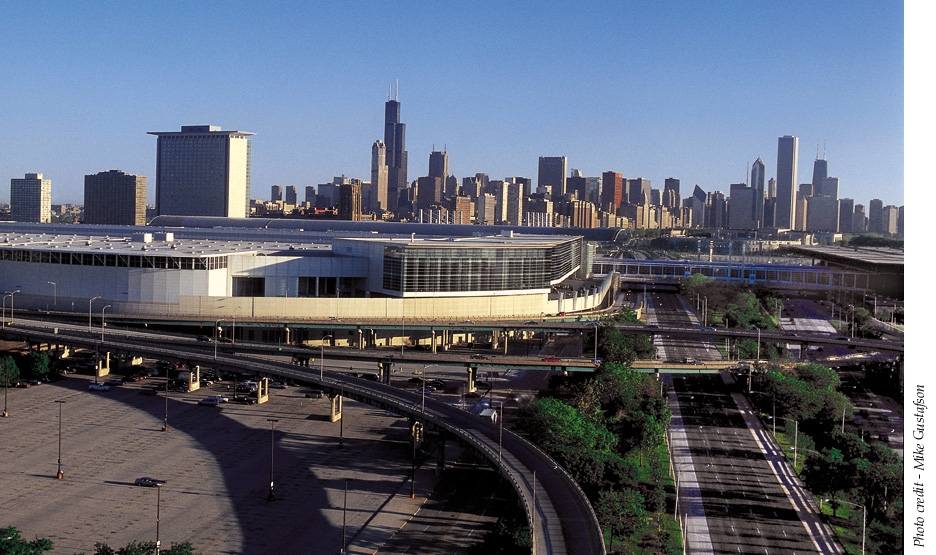 8,000+ local school board members met at McCormick Place April 8-10
From Jim Metrock:
Wow. What a thrilling time I have had in Chicago. Obligation had a booth at the National School Boards Association convention. I manned the booth by myself and was busy handing out information to board members and local superintendents from across the country.
I will more fully report later on the NSBA convention. It is enough to say now that Channel One remains in big trouble with school boards and administrators. The very first person to come to my booth on Saturday morning (the exhibition hall was open on Saturday, Sunday and for three hours on Monday) was a superintendent from Nebraska. He came right up to me and face-to-face said with a smile that when he was hired at his current school district "the very first thing I did as a new superintendent – the VERY first thing – was to end the Channel One contract."
I knew then I was going to have a truly remarkable weekend in Chicago.
Another quick recollection: Two women board members from Iowa came into the booth saying loudly, "We hate it. We hate it." They still have Channel One but now are inspired to get a few more members to side with them and get Channel One out of their middle school. (Their high school has already given Channel One the boot.)
Several people told me that their district had within the past two years ended the contract. There should be a lot of new cancellations for Channel One soon after this successful weekend in Chicago.
Channel One long ago gave up on school boards. They have written off the NSBA convention as hopeless. They should have been at this meeting, because, with some modesty, I would like to say that they got their "clock cleaned" by Obligation. Even if attendees didn't stop at the Obligation booth, each one that passed saw our large sign taken from the recent Pediatrics study, "Channel One News is 'an ethical dilemma for schools.' "
No attendee that still had Channel One told me that their district shows it according to the contract. Some superintendents told me they still have the TVs but the program isn't shown. I urged them to not breach the contract, but to end it. I said that a school district shouldn't be known for dishonoring contracts and that it is simple to just end the contract and be done with the company.
I handed out a lot of "Pizitz letters." These letters document the fact that Channel One lets some schools breach their contract without penalty while others are treated shabbily if they didn't honor contract terms. One superintendent from a Midwest district was very irritated that Channel One came and removed several TVs that weren't being used. He asked me, "How did they know that?" I told them about the "spy chip" in the TVs and the "maintenance people" that check for compliance. He wants Channel One out his schools now more than ever. He believes the TVs should belong to his schools.
Although most people who stopped by the booth were upset with the commercials that Channel One show, many more also said the lost time is the biggest reason their board has gotten rid of, or is considering getting rid of, Channel One.
Channel One News is all but dead.
More later.