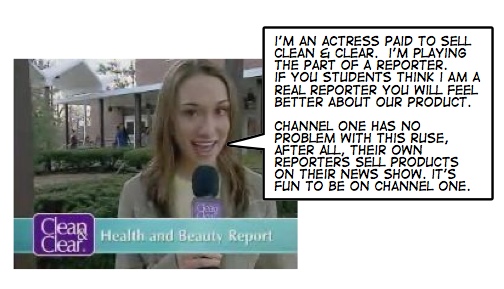 Channel One News offers a lot of opportunities to advertisers.
Advertisers are able to craft their sales pitches in unique ways on Channel One. Advertisements can be made to look like news stories. We have reported before on the use of fake news reporters being used in Channel One commercials. This past Friday, during a special Town Hall meeting with two governors talking about student health, Channel One ran a Clean & Clear commercial that used another fake reporter.
The Friday show was devoted to student health. There were fewer than normal ads on this show. To maximize confusion for students, the fake reporter is shown over a graphic that reads "Health and Beauty Report." Will this product make a student healthier? Does this product tie in with a healthier lifestyle for students?
Channel One's executives know the power that comes from holding a microphone. Channel One's CEO Judy Harris is selling advertisers the ability to use fake news reporters that look like Channel One reporters to sell everything from skin creams to Juicy Fruit gum.
In this commercial, Channel One allows Clean & Clear to piggyback on the healthy living Town Hall meeting it held at a Tennessee school. The fake reporter "interviews" several students who say they are playing soccer and drinking water to stay healthy and, of course, to be healthy you must use Clean & Clear. If you want to look healthy you must buy these products.
Obligation's Jim Metrock said, "This is as pathetic as you can get. 'Healthy living' is too often just a buzzword at Channel One. Channel One allowed this advertiser to intertwine their beauty products with Channel One's interviews with two governors about getting teens to eat better and exercise more. The Friday show has a Channel One reporter talking to Arkansas Governor Mike Huckabee and Tennessee Governor Phil Bredesen about how to get healthier, then they cut to this commercial where another "reporter" delivers the message that Clean & Clear products can make your your skin healthier. 'Oxygen' in these products will make your skin look healthier and be healthier.
To dump this stupidity on children as young as ten is cold. The adults at Channel One who did this can't get lower. This had to have been given the 'thumbs up' by CEO Judy Harris. This ad shows contempt for Channel One's captive student audience. Was this ad approved by the new all-white, semi-anonymous advisory board? This ad is a lie. This ad is deceitful. Apparently, anything goes at Channel One. The advertiser is king. The advertiser is Channel One's client, and the client will be served even if students are not."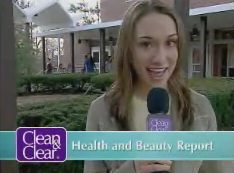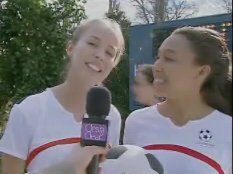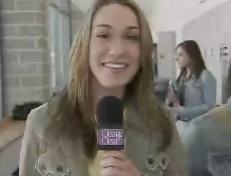 Screen shots from Channel One's May 5, 2006 show.
Click here: What In The World Is Channel One News Doing? – Another fake reporter used by Channel One News to sell beauty products to preteens.