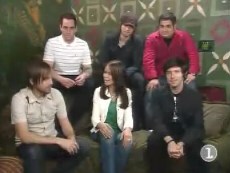 Cali Carlin surrounded by the band Taking Back Sunday.
Taking
Back Sunday is the name of a rock band.
Taking Back Sunday just released a new CD "Louder
Now"
on April 25.
Taking Back Sunday needs teens and preteens to buy "Louder
Now" their new CD.
Taking Back Sunday's management arranged for them to be
guest "news anchors" for an entire Channel One News show
on May 11.
From the Channel One News transcript for May 11, 2006:
COLD
OPEN — TAKING BACK SUNDAY
MATT RUBANO — TAKING BACK SUNDAY: HEY, WHAT'S UP? WE'RE
TAKING BACK SUNDAY, AND WE'RE TAKING A BREAK FROM BEING ON
TOUR TO HELP OUT WITH TODAY'S EDITION OF CHANNEL ONE NEWS.
HELLOS
CALI: HEY, HEY, IT'S CALI. I'M HERE WITH THE BAND AND IT'S
ALSO ALL REQUEST THURSDAY, SO ALONG WITH TAKING BACK SUNDAY,
YOU'LL HEAR MUSIC FROM THE ARTISTS YOU PICKED THROUGHOUT
THE SHOW.
HEY, GUYS, WE'VE GOT A GREAT SHOW FOR YOU TODAY. WITH US
ARE SOME SPECIAL GUESTS… TAKING BACK SUNDAY IS HERE HANGING
OUT BACKSTAGE AT THE HOUSE OF BLUES WITH US. THANK YOU
GUYS FOR JOINING US. GO AHEAD AND INTRODUCE YOURSELVES.
FRED MASCHERINO: HEY, I'M FRED. I PLAY GUITAR AND SING.
MARK O'CONNELL: I'M MARK, I PLAY THE DRUMS.
ADAM LAZZARA:
I'M ADAM, AND I HANDLE THE VOCALS.
ED REYES: HELLO, I'M
ED AND I PLAY GUITAR.
MATT RUBANO: AND MY NAME IS MATT
AND I PLAY THE BASS.
TOSS TO NEWSROOM
CALI: VERY NICE. SO, WE'LL BE HEARING FROM THE BAND IN
JUST A FEW MINUTES. BUT FIRST, LET"S TAKE THIS SHOW
BACK TO THE NEWSROOM FOR A LOOK AT TODAY'S TOP STORIES.
The script from the end of show is below. Channel One's
news reporter Cali Carlin's words are in bold. Cali's job
is to allow the band to promote themselves and to make
themselves likeable. Face-time is what
this band wants from Channel One News and that is what
Channel
One
delivers.
Channel One's producers
always try to get in a motivational comment
from people plugging products. Cali Carlin asks a band
member for advice for students who want to "follow
in your footsteps." Channel One now can claim this
extremely long promotion is of value to students.
After all, Channel One News is always looking for ways
to inspire students. In this case, Channel One's main goal
is to inspire students to buy Taking Back Sunday's new
CD. That is the reason this obscure band is on classroom
TV sets.
CALI: AND WE ARE LOOKING FORWARD TO THAT. SO STICK AROUND
— MORE WITH TAKING BACK SUNDAY IS COMING UP AFTER THE
BREAK.
TAKING BACK SUNDAY — Q&A
CALI: OK GUYS, NOW IT'S TIME TO GET TO KNOW TAKING BACK
SUNDAY A LITTLE BETTER. AS WE SAW EARLIER IN THE POP QUIZ,
THERE'S SO MUCH MORE TO MUSIC THAN YOU MIGHT THINK. MATT,
HOW DID YOU LEARN MUSIC?
MATT: I THINK THE BEST WAY TO
LEARN ABOUT MUSIC IS TO LISTEN TO ALL DIFFERENT KINDS OF
MUSIC. BUT IN MY LAST COUPLE OF YEARS OF HIGH SCHOOL, I
WANTED TO LEARN MORE AND STARTED TO TAKE SOME THEORY CLASSES
THAT MY SCHOOL OFFERED, AS WELL AS JOINING THE ORCHESTRA
AND THE JAZZ BAND AND WHATEVER GROUP WOULD HAVE ME. AND
I ALSO HAD SOME HELP FROM SOME GREAT TEACHERS ALONG THE
WAY TOO.
CALI: GREAT — NOW SOME OF YOUR FANS WATCHING
THIS MAY WANT TO FOLLOW IN YOUR FOOTSTEPS AND PURSUE
A MUSICAL CAREER. WHAT ADVICE WOULD YOU GIVE THEM, MARK?
MARK: I THINK SOME GOOD ADVICE WOULD BE — YOU HAVE TO
FIND OTHER PEOPLE THAT ARE REALLY PASSIONATE ABOUT
MUSIC AND IT HAS TO BE ONE OF YOUR MAIN PRIORITIES IN LIFE.
CALI:
SO YOU GUYS ARE ON TOUR. WHAT'S THAT LIKE AND WHAT
ELSE
ARE YOU UP TO?
ADAM: WELL, WE'VE JUST BEEN — EVER SINCE
OUR RECORD "LOUDER NOW" CAME OUT — WE'VE JUST
BEEN PLAYING AND TRYING TO GET OUR SONGS TO AS MANY PEOPLE
AS POSSIBLE.
CALI: VERY NICE. AND I UNDERSTAND THIS LAST
PART COULD MAYBE USE A LITTLE DRUMROLL, BUT YOU GUYS
HAVE A GIVEAWAY FOR US. EDDIE, TELL US A LITTLE ABOUT IT.
EDDIE:
YES, WE HAVE A COUPLE OF DRUMHEADS HERE THAT WE SIGNED
THAT WE'VE BEEN POUNDING AWAY ON TOUR, AND SOME LUCKY
WINNER IS GOING TO GET TO HANG THESE UP ON THEIR WALL.
GOODBYES
CALI: EXCELLENT. NOW, FOR YOUR CHANCE TO WIN THE AUTOGRAPHED
DRUM HEADS, GO TO CHANNELONE.COM TO ENTER.
AND THAT'S ALL THE TIME WE HAVE TODAY HERE AT THE HOUSE
OF BLUES. BUT TO TAKE US OUT, HERE'S SOME OF TAKING BACK
SUNDAY PERFORMING ON TOUR. ENJOY — ADIOS, GUYS.
Channel One News airs footage of the band playing live.
This is a huge bonus for any band using Channel One News
to plug their music. Taking
Back Sunday is billed as an "emo" band which is a style
of
"hardcore
punk."
Obligation's Jim Metrock said, "A question teachers have
to ask is, 'What news stories were NOT on Channel One News
because of this publicity stunt for this rock band?' School
boards signed up for a 'current events' show and Channel
One has morphed into something almost unrecognizable. It
is now a hyper-commercial entertainment show with some
stale news from the day before. The geniuses at Channel
One that thought they could waste thousands of student
hours by advertising this rock band are going to be rewarded
with more schools ending their contracts. Let's hope Channel
One will be disbanded soon."
Below: Channel One keeps up the ad blitz for the band
on their channelone.com web site. Cali Carlin, fearless
news reporter, urges schoolchildren to enter a Taking Back
Sunday sweepstakes. Notice the Hubba
Bubba bubble gum banner ad at the top. Channel One News:
Selling sugar and rock bands.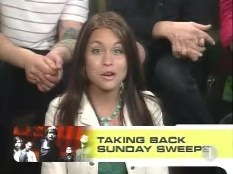 Cali, stop! You are almost single-handedly
destroying journalism as we know it.