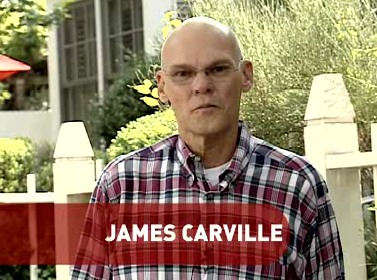 Channel One's new best buddy, Democratic "Pit Bull" James Carville, welcomes C1N to DC and students to a new year of indentured servitude.
from Channel One News August 14, 2006 script
JAMES CARVILLE SHOUT-OUT
CARVILLE: WE HAVE A LOT IN WASHINGTON. THE CAPITOL, THE LIBRARY OF CONGRESS, THE WHITE HOUSE, THE MALL. BUT WE DIDN'T HAVE A CHANNEL ONE. NOW THAT CHANNEL ONE'S COMING TO WASHINGTON, EVERYTHING IS COMPLETE. WELCOME TO WASHINGTON, CHANNEL ONE.
Channel One's favorite DC person, Casino Jack Abramoff, was unavailable to welcome the company to its new home in the Van Ness Square Shopping Center in Washington DC. In a bizarre choice, Channel One invited Democratic mouthpiece James Carville to film a welcoming segment for preteens and teens to see on the first show of the school year. Here stands a clueless, naive man (we are giving him the benefit of the doubt) who is welcoming a company that enslaves millions of lower-income schoolchildren with their 21st Century-brand of indentured servitude. Channel One loans TV equipment in exchange for one hour a week of a child's school time. The students who are disproportionately found in lower-income communities work off the "debt" by sacrificing their precious school time to watch Channel One's ads. No matter how many years schoolchildren are forced to watch Channel One's show and advertising, the schools never get to own the equipment. This is Perpetual Indentured Servitude. Is this of no consequence to Mr. Carville? Does Mr. Carville know that Channel One's home state of New York has outlawed this controversial TV show from all public school classrooms? Is Mr. Carville going to be the new Channel One lobbyist now that Casino Jack is heading for prison?