Barack Obama is the junior U. S. Senator from Illinois. Yesterday, Channel One ran a lengthy report on his recent visit to Africa. It was puzzling why Channel One's producers chose this story for their broadcast. There were so many other more newsworthy stories to cover on August 30 when this show was taped. Five other headline stories could have been reported on in the time it took to leisurely follow Senator Obama's trip back to South Africa and Kenya.
The report which you can read and also see below is not a news story as much as it is a tribute. Channel One's voice-over says the Senator is being treated as a "rock star." We hear from the Senator himself how he was motivated to get into politics. We are told that Kenya is where his father was born. We are told that his wife and daughters were on the trip also. The Senator's campaign media people could not have produced a more flattering political commercial for him.
Why? Why cover one Senator's oversea trip? With so many Senators doing various travel, both in the U.S. and out, during this August recess, why pick a junior, albeit up-and-coming, Senator from Illinois?
The answers comes if you watch all the way to the end of the video clip. On the show, the report on Senator Obama's African trip was shown first, then we are told that the Senator wanted to welcome Channel One to Washington DC and a short clip of the Senator is shown. The folks at Channel One would argue, we think unsuccessfully, that Senator Obama's "welcoming" was nothing special or that it was "just a nice thing to do." Hogwash. U.S. Senators don't film "welcoming" comments for every new company in Washington DC. They certainly don't film such things for such a controversial company like Channel One. This was politically motivated. We think there was something in this for the Senator (very positive story that will be shown to up to seven million future voters) and of course there was something in it for Channel One ("See we aren't that stinky. Barack Obama likes us.")
Senator Obama could not have filmed his "Welcome, Channel One" remarks after his trip because he was still overseas when this report was aired. Channel One's anchor acknowledges it was done before he left. Does this timing make a difference?
What Channel One has done has violated its own news standards. There is a connection here and there should be no connection at all. The Senator agrees to help Channel One's awful public image by lending his celebrity status to the show. Senator Obama filmed a commercial for Channel One News. It is not just a "welcoming" comment, it is more. If you like the Senator, then by transference, you will like Channel One. This is why sports stars are paid so much to hold up a product they don't use.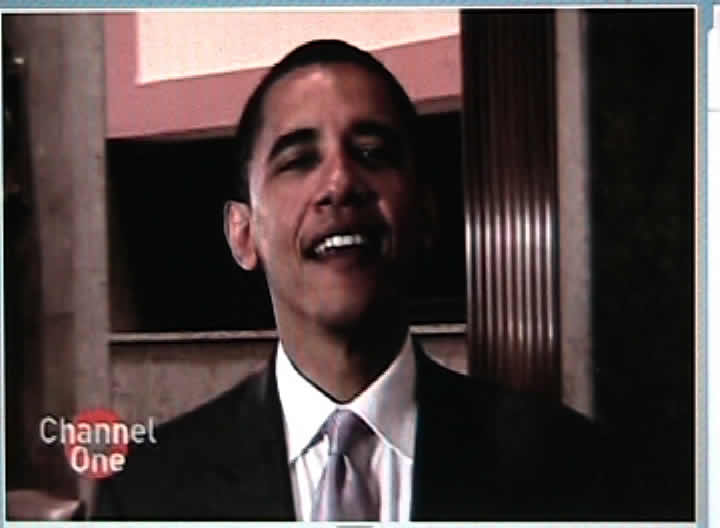 Above: Before he goes to Africa, Senator Obama agrees to do a "celebrity endorsement" for the controversial Channel One program.
Below: Guess what? After the Senator helps out Channel One, Channel One decides to feature a lengthy and very flattering report on the Senator's African trip.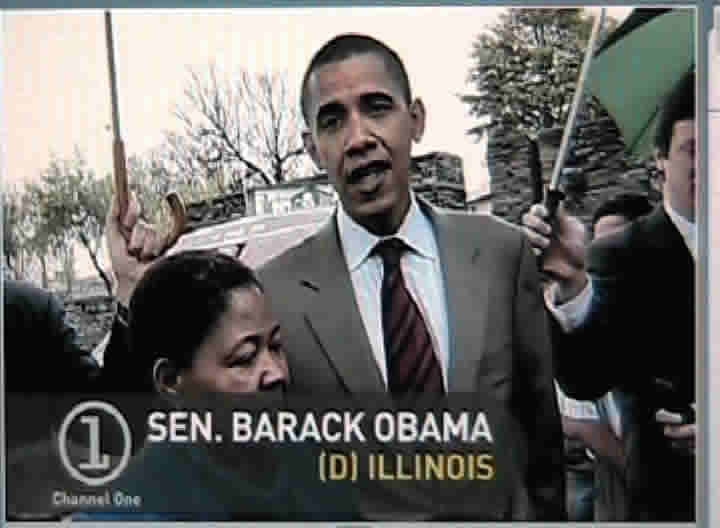 Does the Senator know that Channel One is found disproportionately in lower-income communities? Does he know that these children are required to be shown Channel One at least 90% of school days? We hope he doesn't know these things. His staff failed him in allowing him to be tied to this controversial company.
Millions of schoolchildren are indentured servants to Channel One's onerous contract. There has to be a lot of young people who will not graduate high school because they needed just a little more instructional time, a little more help. What if these young people that needed a little more help had had just a little more school time? What if their school had refused Channel One and had one hour a week of extra school time each week? Would an extra 32 hours of instructional time (EACH YEAR) as opposed to TV-time had made a difference? Of course it would have. The ritzy suburban schools don't waste their time with Channel One, but too many lower-income urban and rural schools do.
It is obvious that Senator Obama is caring person. If he knew Channel One's business model and what it has advertised to children, he would, we firmly believe, be outraged. The bottom line with this situation is the Senator's staff didn't do their homework.
A portion of the transcript from the August 31, 2006 Channel One News:
INTRO SENATOR OBAMA
EILEEN: WELCOME BACK…BARACK OBAMA IS THE ONLY AFRICAN AMERICAN SERVING IN THE U.S. SENATE. THERE'S A LOT OF SPECULATION ABOUT HIS POLITICAL FUTURE BUT IT'S WHAT HE'S DOING RIGHT NOW THAT CAUGHT OUR ATTENTION. MEKA NICHOLS HAS THE STORY.
SENATOR OBAMA
MEKA: U.S. SENATOR BARACK OBAMA IS SPENDING THE LAST DAYS OF HIS SUMMER AWAY FROM HOME.
MEKA: THE SENATOR TRAVELED FROM HIS HOME STATE OF ILLINOIS…TO JOHANNESBURG, SOUTH AFRICA THIS WEEK.
MEKA: WHILE IN THE SOUTH AFRICAN CAPITAL…OBAMA TOURED THE HECTOR PIETERSEN MUSEUM. PIETERSEN WAS A STUDENT KILLED BY POLICE…DURING THE REVOLUTION AGAINST APARTHEID.
MEKA: APARTHEID WAS A POLITICAL SYSTEM BASED ON RACIAL SEGREGATION, WHICH WAS OUTLAWED IN 1994. OBAMA LAID FLOWERS AT PIETERSEN'S MEMORIAL AND SAID THE SOUTH AFRICAN STRUGGLE WAS A DRIVING FORCE FOR HIS ENTRY INTO POLITICS.
SENATOR OBAMA: WHEN I FIRST GOT INVOLVED IN POLITICS IN THE DIVESTMENT MOVEMENT IN THE UNITED STATES WORKING ON COLLEGE CAMPUSES TO SUPPORT WHAT WAS HAPPENING HERE IN SOUTH AFRICA, SO IF IT WASN'T FOR SOME OF THE ACTIVITIES THAT HAPPENED HERE, I MIGHT NOT HAVE BEEN INVOLVED IN POLITICS AND MIGHT NOT BE DOING WHAT I AM DOING IN THE UNITED STATES.
MEKA: LATER, THE SENATOR TRAVELED FROM SOUTH AFRICA TO NAIROBI, KENYA, WHERE HIS FATHER WAS BORN. WHILE THERE, OBAMA VISITED DOCTORS AND TACKLED THE SUBJECT OF HIV-AIDS…A DISEASE WHICH INFECTS MORE THAN TWO MILLION KENYANS. OBAMA GOT A HIV TEST TO DRAW ATTENTION TO THE PLIGHT.
MEKA: ACCOMPANIED BY HIS WIFE MICHELLE AND DAUGHTERS DURING THE TRIP, OBAMA WAS TREATED LIKE A ROCK STAR WITH CHEERS…AND ON-LOOKERS FOLLOWING HIS EVERY MOVE.
SENATOR OBAMA: I WANT TO SAY HOW MUCH I APPRECIATE EVERYBODY AND ALL THE GREAT WELCOME THAT I'VE RECEIVED HERE. EVERYBODY HAS BEEN WONDERFUL AND I VERY MUCH APPRECIATE HOW WARM AND GENEROUS EVERYBODY HAS BEEN IN WELCOMING MYSELF AND MY FAMILY.
MEKA: OBAMA PLANTED A TREE WITH NOBEL PEACE PRIZE-WINNING ENVIRONMENTALIST WANGARI MAATHAI. HOWEVER, SOME KENYANS HAVE HIGHER GOALS FOR THE SENATOR.
CROWD: OBAMA FOR PRESIDENT!
MEKA: ADDRESSING THE CROWD, OBAMA SHARED HIS GRATITUDE.
SENATOR OBAMA: UNFORTUNATELY I'VE GOT TO GO BACK HOME. BUT I WANT TO SAY TO EVERYBODY: THANK YOU, I APPRECIATE YOU, AND I LOOK FORWARD TO COMING BACK SOON.
MEKA: BEFORE RETURNING HOME, THE SENATOR WILL TRAVEL FROM KENYA TO DJIBOUTI TO CHAD THEN BACK TO THE UNITED STATES. MEKA NICHOLS, CHANNEL ONE.
WEB TAG
EILEEN: TO TRACK OBAMA'S JOURNEY AND LEARN MORE ABOUT THE PLACES HE VISITED, GO TO CHANNEL ONE DOT COM AND SEARCH FOR 'DISCLOSURE AFRICA'.
BE BACK
EILEEN: COMING UP… FIND OUT WHY SOME PEOPLE THINK THE REALITY SHOW "SURVIVOR" SHOULD BE VOTED OFF THE TV SCHEDULE. BUT FIRST, BEFORE SENATOR OBAMA LEFT FOR AFRICA HE TOOK TIME OUT TO WELCOME US TO OUR NEW CITY.
SENATOR OBAMA: HI, THIS IS SENATOR BARACK OBAMA FROM ILLINOIS…AND WELCOME TO WASHINGTON, DC CHANNEL ONE.