There are two parts to Channel One News. One is the in-school TV show that has caused controversy for the last 16 years. The other part is Channelone.com which has been equally controversial since it was launched in 1996.
Schools that signed up for Channel One News – the TV show, never agreed to help promote the Channel One website. Channel One just assumed that schools would have no problem with the advertising of Channelone.com.
Below is the official script of Channel One's TV show for today. You will see three "web tags" mentioned. This reminds the anchor reading the words off the teleprompter that it's time to remind the teen and preteen audience to visit the website when they get home from school.
Promoting the website three times during the 12-something-minute show may seem a little heavy-handed, but that's not the end of it. The script doesn't show it, but Channel One also ran a commercial urging the audience to visit Channelone.com. That makes a total of four separate times the TV show reminded students to visit Channelone.com.
Do teens and preteens go to the site?
Not many it seems, and that is the problem for Channel One. They have to spend more school time than ever promoting this site. The advertising revenue from the TV show has been going down and down for years. To make up for that, Channel One has signed deals putting advertising on their website. Drive enough teens and preteens to the site and Channel One executives could be rolling in the money again. That's the plan, anyhow.
Alexa Internet (Alexa.com) keeps track of traffic on web sites. As of today, Channelone.com ranks 146,156. That is embarrassing. (For comparison: Seventeen magazine's site is 14,892.)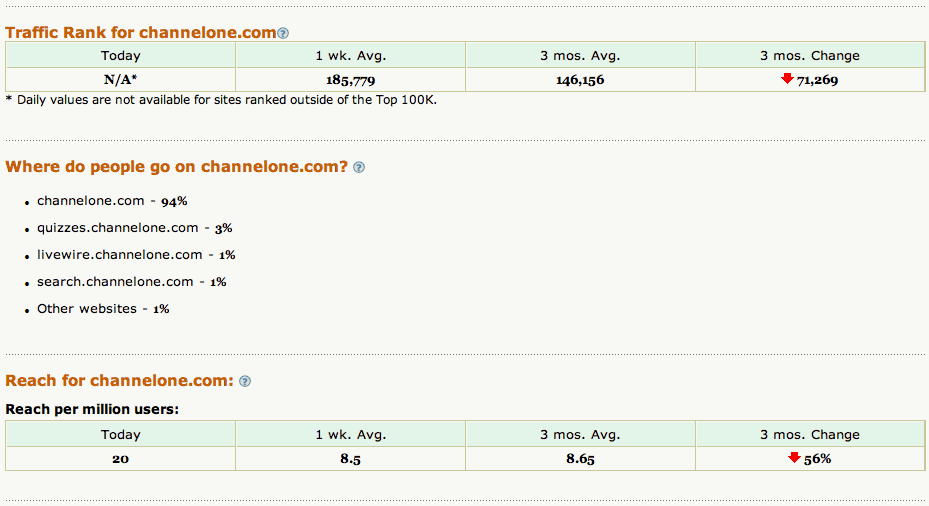 This is part of the Alexa chart on Channelone.com's traffic ranking. Even though school is now in session and many students are being required to watch Channel One, the site's traffic ranking is going lower. Over the summer the average ranking was 146,156. As of September 13, it has dropped to 185,779. Everything is going wrong for this company that exploits schoolchildren.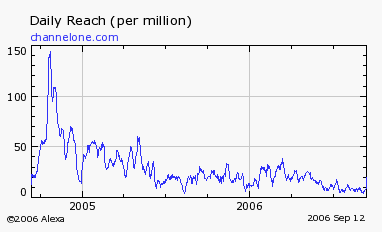 Above: This Alexa chart shows why they are going overboard plugging the site on Channel One News. The graph represents visitors to the site. Forget about the spike in late 2004. Comparing today's numbers with the same time last year, it is apparent that Channel One's loss of classroom viewers is negatively affecting its web visitors.
This puts into context the "web tags" in the script below. Channel One's executives have no hesitation making taxpayers help promote their struggling website. Every website promotion takes school time. That time was paid for by taxpayers who never, ever envisioned that their money would help promote a website that has had extremely controversial content. [Cutting Razor to the wrist, Vulgar message boards, Fresh faces, Reviews of R-rated movies, Was Jesus a homosexual?] That is just a sampling of some of Channelone.com's recklessness over the years.
If you are a parent, you would never know that "VISIT CHANNELONE.COM" is being beaten into your child's head during school time. Also, just this week Obligation discovered that Channel One is instructing young people under the age of 13 to "immediately" leave Channelone.com, yet as you see they are flooding the TV show, watched by children down to the age of 10 and 11, with website promotions. Add this to the list of reasons for schools to say "No" to Channel One.
September 13, 2006
SYRIA ATTACK
IN TODAY'S SHOW:
SYRIA ATTACK
HARVARD ADMISSIONS
TEACHER BACK FROM IRAQ
SPACE WALK
QUESTION OF THE DAY RESPONSES
HELLO
EILEEN: HEY EVERYONE,WELCOME TO CHANNEL ONE. I'M EILEEN WU. LET'S GET STARTED WITH THE TOP STORIES.
INTRO SYRIA ATTACK
EILEEN: FOUR ISLAMIC MILITANTS ATTACKED THE U.S. EMBASSY IN DAMASCUS, SYRIA TUESDAY MORNING. THEY TRIED TO STORM THE EMBASSY WITH AUTOMATIC RIFLES, GRENADES AND A CAR ARMED WITH EXPLOSIVES. ALEXANDER MARQUARDT HAS THE STORY.
SYRIA ATTACK
ALEXANDER: SHOUTING MUSLIM SLOGANS, THE ATTACKERS WERE FENDED OFF BY SYRIAN SECURITY GUARDS, WHO KILLED THREE OF THE FOUR ATTACKERS. NO AMERICANS WERE INJURED AND THE REMAINING ATTACKER IS NOW IN CUSTODY. NEARBY, A VAN PACKED WITH EXPLOSIVES AND PROPANE TANKS WAS FOUND BUT WAS DISMANTLED BY A BOMB SQUAD. THE ATTACK COMES AT A TIME OF ESPECIALLY STRONG TENSION BETWEEN THE U.S. AND SYRIA. SYRIA BORDERS TWO OF THE MOST CONTENTIOUS REGIONS IN THE WORLD, WITH ISRAEL AND LEBANON TO THE WEST, AND IRAQ TO THE EAST. SYRIA SIDED WITH HEZBOLLAH DURING THIS SUMMER'S FIGHTING WITH ISRAEL. IT HAS PRIDED ITSELF ON BEING THE CHAMPION OF RADICAL ISLAMIC MOVEMENTS, SUPPORTING NOT ONLY HEZBOLLAH BUT HAMAS AND ISLAMIC JIHAD AS WELL. GROUPS THE U.S. CONSIDERS TO BE TERRORIST ORGANIZATIONS. SYRIA IS ALSOR SUSPECTED OF OF FUNNELING MONEY, AND FIGHTERS, INTO IRAQ TO SUPPORT THE INSURGENCY THERE. AFTER THANKING THE SYRIANS FOR PROTECTING THE EMPLYOYEES AT THE EMBASSY, WHITE HOUSE PRESS SECRETARY TONY SNOW LAID OUT THE BUSH ADMINISTRATION'S HOPES FOR SYRIA:
TONY SNOW: NOW THE NEXT STEP IS FOR SYRIA TO PLAY A CONSTRUCTIVE ROLE IN THE WAR ON TERROR. STOP HARBORING TERRORIST GROUPS, STOP BEING AN ANGENT IN FORMENTING TERROR, AND WORK WITH US TO FIGHT AGAINST TERROR.
ALEXANDER: DESPITE ITS CLOSE RELATIONSHIP WITH IRAN, A MUSLIM STATE, AND ISLAMIC TERRORIST ORGANIZATIONS, SYRIA IS OFFICIALLY NOT A RELIGIOUS STATE. THE U.S. HAS BEEN CRITICIAL OF SYRIA IN THE PAST FOR ITS GOVERNMENT'S TIGHT CONTROL OVER ITS PEOPLE. FOR NOW, THE U.S. IS NOT BLAMING SYRIA FOR THE ATTACK. INSTEAD, THEY HOPE FOR ANSWERS FROM THE ONE SURVIVING ATTACKER. ALEXANDER MARQUARDT, CHANNEL ONE.
HARVARD ADMISSION
EILEEN: HARVARD UNIVERSITY IS ENDING ITS EARLY ADMISSIONS PROGRAM, SAYING IT FAVORS WEALTHIER STUDENTS OVER MINORITIES AND THE POOR. CURRENTLY, STUDENTS CAN APPLY BY NOVEMBER 1ST AND RECEIVE A DECISION BY DECEMBER 15TH. LAST YEAR, HARVARD ACCEPTED 21 PERCENT OF EARLY APPLICANTS, COMPARED TO 9 POINT 3 PERCENT OVERALL. HARVARD IS GETTING RID OF THE PROGRAM BECAUSE IT IS UNFAIR TO STUDENTS WHO MAY NOT HAVE THE RESOURCES TO GET THEIR APPLICATIONS IN EARLY. THE NEW PLAN GIVES STUDENTS A SINGLE DEADLINE. THE FIRST CLASS IMPACTED WILL BE THOSE WHO START IN THE FALL OF 2008. SO, IF YOU'RE A SENIOR AND INTERESTED IN HARVARD, YOU'RE STILL ELIGIBLE TO APPLY FOR EARLY ADMISSION.
WEB TAGS
EILEEN: IF YOU'RE LOOKING FOR THE SCHOOL OF YOUR DREAMS, HEAD TO OUR WEBSITE. CHECK OUT THE 'COLLEGE GUIDE' AT CHANNEL ONE DOT COM.
Note from Obligation: Visit Channelone.com's College Guide at http://www.channelone.com/life/school/2003/10/14/college_guide/ This is just a bunch of quickly created quizzes that help get eyeballs to Gillette Venus Vibrance advertisements and ultimately delivers young people to a marketing survey.
LANCE TEAMMATES
EILEEN: NOW, TO AN ADMISSION OF A DIFFERENT KIND, TWO OF LANCE ARMSTRONG'S FORMER CYCLING TEAMMATES CONFESSED TO USING THE BANNED SUBSTANCEM EPO. EPO IS NOT A STEROID BUT IT DOES BOOST ENDURANCE. FRANKIE ANDREU AND A RIDER WHO DID NOT WANT TO BE IDENTIFIED, SAY THEY FELT THEY NEEDED TO TAKE THE SYNTHETIC HORMONE TO MAKE THE TEAM FOR THE 1999 TOUR DE FRANCE, THE YEAR ARMSTRONG SCORED HIS FIRST OF SEVEN VICTORIES. HIS EX- TEAMMATES SAY THEY NEVER SAW ARMSTRONG TAKE ANY DRUGS.
I-MOVIES
EILEEN: APPLE ANNOUNCES BIG CHANGES FOR ITS SMALL ENTERTAINMENT DEVICES. YOU CAN NOW BUY FULL LENGTH MOVIES FROM THE I-TUNES LIBRARY.THE NEAR DVD QUALITY FILMS WILL TAKE A HALF HOUR TO DOWNLOAD , AND COST UP TO $14.99 FOR NEW RELEASES. THE COMPANY ALSO ANNOUNCED NEW UPGRADES TO THE IPOD FAMILY, INCLUDING AN 80 GIGABYTE DEVICE THAT CAN STORE UP TO 20,000 SONGS. BUT COMPETITORS ARE EAGER TO TAKE A BITE OUT OF APPLE. AOL, AND AMAZON.COM HAVE PARTNERED WITH STUDIOS TO OFFER MOVIES ONLINE, AND MICROSOFT PLANS TO RELEASE A COMPETITOR TO THE IPOD THIS YEAR.
SPACE WALK
EILEEN: FROM CYBERSPACE TO OUTER SPACE. TWO ASTRONAUTS FROM THE SHUTTLE ATLANTIS STEPPED OUT FOR THE FIRST OF THREE SCHEDULED SPACEWALKS. HEIDE STEFANYSHYN-PIPER AND JOE TANNER SPENT SIX AND A HALF HOURS INSTALLING EQUIPMENT ON THE INTERNATIONAL SPACE STATION. DURING THE ELEVEN DAY MISSION, THE CREW WILL BE ATTACHING A SEVENTEEN AND A HALF TON ADDITION THAT WILL PROVIDE POWER AND COMMUNICATION SERVICES. THE CREW IS TAKING ANOTHER SPACEWALK TODAY AND A THIRD ONE ON THURSDAY. NOW,WE WANT TO TEST YOUR KNOWLEDGE ABOUT THE HISTORY OF THE SPACE STATION. CALI HAS YOUR POP QUIZ.
POP QUIZ
CALI: THIS IS THE INTERNATIONAL SPACE STATION CONTROL ROOM WHERE PEOPLE ARE REAL TIME MONITORING THOSE IN THE INTERNATIONAL SPACE STATION, WHICH BRINGS US TO YOUR POP QUIZ QUESTION. HOW LONG HAS THERE BEEN A CONSTANT HUMAN PRESENCE IN SPACE? IS IT A. SINCE THE YEAR 1985, B 1990, C 1993 OR D 2000. YOU'VE GOT TEN. THAT'S TIME AND IF YOU CHOSE D. 2000 YOU ARE CORRECT. THERE HAS CONSTANTLY BEEN AT LEAST 2 PEOPLE IN ORBIT ON BOARD THE INTERNATIONAL SPACE STATION SINCE NOVEMBER 2000 WHEN THE FIRST PERMANENT CREW TOOK THEIR POST IN SPACE. THE STATION IS A JOINT PROJECT BETWEEN THE UNITED STATES, RUSSIA, JAPAN, CANADA, AND THE EUROPEAN SPACE AGENCY. BRAZIL AND ITALY ALSO MAKE CONTRIBUTIONS.
WEB TAG
EILEEN: TO WATCH MORE NASA VIDEO OF THE ATLANTIS SPACEWALK, SEE HOW MUCH YOU'D WEIGH ON OTHER PLANETS AND FLIP THROUGH SOME OUT-OF-THIS-WORLD PHOTOS, CHECK OUT THE SPACE EXPLORER PACKAGE AT CHANNEL ONE DOT COM.
BE BACK
EILEEN: COMING UP, WE FOLLOW ONE MATH TEACHER AS HE GOES BACK TO THE CLASSROOM AFTER SERVING IN IRAQ.
INTRO TEACHER IN IRAQ
EILEEN: WELCOME BACK. WHAT WOULD YOU DO IF ONE OF YOUR TEACHERS HAD TO LEAVE SCHOOL TO SERVE IN IRAQ? ITS A QUESTION STUDENTS IN EBENSBURG PENNSYLVANIA FACED RECENTLY. MEKA NICHOLS HAS THE STORY.
TEACHER IN IRAQ
BLAZE: HI
MEKA: UNLESS YOU KNOW SOMEONE WHO IS DIRECTLY INVOLVED, THE WAR IN IRAQ CAN SEEM A MILLION MILES AWAY. BUT FOR STUDENTS IN THIS MATH CLASS IN EBENSBURG, PENNSYLVANIA, IT'S A REALITY THAT IS FRONT AND CENTER.
BLAZE: IF YOU DID NOT DRAW THE PICTURE, GET IT DRAWN IN YOUR NOTEBOOK NOW!
ADAM TUSING: HE YELLS A LOT, BUT IT'S IN A GOOD WAY.
BLAZE: GRRRR
C.J. FREEMAN: HE TEACHES MORE LIKE A SOLDIER WOULD TALK
BRETT: OH YEAH HE YELLS A LOT
BLAZE: READ THAT THE FIRST SET OF DIRECTION ON THERE. JUST READ IT OUT LOUD FOR ME.
MEKA: HE'S KNOWN AS MR. MCCOMBIE TO HIS MATH STUDENTS AT CENTRAL CAMBRIA HIGH SCHOOL IN EBENSBURG, PENNSYLVANIA.
BLAZE: MMMM, NO, THAT DOESN'T WORK. HOW DO YOU NAME AN ANGLE? (STUDENT ANSWERS) E-A-U, THAT'S WHAT I WAS LOOKING FOR.
MEKA: BUT DURING HIS RECENT ACTIVE DUTY IN IRAQ THE ONLY THING HE ANSWERED TO WAS SIR.
BLAZE: I WAS WHAT'S CALLED A BATTLE CAPTAIN.
MEKA: FOR A YEAR AND A HALF, BLAZE MCCOMBIE WAS A U.S. ARMY CAPTAIN SERVING IN HABBINIYA IRAQ WITH THE NATIONAL GUARD. THERE, HE BUILT INFRASTRUCTURE, DIRECTED TANKS AND EVEN EARNED A SERVICE MEDAL.
BLAZE: ONE OF THE 29 MISSIONS WE WERE FIRED UPON, AND WE HAD AN IED GO OFF WITHIN ABOUT A HUNDRED METERS FROM WHERE WE WERE SETTING UP A WIRE OBSTACLE ON A BRIDGE ACROSS THE EUPHRATES RIVER, SO I GOT A COMBAT ACTION BADGE FOR THAT.
MEKA: BACK HOME, STUDENTS LIKE HARMONY HESS WERE WORRIED ABOUT THEIR TEACHER'S SAFETY.
HARMONY HESS: I KEPT ON WATCHING TV EVERYWHERE. LIKE I COULDN'T STOP WATCHING TV AND I JUST WANTED TO KNOW IF EVERYONE WAS OKAY. I EVEN ASKED HIS WIFE IF THINGS WERE OKAY.
MEKA: TO HELP EASE STUDENTS FEARS MCCOMBIE REGULARLY STAYED IN TOUCH.
BREANNE ZIESMAN: EVERY SO OFTEN I'D EMAIL HIM AND TELLING HOW THINGS ARE GOING IN SCHOOL
LAUREN VOGATSKY: IF HE COULDN'T EMAIL ME DIRECTLY, HE WOULD SEND ME A NEWSLETTER THAT WAS TELLING ME WHAT WAS GOING ON IN IRAQ
MEKA: MCCOMBIE EMAILED 42 OF HIS STUDENTS. BUT EVEN FOR THOSE WHO COULDN'T KEEP IN TOUCH, HAVING A TEACHER IN IRAQ MADE THEM MORE AWARE OF WHAT WAS HAPPENING IN A WAR A WORLD AWAY.
MEGAN BROWN: YOU REALLY WANNA BE IN IT OR WANNA KNOW ABOUT IT CAUSE LIKE YOU KNOW SOMEONE THAT'S IN IT.
MATT DEMCHAK: I PAID A LOT MORE ATTENTION TO SEE IF ANYTHING HAPPENED TO HIM OR HOW HE WAS DOING OR HOW THINGS WERE MAKING OUT FOR HIM.
MEKA: BUT AFTER RETURNING TO THE STATES IN AUGUST, MCCOMBIE DECIDED THAT WAR IS NOT PART OF THE CURRICULUM AT LEAST NOT FOR NOW.
BLAZE: I'M A TEACHER. THIS IS WHERE I BELONG. I MISSED THIS FROM THE FIRST MOMENT I LEFT.
NICOLE LLEWELLYN: HE HASN'T MUCH REALLY TALKED ABOUT IT. HE SAYS HE WILL ONE DAY WHEN WE HAVE TIME.
BLAZE: AND THAT'S A CONSCIOUS EFFORT ON MY PART. I WON'T TALK TO THEM ABOUT WHAT I DID OR WHERE I WAS UNTIL OCTOBER. I WANT THEM TO SEE ME AS A TEACHER, NOT JUST THIS CRAZY GUY WHO CAME BACK FROM IRAQ, SERVING IN A WAR.
MEKA: MCCOMBIE'S STUDENTS SAY THAT WHEN HE'S READY TO TELL WAR STORIES, HE'LL HAVE THEIR COMPLETE
BLAZE: ARE WE DOING BETTER NOW?
MEKA: AND FULL FULL ATTENTION. MEKA NICHOLS CHANNEL ONE.
WEB TAG
EILEEN: LEARN NEW WAYS TO SUPPORT THE TROOPS, AND SEE HOW MUCH YOU KNOW ABOUT LIFE IN THE ARMED FORCES. TAKE THE MILITARY INTELLIGENCE TEST ON CHANNEL ONE DOT COM.
BE BACK
EILEEN: AFTER THE BREAK, WE'LL HAVE YOUR ANSWERS TO OUR QUESTION OF THE DAY ON WHETHER NEW YORK SHOULD REBUILD ON GROUND ZERO.
QUESTION OF THE DAY ANSWER
EILEEN: NOW TO YOUR ANSWERS TO OUR QUESTION OF THE DAY. YESTERDAY WE TOLD YOU ABOUT THE CONTROVERSY OVER WHAT TO DO WITH THE LAND WHERE THE WORLD TRADE CENTER ONCE STOOD. WE ASKED YOU, SHOULD OFFICE TOWERS BE REBUILT ON GROUND ZERO? YOUR ANSWERS ARE IN AND 39 PERCENT OF YOU SAID YES, TOWERS SHOULD BE REBUILT THERE, WHILE 61 PERCENT OF YOU ANSWERED NO THEY SHOULDN'T. LOGAN GRAY FROM TAYLORSVILLE, KENTUCKY SAYS, I FEEL THAT THE TOWERS SHOULD BE REBUILT. IT SHOULD BE REBUILT TO SHOW THAT NO MATTER WHAT PEOPLE CAN THROW AT US, WE WILL PREVAIL. AND REBUILDING THE TOWERS WOULD HELP REPRESENT THAT. BECCA BOVA FROM CHICAGO HEIGHTS, ILLINOIS DISAGREES. I DON'T THINK NEW OFFICE BUILDINGS SHOULD BE REBUILT ON GROUND ZERO SINCE THE PLACE IS NO MORE OF A MEMORIAL FOR THE PEOPLE WHO LOST THEIR LIVES THAT DAY. IT WOULDN'T BE RIGHT TO BUILD OVER THAT.
GOODBYE
EILEEN: THANKS FOR JOINING US. DON'T FORGET TO TUNE IN TOMORROW FOR OUR INTERVIEW WITH R AND B STAR CHRIS BROWN. HAVE A GREAT DAY!