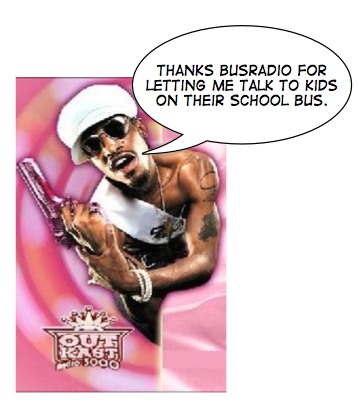 Above: Andre Benjamin (aka Andre 3000) BusRadio: "He is such a cool guy. I was totally star struck!"
Vulgar rap singer Andre Benjamin was interviewed on BusRadio's program recently. Mr. Benjamin goes by the rap name Andre 3000 when he makes his explicit CDs such as Stankonia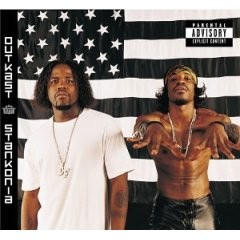 and Speakerboxxx/ The Love Below (The extra "x"s are about the X-rated content.)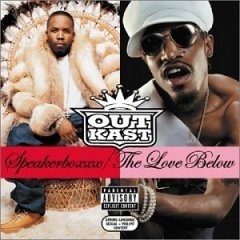 Why is BusRadio serving up such a toxic artist to children as they ride on their school bus? This is a question for Steve Shulman one of the founders of BusRadio who has told community after community that BusRadio is an age-appropriate radio show.
Andre 3000 is on BusRadio for several reasons. First, he has signed a deal with MTV to do a show for MTV's Nickelodeon. Nickelodeon is an advertiser on BusRadio. Second, Andre 3000 wants to have his explicit rap group Outkast plugged. BusRadio obliges by mentioning several songs made infamous by Outkast.
It's bad enough that this sleazy rap artist gets to promo himself at the taxpayers' expense, but to have the BusRadio DJs gush over his explicit music is revolting.
In on-air interview the BusRadio DJs mention Andre 3000's "Hey Ya" song. It is obvious that the DJs like this song. (Children as young as six will learn to like what these "nice" DJs like especially if they have to hear BusRadio every school day.) Here are some of the lyrics to "Hey Ya":
[Chorus]
Heeeyyy… Yaaaaaaa.. (OHH OH)
Heeyy Yaaaaaaaa.. (OHH OH)
Heeeyyy… Yaaaaaaa.. (Don't want to meet your daddy, OHH OH)
Heeyy Yaaaaaaaa.. (Just want you in my Caddy OHH OH)
Heeeyyy… Yaaaaaaa.. (OHH OH, don't want to meet yo' mama OHH OH)
Heeyy Yaaaaaaaa.. (Just wan't to make you cumma OHH OH)
Heeeyyy… Yaaaaaaa.. (I'm, OHH OH I'm, OHH OH)
Heeyy Yaaaaaaaa.. (I'm just being honest OHH OH, I'm just being honest)
When the BusRadio DJs, Matt and Lucia, mention this song, they assume teens and preteens know this song. They assume all kids listen to the vilest of rap music. It is just like we thought – BusRadio will be pushing the envelope with their captive audience. We just didn't expect it this early.
This one interview should be enough for any community that is thinking about BusRadio to walk away from this stink bomb
BusRadio's audience is from seniors in high school to the first-time bus riders in first grade. The company has two web sites to cover this wide range of ages. There is the "teen" site and the "tween" site. There is no elementary school web site so we assume their "tween" site is for all visitors below 13. Check out the screen shot from BusRadio's "tween" site. It is promoting Andre 3000. "Andre 3000 loves Bus Radio!"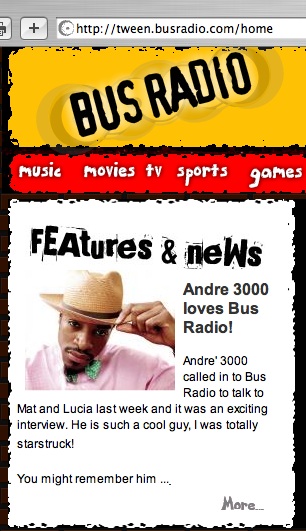 If a child clicks "more" they go to this page: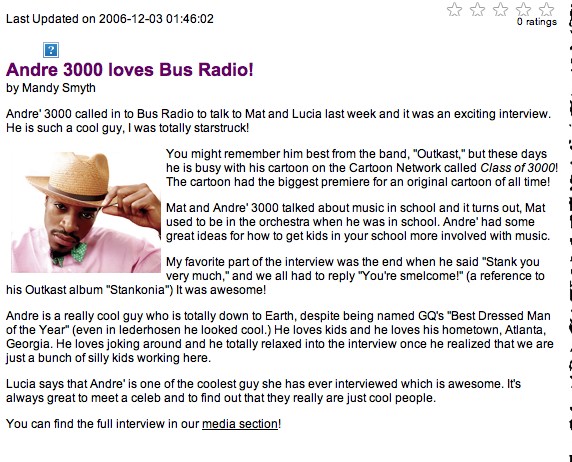 Notice how BusRadio assumes all kids are "cool" and know the music of this sleazyball group. "You might remember him best from the band 'Outkast.'" Yipes. Mr. Shulman, maybe a lot of children don't listen to the garbage your BusRadio employees listen to. Your company is purposefully promoting not only this man's cartoon show that will help kids move later to Andre's rap music, but you are promoting Outkast. You are even mentioned the name of one of their latest CDs. That was no mistake. Your DJs knew exactly what they were doing.
This paragraph is sickening: "My favorite part of the interview was the end when he said 'Stank you very much,' and we all had to reply 'You're smelcome!' (a reference to his Outkast album 'Skankonia') It was awesome!"
BusRadio is having some dirty fun with school kids. They are laughing it up about the references to one of rap's most vulgar CDs. BusRadio said they would have an advisory panel review content that played on their radio show. Nobody knows who is on this panel or if it even exists. Maybe Andre Benjamin is on the committee.
BusRadio is going to do whatever they want to do. If they want to let a vulgar rap singer have some quality time with schoolchildren, they will do it, if they can make a buck out of it. School boards need to hang up the phone when Steve Shulman and BusRadio call. No young person should be forced to listen to Andre 3000.
BusRadio's Steve Shulman
Note: Advertising Outkast and Andre 3000 to children is as inappropriate as you can get.
From eSchool News, August 1, 2006
The concept for the program arose from the idea that, while the majority of school buses have AM/FM radio, the content played on those stations often is geared to the 18-and-older crowd and is not appropriate for younger children, said Steven Shulman, the company's president.
"Instead of kids listening to shock-jock type programming with inappropriate songs and advertising, we decided that we'd give schools the choice of playing programming that is appropriate for students," he said.
Andre 3000 Wants To Make Kid's Movies "Edgier"
Note: Not all young people "look up" to Jay-Z and Outkast. Many parents believe that children's entertainment is too "edgy" already.
OutKast's Andre 3000 Signs Deal With Nickelodeon and MTV
By NEKESA MUMBI MOODY
AP Music Writer
NEW YORK (AP) _ Andre 3000 says kids' movies need to be edgier and he plans to make it happen through a new deal with the cable TV stations Nickelodeon and MTV.
"I've noticed that kids, they're looking up to the Jay-Zs, they're looking up to OutKasts," the rapper (and father of a 7-year-old boy with singer Erykah Badu) told The Associated Press on Tuesday. "So kids' movies and cartoons, they're getting smarter … because it seems like kids are cooler."
Typical Outkast songs:
"Where Are My Panties?"
[spoken:]
What time is it?
7:48?
Where Where Where are my where are my panties?
Oh my god where are my panties?
What? I don't..
He gon' think I'm a hoe
F*** that I liked it
I was drunk and it was my birthday anyway
Maybe I should just lay here and let him touch my booty
Mmmm.. but he don't even know my name
I know she think I just think she some kind of hoe
I don't give a s*** about givin it up on the first night
That just let me know she know what she want out of life
What a hell of a way to g**d*** wake up
Ooo that s*** was good
Oo maybe she'll get me some breakfast
She so g** d***sweet
Sweet as she wanna be
Oo I just like Oo i wanna lay in her hair
Can't fall for her don't fall for her ice cold (ice cold)
Maybe I'll just roll over and just lay on her booty
Yeah.. naw naw naw
Nah I'll just lay here and be cool be cool ice cold (ice cold)
But what if she's what if she's what if she's if she's the one
Gangsta S***
[Andre 3000]
Outkas wit a K, yeah them niggaz are hard
Harder than a nigga trying to impress God
We'll pull your're whole deck, f*** pulling your card
And still take my guitar and take a walk in the park
Any play the sweetest melody the street ever heard
Now bitches sucking on my nouns and I'm eating their verbs
Get full, and niggaz, niggaz,
pop, pop, lock, lock to the, to the beat, beat
As if pitbulls went out of style, made a vow to myself
If it's for the wealth i'll stop, well put i like this
It's like me selling some dope because my girlfriend wants to shop
Wrong reason, whatever the season, hey winter, spring, summer or fall
I dont stall, slow drag wit your brain against the wall
Yeah, nigga naw, we learn to the side don't fall
All y'all f*** boys, tuck toys inside your pants
Just to pull it out, point it at the ground and make a nigga wanna dance
Now what that be for, you're on that reefer and on that Tupac
In front of them oooh wops, trying to show out, that's the hoe route
Talking loud talking bout that's gangsta s***