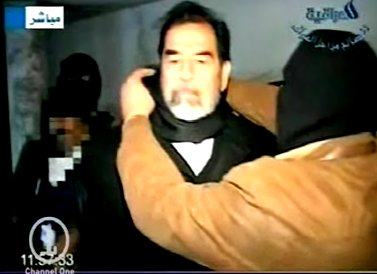 Channel One News ran two stories this week on the hanging of Saddam Hussein. Channel One's Judy Harris had to make some decisions about what would be shown. She knew that children as young as ten are in Channel One's dwindling captive audience.
Not surprisingly Ms. Harris blunders. For some reason she wants children to see some of the video of Hussein before he is hung. Ms. Harris could have decided that the story would be told to students in a factual way without the sensational video.
Violence gets attention. Channel One has played the "death and violence" card many times before. The people who produce the show have never been sensitive to the youngest members of Channel One's audience. They might believe that teachers will protect their students from Channel One's images, but they know that few teachers take the time to preview the show.
On January 2, Ms. Harris approved a clip of Saddam surrounded by masked executioners. A black cloth is put around his neck. Can Ms. Harris image a sixth grade student, or older, who might be disturbed by this image? Especially with no preparation by the teacher or any discussion afterwards? Channel One News showed children the same images that adults saw on their nightly network news. No network showed more than the black cloth being placed around Saddam's neck.
Later a cell phone video of Saddam's actual execution surfaced as was available on the Internet. Network news programs showed some of the grainy footage but again did not show the actual moment of hanging. Ms. Harris again decided that more Saddam footage needed to be seen by preteens and teens. The two photos below are from Channel One's chilling report this morning.
Obligation's Jim Metrock said, "Children watching this cell phone video of the execution do not know what they are going to see. No one has told them. For all the know they will see Saddam Hussein drop with a noose around his neck. One needs to remember that every second of Channel One News is chosen by their producer. They had the cell phone video footage but they didn't have to show any. I am sure someone, hopefully, several Channel One people voiced their opposition to showing any of the clip. When the decision was made to show kids some of the video, then another company decision had to be made: How much do we show? Channel One made a conscience and calculated decision to show the noose that would go around Saddam's neck. Channel One would never have shown the actual hanging – nobody would do that – but they wanted the shock value of the noose. Every student forced to watch Channel One could picture the hanging in their minds."
| | |
| --- | --- |
| | |
Other insensitive moments in recent Channel One history:
Channel One's shocking video of Nicholas Berg before he was beheaded.
Channel One dumps violent images on preteens. Angel on the WB Network 2004.
Student shoots another student in the head. This "Horror PSA" was pulled after Obligation's complaints.
Channel One shows Bat Mitzvah shooting video.
Channel One transcript January 2, 2006:
SADDAM
CALI: SADDAM HUSSEIN, THE FORMER PRESIDENT OF IRAQ, WAS PUT TO DEATH THIS PAST WEEKEND BY THE IRAQI GOVERNMENT.
CALI: HUSSEIN WAS HUNG IN A SMALL WINDOWLESS ROOM, IN THE EARLY MORNING HOURS. THERE WERE 14 EYE WITNESSES TO THE EXECUTION.
CALI: HUSSEIN WAS SENTENCED TO DEATH FOR HIS ROLE IN THE SLAYINGS OF 148 PEOPLE WHO TRIED TO ASSASSINATE HIM IN 1982.
CALI: BEFORE THE HANGING, THE VERDICT FINDING HUSSEIN GUILTY OF CRIMES AGAINST HUMANITY WAS READ ALOUD.
CALI: AS THE EXECUTION NEARED, THERE WERE TERSE EXCHANGES BETWEEN HUSSEIN AND GUARDS.
CALI: SADDAM HUSSEIN'S LAST WORDS WERE REPORTED AS:
SADDAM HUSSEIN: DOWN WITH THE TRAITORS, THE AMERICANS, THE SPIES AND THE PERSIANS.
CALI: SADDAM WAS CAPTURED IN AN UNDERGROUND HIDE-OUT IN 2003.EIGHT MONTHS AFTER HE FLED BAGHDAD AHEAD OF ADVANCING AMERICAN TROOPS.
CALI: INSIDE IRAQ, REACTION TO HUSSEIN'S DEATH WAS SPLIT.
CALI: THERE WERE CHEERS AMONG SHIITES, A GROUP OF MUSLIMS OPPRESSED DURING HUSSEIN'S REIGN…
CALI: AND CHANTS OF ANGER BY HUSSEIN LOYALISTS…WHO ARE MOSTLY SUNNIS.
CALI: WORLD REACTION WAS ALSO MIXED. MANY COUNTRIES CONDEMNED HUSSEIN'S CRIMES BUT OPPOSED THE USE OF THE DEATH PENALTY.
CALI: PRESIDENT BUSH ISSUED A STATEMENT SAYING:
CALI: "SADDAM HUSSEIN WAS EXECUTED AFTER RECEIVING A FAIR TRIAL—THE KIND OF JUSTICE HE DENIED THE VICTIMS OF HIS BRUTAL REGIME."
CALI: OTHERS CRITICIZED THE DECISION TO EXECUTE SADDAM WHILE HE WAS IN
THE MIDST OF A SECOND TRIAL. SADDAM IS CHARGED WITH GENOCIDE, AMONG
OTHER CRIMES, FOR HIS ALLEGED ROLE IN THE 1987-88 MILITARY
OFFENSIVE AGAINST THE KURDS. AN ESTIMATED 180,000 KURDS WERE KILLED
IN WHAT WAS CALLED CODENAMED OPERATION ANFAL.
CALI: SADDAM HUSSEIN BECAME PRESIDENT OF IRAQ IN 1979… RULING FOR NEARLY 25 YEARS.
CALI: HIS REGIME WAS MARKED BY BRUTALITY AND FORCE.
CALI: IN THE 1980'S, HE LAUNCHED A WAR AGAINST IRAN WHICH LASTED EIGHT YEARS…KILLING AN ESTIMATED ONE-MILLION SOLDIERS.
CALI: KURDS, A GROUP OF SUNNI MUSLIMS LIVING IN NORTHERN IRAQ, WHO HELPED THE IRANIANS WERE ALSO ATTACKED.
CALI: UNDER HUSSEIN'S ORDERS THE IRAQI MILITARY DROPPED POISONOUS GASES ON KURDISH VILLAGES IN NORTHERN IRAQ, KILLING NEARLY 5,000 PEOPLE.
CALI: IN 1990, HUSSEIN INVADED KUWAIT, A NEIGHBORING COUNTRY TO THE SOUTH. THE U-S JOINED ALLIED FORCES TO GET IRAQ OUT OF KUWAIT, IN WHAT IS KNOWN COMMONLY AS *THE FIRST GULF WAR.*
CALI: FOUR YEARS AGO, THE U-S INVADED IRAQ, UNDER SUSPICIONS THAT THE COUNTRY HAD WEAPONS OF MASS DESTRUCTION, US FORCES TOOK THE CAPITAL CITY OF BAGHDAD ON APRIL 9TH 2003…
CALI: THAT DECEMBER, HUSSEIN WAS FOUND HIDING IN A HOLE AND WAS ARRESTED AND STOOD TRIAL FOR CRIMES AGAINST HUMANITY.
CALI: SADDAM HUSSEIN WAS BORN ON APRIL 28 1937 NEAR THE VILLAGE OF TIKRIT.
CALI: HUSSEIN WAS MARRIED AND WAS THE FATHER OF FIVE CHILDREN, THREE DAUGHTERS AND TWO SONS.
HIS SONS – – UDAY AND QUSAY – WERE BOTH KILLED IN JULY 2003 DURING A GUN BATTLE WITH AMERICAN FORCES.
CALI: SADDAM HUSSEIN WAS BURIED IN HIS HOME TOWN NEAR HIS TWO SONS.
CALI: HUSSEIN'S DEATH COMES AS THE DEATH TOLL OF U-S TROOPS IN IRAQ REACHED 3,000.
TAG SADDAM
CALI: FOR MORE ON EXECUTION OF SADDAM HUSSEIN AND THE FUTURE OF IRAQ – GO TO THE IRAQ INSIDER PAGE AT CHANNELONE-DOT-COM.
Channel One transcript January 4, 2006:
HUSSEIN CONTROVERSY
ALEXANDER: WHEN SADDAM HUSSEIN WAS EXECUTED IN THE EARLY MORNING OF DECEMBER 30TH, IRAQI STATE TELEVISION WAS THERE TO FILM IT. THE CAMERAS STOPPED ROLLING WHEN THE NOOSE WAS PLACED AROUND THE DICTATOR'S NECK.
ALEXANDER: BUT IT'S THIS GRAINY VIDEO OF THE ENTIRE EXECUTION — BELIEVED TO HAVE BEEN FILMED ON A CELL PHONE BY A WITNESS — THAT IS HEIGHTENING ETHNIC TENSIONS IN IRAQ.
ALEXANDER: IN THE VIDEO, AS HUSSEIN, A SUNNI MUSLIM, CHANTS PRAYERS, SOME OF THE GUARDS AND WITNESSES TAUNT AND INSULT HIM. YOU CAN HEAR SHOUTS OF 'MUQTADA, MUQTADA', REFERRING TO MUQTADA AL-SADR, THE LEADER OF A SHIITE MUSLIM MILITIA.
ALEXANDER: NOW, THE CELL PHONE VIDEO IS SPARKING OUTRAGE IN IRAQ AND AROUND THE WORLD. SOME SUNNIS HAVE TAKEN TO THE STREETS RALLYING AROUND REMINDERS OF THE FORMER DICTATOR AND EVEN ATTACKING A SHIITE MOSQUE.
ALEXANDER: CLASHES BETWEEN SUNNIS AND SHIITES CONTINUE TO BE A PRIMARY OBSTACLE AS IRAQ TRIES TO REBUILD. AND THE WORRY NOW IS THAT THE CELL PHONE VIDEO'S CONTENT WILL LEAD NOT ONLY TO GREATER DISTRUST OF THE NEW SHIITE-LED GOVERNMENT, BUT ALSO TO AN INCREASE IN VIOLENCE.
ALEXANDER: TWO GUARDS AND AN UNIDENTIFIED IRAQI OFFICAL HAVE BEEN ARRESTED IN CONNECTION WITH THE UNAUTHORIZED CELL PHONE RECORDING. THE IRAQI GOVERNMENT HAS CONDEMNED THE VIDEO AND A U.S. MILITARY SPOKESMAN SAYS IT WOULD HAVE HANDLED THINGS DIFFERENTLY, BUT THE WHITE HOUSE HAS DECLINED TO JOIN IN CRITICISM OF THE PROCEDURE.
ALEXANDER: MEANWHILE, TWO OF SADDAM'S CO-DEFENDANTS — HIS HALF BROTHER AND A FORMER CHIEF JUSTICE IN THE REVOLUTIONARY COURT — COULD BE EXECUTED AS EARLY AS TODAY. ALEXANDER MARQUARDT, CHANNEL ONE.