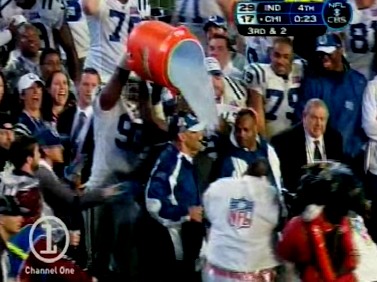 Why would C1N waste valuable school time showing Gatorade (major C1N advertiser) being poured over a coach?
From Channel One's official script:
MEKA: WHEN WE COME BACK. THE TOUCHDOWNS, THE PLAYERS AND THE COACH WHO MADE HISTORY. WE'LL BRING YOU ALL OF THE EXCITEMENT FROM THE SUPER BOWL.
INTRO SUPER BOWL HIGHLIGHTS
MEKA: NOW TO THE BIG GAME WHICH PROBABLY HAD MANY OF YOU GLUED TO THE TV LAST NIGHT. IT WAS A SHOWDOWN IN MIAMI – THE INDIANAPOLIS COLTS VERSUS THE CHICAGO BEARS. AS IT TURNED OUT THE COLTS HAD NOTHING TO BE BLUE ABOUT. HERE IS ALEXANDER MARQUARDT WITH HIGHLIGHTS FROM SUPER BOWL FORTY-ONE.
SUPER BOWL HIGHLIGHTS
ALEXANDER: IN A MESSY MIAMI, THE INDIANAPOLIS COLTS MANAGED TO FIND THEIR FOOTING AND RIDE AWAY WITH SUPER BOWL FORTY-ONE, BEATING THE CHICAGO BEARS 29 TO 17. IT WAS A NIGHT OF FIRSTS ON BOTH SIDES OF THE BALL.
ALEXANDER: COLTS COACH TONY DUNGY MADE HISTORY AS THE THE FIRST AFRICAN AMERICAN TO LEAD A TEAM TO SUPERBOWL VICTORY, BEATING GOOD FRIEND BEARS' HEAD COACH LOVIE SMITH.
TONY DUNGY: I'LL TELL YOU WHAT, I'M PROUD TO BE REPRESENTING AFRICAN-AMERICAN COACHES, TO BE THE FIRST AFRICAN-AMERICAN TO WIN THIS.
ALEXANDER: QUARTERBACK PEYTON MANNING, PLAYING IN HIS FIRST SUPER BOWL, SILENCED CRITICS WHO QUESTIONED WHETHER HE COULD WIN THE BIG GAME. HE GOT THE RING HE'S BEEN WAITING NINE SEASONS FOR AND THE MVP NOD.
ALEXANDER: AND IN THE FIRST EVER RAINY SUPER BOWL, BEARS ROOKIE DEVIN HESTER STILL MANAGED TO START THINGS OFF WITH THIS 92-YARD KICKOFF RETURN — MAKING SOME HISTORY OF HIS OWN — IT WAS THE FIRST TIME THE OPENING SUPER BOWL KICK HAS BEEN RETURNED FOR A SCORE.
ALEXANDER: THE COLTS CAME BACK WITH A 53-YARD TOUCHDOWN PASS TO REGGIE WAYNE. AND THE SEE-SAW CONTINUED WITH REX GROSSMAN HITTING MUHSIN MUHAMMAD ON A FOUR-YARD PASS. CLUTCH COLTS KICKER ADAM VINATIERI MADE THIS FIELD GOAL FROM 29 OUT AND DOMINIC RHODES CLOSED OUT THE HALF WITH A ONE YARD RUN.
ALEXANDER: AFTER A SLOPPY FIRST HALF FOR BOTH TEAMS, THE COLTS STEPPED IT UP IN THE SECOND. VINATIERI HIT ON TWO MORE FIELD GOALS AND KELVIN HAYDEN CONVERTED ON THIS INTERCEPTION. THREE POINTS FROM BEARS KICKER ROBBIE GOULD WEREN'T ENOUGH… AND THIS NIGHT WENT DOWN IN THE BOOKS WITH INDIANAPOLIS ON TOP — THE TEAM'S FIRST SUPER BOWL WIN IN MORE THAN 30 YEARS. ALEXANDER MARQUARDT, CHANNEL ONE.
WEB TAG
MEKA: AND FOR ALL OF YOU MONDAY-MORNING QUARTERBACKS, DON'T MISS THE NEW "SUPER BOWL GAME" ON OUR WEB SITE. MATCH THE TEAMS WITH THE OPPONENTS THEY FACED IN THE BIG GAME BEFORE TIME RUNS OUT. PLAY THE 'SUPER BOWL MATCHUP' AT CHANNEL ONE DOT COM.
GOODBYES
MEKA: AND THAT BRINGS US TO THE END OF TODAY'S SHOW. THANKS SO MUCH FOR WATCHING, HAVE A GREAT DAY.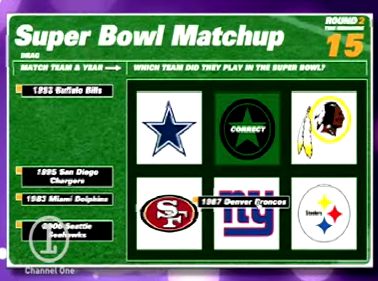 Note: The "Super Bowl Game" is a cheaply-done web game whose main purpose is to lure children to Channel One's web site where they will be confronted with more advertising (Sprint and Motorola). Channel One News has officially declared their website off-limits to any young person under 13. Yet, here we see Meka Nichols urging middle school students to visit the forbidden site. If this simple game appealed to any of Channel One's captive audience it would be middle school students. Channel One is trying to have it both ways: Warning middle school students that they should never visit channelone.com and then luring them to the site.
Note: Channel One has made finding their scripts a little more difficult. A link is no longer provided on their homepage at channelone.com. You can read today's script and past scripts at http://resources.channelonenetwork.com/script/.