Q: Why did middle school students have to watch a Channel One News story about an Alaska high school student who held up a pro-marijuana sign near his school?
A: The Knight Foundation.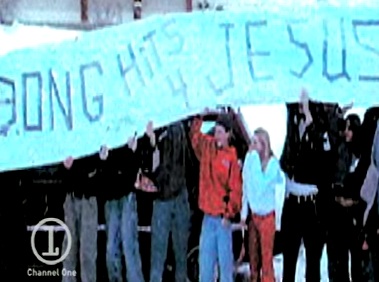 Why show the banner in middle school classrooms?
The principal of the Juneau-Douglas H.S. ran across the street to take down this sign that is now the center of a U.S. Supreme Court case. She didn't want the students and TV camera to see such a vile sign, especially so near her school. Little did she know that Channel One News, in their infinite wisdom, would show the sign to all middle school students in their nationwide audience. Why did Channel One's producer, Kristy Schantz, want to include this video clip with its drug reference and anti-Christian message in her program aimed at the entire range of secondary school students? What is a "bong"? Why are these students laughing as they hold up a sign mocking Jesus? Were teachers prepared for this shocking moment on Channel One News?
The Knight Foundation has temporarily rescued Channel One from financial disaster. When this journalism organization agreed in late 2006 to give Channel One $2.25 million over a three-year period, the people at Knight wanted something in return. They wanted stories that covered what the Knight Foundation felt was important. What teachers wanted to teach wasn't good enough for the Knight Foundation. The Foundation wanted their agenda promoted in public school classrooms and they were ready to pay to get that done. Apparently Channel One screen time is now available to the highest bidder.
This is journalism at its worst.
Channel One won't say it, and the Knight Foundation will deny it, but the "Bong Hits 4 Jesus" story was aired in middle school class rooms, along with high school classrooms, because Channel One needed to keep the Knight Foundation happy.
The background: Juneau-Douglas High School let their students out of class so they could cheer on the runner carrying the Olympic torch for the Salt Lake City Winter Games. A student Joseph Frederickson knew that TV cameras would be filming in front of the school as the runner came by, so he positioned himself across from the school with a pro-drug, anti-Christian message: "Bong Hits 4 Jesus."
The principal ran across the street to take the sign down. The student got in trouble, but, and this is what Channel One News in its new radicalized version wants all students to understand, the student had rights and all students need to think about how far they can push their First Amendment rights. There are limits to that right, but the Knight Foundation's message seems clearly to be, as relayed by Channel One, "Students aren't speaking up enough. Students need to find the outer boundaries of their freedom of speech."
http://www.channelonenetwork.com/teacher/articles/2007/01/02/1_voice/
The student of course sued the school district and the case has now gone to the U.S. Supreme Court. This story is obviously newsworthy, but there are many stories each day that are as newsworthy or more so. This question is – what is motivating the Channel One producer to pick stories. Are the needs of students driving Channel One to make programming decisions or the needs and desires of their "Sugar Daddy" Alberto Ibarguen, president of the Knight Foundation?
Learning about the First Amendment is important, but Channel One is going overboard. They have air numerous reports on the First Amendment and they always mention their "partner" the Knight Foundation. They have to. If Knight's money dries up, how are salaries going to be paid?
If Knight can give money to Channel One and get news story after news story covering issues that KNIGHT feels are important, than other groups and corporations can cough up some cash and get some screen time on classroom TV sets.
P. S. If you think students need to be learning more about a particular subject that is near and dear to you, AND you have a bunch of cash, call Channel One News at 212-204-3957. Tell them you would like to "partner" with Channel One so students can learn more about bowling, bird watching, the history of your family, whatever. When you call, ask for Judy.
From Channel One's transcript March 20, 2007
BUT NEXT, THE SUPREME COURT TAKES ON A CASE THAT DIRECTLY DEALS WITH HOW FAR YOUR FREEDOM OF SPEECH GOES.
INTRO SUPREME COURT DEBATE
ALEXANDER: WELCOME BACK. THE HIGHEST COURT IN THE LAND TOOK ON A MAJOR CASE YESTERDAY AND THE DECISION COULD IMPACT YOUR RIGHT TO SAY WHAT YOU WANT. ALONG WITH THE KNIGHT FOUNDATION WE'VE BEEN BRINGING YOU STORIES ABOUT HOW THE FIRST AMENDMENT HAS A DIRECT IMPACT ON YOUR DAILY LIVES AND THIS CASE IS A PERFECT EXAMPLE. MEKA NICHOLS WAS AT THE SUPREME COURT AND BRINGS US THIS ONE VOICE REPORT.
SUPREME COURT DEBATE
MEKA: WHEN THE OLYMPIC TORCH PASSED THROUGH JUNEAU ALASKA IN 2002, JOSEPH FREDERICK AND OTHER STUDENTS AT HIS SCHOOL WERE ALLOWED TO MISS CLASS TO ATTEND THE EVENT. IN AN EFFORT TO GET ON TV, JOSEPH HELD UP A SIGN. IT SAID "BONG HITS FOR JESUS." HE WAS ON A PUBLIC STREET OFF OF SCHOOL PROPERTY, BUT HIS PRINCIPAL TOOK HIS SIGN AND SUSPENDED HIM FOR 10 DAYS.
MEKA: JOSEPH SUED THE SCHOOL DISTRICT AND AFTER A LONG LEGAL BATTLE, HIS CASE ENDED UP HERE AT THE UNITED STATES SUPREME COURT. HE SAYS HE WAS USING HIS RIGHT TO FREE SPEECH, BUT THE SCHOOL SAYS HIS SIGN VIOLATED THEIR ANTI-DRUG POLICY. SO THE QUESTION BEFORE THE COURT IS WHETHER STUDENTS' FREE SPEECH CAN BE LIMITED AT SCHOOL-SPONSORED EVENTS, EVEN IF THAT EVENT IS OFF-CAMPUS.
MEKA: HUNDREDS OF STUDENTS TURNED-OUT TO SHOW THEIR SUPPORT FRO JOSEPH'S CASE. SOME HELD SIGNS AND CHANTED, WHILE OTHERS CAME ON CLASS TRIPS–HOPING TO SIT IN ON THE COURT'S PROCEEDINGS. THEY WERE FROM ALL OVER THE COUNTRY, BUT THEIR MESSAGE WAS MOSTLY THE SAME… STUDENTS' FREEDOM OF SPEECH MUST BE PROTECTED.
TYLER SVOKE, 15, SCOFIELD, WI: IT'S IMPORTANT TO ME BECAUSE THIS IS FREE SPEECH, THIS IS WHAT MAKES PEOPLE WHO THEY ARE, INDIVIDUALS.
CARI KEMP, 15, SCOFIELD, WI: IT GIVES US A CHANCE TO LEARN AND TO SPEAK UP AND LIKE SHARE OUR OPINIONS WITH OTHERS. .
MEKA: BUT ARE THERE TIMES WHEN STUDENTS' SPEECH SHOULD BE LIMITED?
MAGGIE MULLEN, 19, HOUSTON, TX: IN SCHOOL SITUATIONS I THINK THERE ARE SOME THINGS THAT SHOULDN'T BE SAID THAT WOULD ENDANGER PEOPLE'S LIVES, BUT OTHER THAN THAT I DON'T THINK SO.
MEKA: THE ATTORNEY FOR THE SCHOOL SAYS THERE ARE TIMES WHEN STUDENT SPEECH SHOULD BE LIMITED.
KENNETH STARR, MORSE'S ATTORNEY: YES, WE WANT THE COURT TO SAY ABSOLUTELY NO TO PRO DRUG, PRO ALCOHOL, PRO TOBACCO MESSAGES
MEKA: DEBORAH MORSE, THE PRINCIPAL INVOLVED IN THE CASE, SAID SHE HOPES THE COURT WILL RULE IN HER FAVOR, NOT ONLY FOR HER SAKE, BUT FOR ALL SCHOOL OFFICIALS.
DEBORAH MORSE, FORMER PRINCIPAL: I AM HOPEFUL THAT THE COURTS DECISION WILL GIVE ADMINISTRATORS BETTER GUIDANCE AND CLARITY ON THEIR ROLES.
MEKA: BUT THE PERSON AT THE CENTER OF THIS CASE, WASN'T AT THE SUPREME COURT. JOSEPH NOW LIVES IN CHINA TEACHING ENGLISH TO HIGH SCHOOL STUDENTS. BUT IN A RECENT STATEMENT, HE SAID QUOTE…
MEKA: "I WASN'T TRYING TO SAY ANYTHING ABOUT RELIGION. I WASN'T TRYING TO SAY ANYTHING ABOUT DRUGS. I WAS JUST TRYING TO SAY SOMETHING."
MEKA: IN 1965, MARY BETH TINKER WAS SUSPENDED FOR WEARING AN ARMBAND TO SCHOOL TO PROTEST THE VIETNAM WAR. THE SUPREME COURT RULED IN HER FAVOR, AND HER CASE BECAME THE BASIS FOR MOST STUDENT SPEECH CASES. TINKER SAYS SHE'S SPOKEN TO JOSEPH ABOUT HIS CASE.
MARY BETH TINKER, FIRST AMENDMENT ADVOCATE: HIS REAL MESSAGE WAS THAT STUDENTS HAVE A RIGHT TO FREE SPEECH, EVEN IF THE MESSAGE IS UPSETTING AND ACCORDING TO THE FIRST AMENDMENT, WE DON'T HAVE TO HAVE A MESSAGE THAT'S AGREEABLE TO EVERYBODY.
MEKA: THE SUPREME COURT WILL MAKE ITS FINAL RULING ON THE CASE THIS SUMMER. MEKA NICHOLS, CHANNEL ONE.