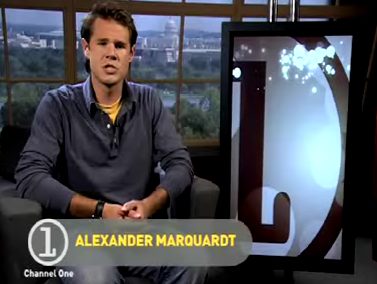 What a way to start a school day: Channel One's Alexander Marquardt tells sixth graders that over 30 people were gunned down.
If it bleeds, it leads. Top story on Channel One Tuesday morning (April 17) was "GUNMAN SHOT AND KILLED MORE THAN THIRTY PEOPLE."
from today's transcript:
ALEXANDER: HI EVERYBODY. WELCOME TO CHANNEL ONE. I'M ALEXANDER MARQUARDT.
VA TECH SHOOTING
ALEXANDER: WE START TODAY'S SHOW WITH THE DEVASTATING NEWS FROM THE CAMPUS OF VIRGINIA TECH IN BLACKSBURG, VIRGINIA. A GUNMAN SHOT AND KILLED MORE THAN THIRTY PEOPLE THERE YESTERDAY. THE COMMUNITY AND THE COUNTRY HAVE BEEN STUNNED BY THIS HORRIFIC ACT OF VIOLENCE. THE UNIVERSITY IS CLOSED TODAY AND CLASSES HAVE BEEN CANCELLED FOR THE 25,000 STUDENTS WHO ATTEND THE SCHOOL. PRESIDENT BUSH SPOKE TO THE NATION ABOUT THE TRAGIC EVENTS.
PRESIDENT BUSH: SCHOOLS SHOULD BE PLACES OF SAFETY AND SANCTUARY AND LEARNING. WHEN THAT SANCTUARY IS VIOLATED, THE IMPACT IS FELT IN EVERY AMERICAN CLASSROOM AND EVERY AMERICAN COMMUNITY.
ALEXANDER: CALI CARLIN IS ON THE SCENE AT VIRGINIA TECH AND WILL BE BRINGING US MORE TOMORROW.
Obligation sent the email below to Channel One's president Judy Harris, Channel One's attorney Maureen Sheehan, and Primedia's president Dean Nelson. As of 3 o'clock CDT we have had no response from Ms. Harris or anyone with Channel One.
Dear Ms. Harris
As president of Channel One News you occasionally have to make some important content decisions. You have one to make today.
You have children as young as ten and eleven in your audience.
There is often no CHOICE involved in viewing your show.
Children in middle school are at various maturity levels. Some could be terrified by this story. I'm 56, and I was. I would think many middle school students are being somewhat protected from this news by caring parents.
Channel One News has no right to force this horror on students, especially middle school students.
Children just out of elementary school don't HAVE to know how many people were killed or the circumstances of a school shooting. Let their parents handle this.
By telling young children that people were killed in a classroom you will be creating unnecessary anxiety.
You have already made this shooting your top story for today's middle school broadcast. You told students that over thirty people were killed. Stop now, why go any further?
If you do go forward with your planned coverage tomorrow, do not make one show that you broadcast to all your audience. Your "one-size-fits-all" approach won't work with this story. There is no way you can report this story in a way that is appropriate for a high school senior and for a seventh grader. If you feel that young people most definitely have to know about this massacre, broadcast two separate signals tomorrow. One for high schools and one for middle schools. Surely there is other news you can report on for the middle school students.
Here is an opportunity to use your advisory board. http://www.channelonenetwork.com/corporate/bios/advisory_board/
I can't imagine them agreeing with your desire to have a reporter "on the ground" at Virginia Tech reporting on the sadness and the carnage. (No matter how well chosen your reporter's words or how somber the background music you play, you will be telling students about mass murder in a classroom setting.)
Please let me hear from you today about your plans.
Respectfully,
Jim Metrock
Obligation, Inc.
http://www.obligation.org/latestnews.php
205.822.0080