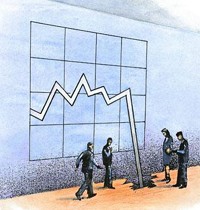 From Jim Metrock:
Alloy, Inc. will be the new owner of Channel One. The long financial nightmare for Primedia will soon end. The long financial nightmare for Alloy has already begun.
Alloy has advertised on Channel One News so their executives know, or should know, the controversy that will come along with ownership of Channel One. It is hard to imagine what they thought was attractive about this deal.
Some things we found out from today's press releases and Advertising Age article:
1. Channel One's assets and liabilities were about equal. In other words Channel One has close to ZERO net worth. That is incredible. The fall for this company has been even worse than we suspected. Our hard work and that of other activists has paid off beyond our wildest expectations. We were aided by years of incompetent management at Channel One.
2. Every major company that looked at Channel One's assets and liabilities turned down the chance to buy the company. Channel One has been up for sale for YEARS. Only Alloy thought that they have the cash, talent and time to turn this company around.
3. Alloy is not committed to saving Channel One at all costs. Alloy's CEO Matt Diamond told Advertising Age that he wants to take Channel One digital and spend an estimated $8 million to $10 million on upgrading Channel One's aging equipment. This of course is a joke. If Channel One has 10,000 schools, Mr. Diamond is thinking $1,000 will transform an entire SCHOOL from analog to digital. Schools must have at least 200 students before Channel One will enter into a contract. That means there are about 8 TV sets in the smallest schools and up to 75 in the largest. Replacing just five TVs with monitors for a digital signal would eat up the paltry amount Alloy is willing to spend on Channel One's upgrade. The numbers don't add up.
4. Although Mr. Diamond says he doesn't anticipate cutting staff – that is what he will do. He has to. He is planning on bringing Channel One to a break even point within a year and a half. That is close to impossible, but it will definitely be impossible if Channel One's high-priced executives, who helped kill the company in the first place, linger with their snouts in the ever-shrinking payroll trough.
I have asked for a meeting with the CEO of Alloy Education. I have also left a voicemail for the chief financial officer of Alloy, Gary Yusko. I told him in the message that there is ample evidence that Channel One's audience is overstated. I mentioned the problems with Convergent Media System and the forged compliance reports that we were told of. Alloy's shareholders need someone checking our our claims. So far I haven't heard back.
No one called me or any other person involved in opposing Channel One's presence in classrooms. Because of that, I have to question the depth of the due diligence invesigation that Alloy conducted before agreeing to assume Channel One's liabilities. Did Primedia's attorneys tell Alloy all they knew about the opposition to Channel One? Did Primedia mention the evidence we gave them about faking compliance reports which could easily lead to overstating viewership and therefore lead to possibly presenting advertisers, including the U.S. Government, with false invoices? Obligation sent what we knew to the head of Primedia's legal department. If Primedia sat on this information and did not pass it on to Alloy, it might come back to haunt Primedia.
Press Release
Source: Alloy, Inc.
Alloy Broadens Media Offerings; Acquires Channel One
Monday April 23, 8:45 am ET
NEW YORK–(BUSINESS WIRE)–Alloy, Inc. (NASDAQ: ALOY – News), a nontraditional media company, today announced that it has acquired the operating assets of Channel One Communications Corporation ("Channel One") from Primedia, Inc., by assuming certain liabilities of Channel One. The fair market value of the assets acquired is approximately the value of the assumed liabilities. Channel One's mission is to be a leading provider of news and public affairs content to America's secondary schools. Channel One produces and delivers quality programming, which has won two George Foster Peabody Awards for excellence in broadcast journalism, for both the classroom and the web. Delivered daily during the school year, via satellite, to approximately 10,000 middle schools and high schools across the country, this outstanding programming reaches millions of students at no cost to the schools. Channel One delivers its twelve minutes of daily programming to schools using a system that allows an official from each participating school to preview the programming prior to disseminating it to the student population.
ADVERTISEMENT
Alloy operates through three operating segments – Promotion, Media and Placement. These three segments utilize a wide array of nontraditional online and offline media and marketing assets, such as websites, magazines, college and high school newspapers, college guides and display media boards. The addition of Channel One to Alloy's Media segment will further enable the company to deliver age appropriate messages and information to this key student demographic group. In addition, the Company believes that Channel One will greatly assist Alloy together with government and consumer advocacy groups in providing important cause and health-related information to this demographic group.
Channel One has incurred significant losses in the past year primarily due to a lack of investment spending in technology, the high cost of maintaining an aging distribution system, and the inability to attract and retain salespersons. Alloy will work with school administrators and educators on strengthening the network. At the same time, Alloy will be focusing on bringing the financial operations to at least break-even over the next eighteen months as it turns to a positive contributor thereafter. This will include an evaluation and possible upgrade to the infrastructure of Channel One's entire system.
Matt Diamond, Chairman and CEO of Alloy, stated, "Channel One's award-winning news and information programming and comprehensive educational video library provides schools and their teachers with a high powered resource that keeps teens informed of world news and current events that affects their daily lives. We believe we will be able to build on this impressive platform to further benefit students and educators and provide relevant and responsible advertisers with a unique opportunity to support this mission. Channel One has developed strategic relationships with national organizations, foundations and educational trade associations, whose constituents include secondary school administrators, principals, and school board members, to address issues facing teens, such as childhood obesity. Through these relationships, along with Alloy and Channel One's cause-related work with youth charities such as DoSomething.org and YouthNoise, we will further be able to empower teens to positively impact the world. More than any other generation before them, teens today feel a sense of responsibility and are capable of influencing policies that will affect their future. We are excited about this opportunity and the future growth prospects for Alloy and Channel One."
Management of Alloy will host a conference call and webcast on Tuesday morning, April 24, 2007 at 8:30 a.m. (ET) to further discuss this announcement as well as its recent announcement related to its acquisition of Frontline Marketing. Information on the call and webcast follows:
Call-in Number: 800-721-0140
Access code: 6862398
For those who will be unable to participate on the call, a replay has been arranged, which will air from Tuesday April 24, 2007 at approximately 11:00 a.m. (ET) through Tuesday, May 1, 2007 at 11:59 p.m. (ET). Replay Number: 800-642-1687/Access code: 6862398.
You will also be able to listen to the conference call by logging onto www.alloyinc.com, and clicking on "INVESTOR RELATIONS".
About Alloy
Alloy, Inc. (ALOY) is one of the country's largest providers of nontraditional media programs reaching targeted consumer segments. Alloy manages a diverse array of assets and services in interactive, display, direct mail, content production and educational programming. Alloy, Inc. works with over 1500 companies including half of the Fortune 200.
AP Monday April 23, 9:56 am ET
Alloy to Buy Channel One
Alloy to Acquire Channel One From Primedia, Expanding Educational Programming
NEW YORK (AP) — Alloy Inc., which provides media content for Web sites and school-based publications, said Monday it agreed to buy Channel One Communications Corp., a provider of programming for middle and high schools.
Channel One is being sold by Primedia Inc. The terms of the deal were not disclosed.
Alloy said it expects to get Channel One, which has "incurred significant losses in the past year," to at least break even in the next 18 months.
Alloy shares fell 10 cents to $12.52 in morning trading on the Nasdaq Stock Market.
Kicked Out of Class: Primedia Sheds In-School Net Channel One
Alloy Media and Marketing to Acquire Assets
By Claire Atkinson
Published: April 23, 2007
NEW YORK (AdAge.com) — Primedia has finally found a buyer for its beleaguered in-school TV network Channel One. New York-based Alloy Media and Marketing has agreed to acquire the assets in exchange for taking on its debts and required capital expenditure. Alloy CEO Matt Diamond puts that figure at around $10 million.
Primedia was previously rebuffed in its efforts to offload the channel by a multitude of major entertainment conglomerates and was close to closing the service had a buyer not come forward. In December, Primedia shifted Channel One into its "discontinued operations," describing it as an accounting move. Even so, Primedia continued to support the service, which helped launch the careers of CNN's Anderson Cooper and National Geographic's Lisa Ling.
Taking channel digital
Mr. Diamond said he decided to buy the service because of the quality programming, though he said he was well aware of the lack of spending on infrastructure. His plan is to take Channel One digital and spend an estimated $8 million to $10 million on upgrading the ancient VCRs and TV sets used to deliver the service in schools.
Mr. Diamond praised current coverage of the environment and green issues.
The company is also planning to increase the amount of feedback from teens, both about the service and any number of other subjects. And Alloy sees that feedback as valuable research it might ultimately provide to colleges and schools.
Alloy, which also produces magazines distributed in schools, describes itself as an advocate of the youth market.
"Ultimately this network has an opportunity to let the youth message be heard. To take those relationships and have the feedback via the TV is unique," said Mr. Diamond, a former General Electric Co. executive. Channel One delivers programming along with two minutes of advertising to school classrooms and common areas, such as cafeterias. Since 1990, the network has outfitted schools with free TV and VCR equipment as part of an agreement to air newscasts with the ads during school hours. Channel One News reaches more than 7 million secondary-school children in 11,000 schools and has in the past won a Peabody for its coverage of issues for young people.
Huge declines in ad revenue
In recent years, Channel One suffered from huge declines in ad revenue, especially as it faced an onslaught of criticism from consumer groups such as Commercial Alert which does not believe that kids should be exposed to advertising within the confines of the school system.
For the first nine months of 2006, ad revenue in Primedia's education segment — which housed Channel One — fell 27.8%, to $17.1 million from $23.7 million, while third-quarter ad revenue fell to $3.7 million from $4.2 million, off almost 12%. When Primedia announced its full-year results on Feb. 27, it did not report numbers for the educational unit because it was being discontinued.
The U.S. Government, Pepsi Cola Co. and Cingular were once among Channel One's advertisers. But advertisers have recently backed away from overtly targeting young adults, especially for products that are viewed as unhealthful.
Mr. Diamond said Channel One would not solicit such advertisers. In reference to the lobby groups he said: "You have to work with those people. No program should go out into a school if the educators don't want it, and that's the way [Channel One] operates today. Teachers can press a pause or unplug the TV."
'Do the right thing'
"All you can do is do the right thing. We don't want those advertisers back," he said, referring to advertisers promoting junk food. Mr. Diamond suggested that Channel One had had a hard time selling ads in the past because of fears over its closure. He said those fears would now dissipate.
Channel One CEO Judy Harris remains head of the channel, and Mr. Diamond said he was not looking to cut staff but rather boost it. Primedia is expected to announce the sale when it reports its first-quarter numbers on May 3.
Alloy, which operates a number of business units, acts as both ad agency and content producer for marketers looking to reach the under-18 crowd. The company already operates an in-school ad network with national coverage in over 10,000 middle and high schools, reaching 8 million students.
The in-school ad network consists largely of electronic billboards to announce school news and more traditional message boards that hang in areas around school gyms. Alloy also offers services such as direct mail, display and content production.