There is a real simple way to evaluate privacy policies of web sites aimed at young people: The more words, the worse it is for kids.
Bus Radio has WAY too many words. People who write privacy statements often are not straightforward. That is the case with Bus Radio. We will "deconstruct" this privacy policy later. For now, here it is:
Last updated: October 11, 2006

BusRadio.com Privacy Policy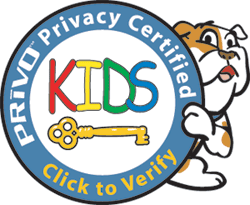 This Privacy Policy applies to this website, BusRadio.com. Please note that this policy applies only to sites maintained by Bus Radio and not to websites maintained by other companies or organizations to which we link. In addition, this policy applies only to information collected online by Bus Radio, not information collected offline.
The privacy of all online users is important to us at BusRadio.com, especially the privacy of children. We are committed to safeguarding children's personal information collected online, and to helping parents and their children (along with teachers and students) exercise control over personal information while exploring the Internet. We do not ask children to disclose more personal information than is reasonably necessary for them to participate in an activity offered through this website.
Information Collection
The information we collect may be from the following sources:
Bus Radio Membership Program
To enable families of children who are Bus Radio listeners to maximize the benefits they receive from our services, we ask that children be registered as BusRadio.com members. Although usage of the site is free of charge, many of its features are only available to registered members. Members can submit items they have created for review, post to the filtered message boards, play games, connect to other kids through monitored message boards, ask questions of the radio jockeys and other experts and receive communications and recognition from BusRadio.com and through the on-bus radio programs. Members provide their first name, date of birth, gender, city, school name and school bus number and create a sign-on name and password, including a secret question and answer in case they forget their login credentials.
Sweepstakes or Promotions
We may collect your personal information in order for you to enter into our sweepstakes or promotions. For example, we may ask you for your full name, mailing address and email address.
Marketing Surveys and Email Campaigns
We may collect information from you through surveys, feedback, or other forms hosted by Bus Radio or its third party vendors.
Newsletters
If you wish to join one of our newsletters, you will be asked to submit your first name and email address.
Customer Support
If you request customer support for any products or services you purchase through this website, you may be asked for your personal information. We will only use the information you provide for the purposes of responding to your customer service question.
Information Sharing and Disclosure:
We may share your personal information under the following circumstances
Third Party Vendors
We share your personal information with third party sources to verify your information when you register with us. (See information below about providers). We may also disclose the information we collect to third party companies that host certain services for us such as marketing distribution services on our behalf. These vendors are bound by this privacy policy unless you consent with them otherwise.
As Permitted by Law
We may be required to share your personal information with law enforcement or government agencies in response to subpoenas, court orders, federal/state audits or similar circumstances. We may also share your information if we believe it is necessary to investigate, prevent, or take action regarding illegal activities, suspected fraud, situations involving potential threats to the physical or cyber safety of any person, or as otherwise required by law.
Business Transfer
As with any other business, it is possible that Bus Radio in the future could merge with or be acquired by another company. If such an acquisition occurs, the successor company would have access to the information maintained by Bus Radio, including customer account information, but would continue to be bound by this privacy policy unless you consent otherwise.
Specific Consent/Authorization
Bus Radio may request your permission to share information with select advertising partners or sponsors of the site. Any such transfer of personal information would require your specific authorization and in the case of a child would require verifiable parental consent in advance of any transfer of personal information.
Privo's Privacy Assurance Program
Bus Radio www.busradio.com is a participant in the Privo's Privacy Assurance Program. As part of participating in the Privacy Assurance Program, Bus Radio adheres to the strict information collection, use and disclosure requirements. Privo is an independent, third party organization committed to safeguarding children's personal information collected online, and to helping parents and their children (along with teachers and their students) exercise control over personal information while exploring the Internet. The seal to the left indicates that Bus Radio has established privacy practices and has agreed to submit to Privo's oversight and consumer dispute resolution process. If you have questions or concerns about our privacy practices, please contact us at (781) 453-0700 or privacy@busradio.com. If you have further concerns after you have contacted Bus Radio, you can contact Privo directly at privacy@privo.com.
Information Collection and Use
Children's Information (Under 13 years old)
Bus Radio has engaged Privo, Inc., specialists in COPPA* compliant children's registration and parental permissions, to register your child for membership and to obtain your consent. It's free and confidential, enabling you to manage your child's online experience on this and any other PrivoLock-enabled website.
Privo, on behalf of Bus Radio, collects from children their first name, date of birth, gender, zip code, city, school name, school bus number, a Sign-On Name and Password; and a Secret Question to help remind them of their password if they forget. A child may provide a parent email address in order to obtain parental permission, but it is not required and is not used for any other purposes before their parent gives permission to do so. Bus Radio and Privo does not collect more information than reasonably necessary for a child to participate in a given activity on this or any other PrivoLock-enabled site.
We will collect and use personal information about children to respond to requests for entry into contests, subscription to newsletters, requests for music selections and personalized greetings to be broadcasted over the Bus Radio programming. We will also collect personal information in order to notify you or your child about products, services, and other opportunities we think will be of interest. Additionally, we may also collect demographic information about you or your child. Demographic information is all other information such as gender, zip code, or any other non personally identifiable information that is not combined with your child's personal information without having processed your parental consent.
To manage you and your child's information, or the information we maintain about your child, click "Manage Accounts" to log into your PrivoLock account. At that area, you will be able to alter permissions, access the personally identifiable information that Privo and BusRadio have collected from your child, correct factual errors in such information, and request to have this information deleted or request the we no longer collect or maintain such information. To protect your child's privacy and security online, we will take reasonable steps to help verify your identity before granting you access to the personal information that we collect and maintain about your child and you.
Information Collected From Parent:
Privo will collect from the parent certain information during the parental registration and consent process. Required information includes full name, email address, full mailing address, age and gender.
Non-passive Information Collection
1. Cookies
To serve you faster and with better quality, we may use "cookies" technology. Cookies are small bits of code, usually stored on a user's computer hard drive, which enable a Website to "personalize" itself for each user. We generally use cookies to reduce the time it takes for pages to load on your computer and to assist with customer tracking. We may also use cookies to save your shopping cart items for up to 24 hours should you leave this website prior to order checkout. Additionally, we may use cookies to activate email promotions such as free shipping and order discounts once you click through to our website. Cookies are not tied to your personal information.
2. IP Addresses and Browser Type
We also keep track of Internet Protocol (IP) addresses and browser type. An IP Address is a number that is used by computers on the network to identify your computer every time you log on to the Internet. This information may be combined with the user profile.
3. Clear Gifs
We employ a software technology called clear gifs (a.k.a. Web Beacons/Web Bugs) that help us better manage content on our website by informing us what content is effective. Clear gifs are tiny graphics with a unique identifier, similar in function to cookies, and are used to track the online movement of Web users. Clear gifs are not tied to users' personally identifiable information. We also use clear gifs in our HTML-based emails to let us know which emails the recipients have opened. This allows us to gauge the effectiveness of certain communications and the effectiveness of our marketing campaigns. If users would like to opt-out of these emails, please see the opting-out section below.
Opting-Out
You may register to receive communications from us directly on our website. Upon registering, we will periodically send you newsletters and other e-mails featuring special and exclusive offers, promotions and other members-only benefits. If you no longer wish to receive these communications, please let us know by sending an email to privacy@busradio.com or by clicking the unsubscribe link in our promotional email. Please note that Bus Radio can only control its own mailing list and policies.
Third Party Links
This Privacy Policy applies to all information that you provide to Bus Radio. However, when you visit websites to which Bus Radio provides a link, keep in mind you will be interacting with a third party that operates under its own privacy and security policy. If you choose to obtain certain services through a third party site, the data collected by the third party is governed by that third party's privacy policy. A third party site will also have its own policy regarding the use of cookies and clear gifs and collection of IP addresses and browser type.
Confidentiality and Security
We will only collect and use personal information in accordance with this privacy policy and we will maintain appropriate safeguards to ensure the security, integrity, accuracy and privacy of the information you have provided. In addition, we will take reasonable steps to assure that third parties to whom we transfer any personal information will provide sufficient protection of that information.
Updating Your Information
If for any reason you would like to access, update or delete your personal information, please log into your account through the "Manage Accounts" area accessible at the login screen of the site.
Questions and Suggestions
If you need further assistance, please send an email with your questions or comments to privacy@busradio.com or write us at:
ATTN: Privacy Policy Administrator
Bus Radio
160 Gould Street
Suite 201
Needham, MA 02494
(781) 453-0700
For privacy issues or concerns, you may also contact Privo directly at 310-318-3653 or by regular mail at:
ATTN: Privacy Assurance Program
Privo, Inc.
8229 Boone Blvd
Suite 410
Vienna, VA 22189
Changes to this Privacy Policy
Bus Radio may update or modify this Privacy Policy from time to time. If there are material changes to this Privacy Policy that affects how Bus Radio will use your personal information, we will post such changes here. You will be notified via email if any of the material changes affect the use of your personal information and be asked to opt-in to the new use of your personal information.
By using this site, you signify your assent to the Bus Radio's Privacy Policy. If you do not agree to this policy, please do not provide any personal information to the Bus Radio website. Please check the policy each time you use our website to ensure you are aware of any changes in our privacy practices. Our Privacy Policy will indicate the date it was last updated. Your continued use of our site will signify your acceptance of the changes to our Privacy Policy.
Final Note to Parents
The Internet offers a world of educational and entertainment opportunity for children. Your guidance and involvement are essential to help ensure that children have a safe and rewarding online experience. We encourage you to the visit "Get Net Wise" at http://www.getnetwise.org, a set of resources for helping families learn how they can use the Internet safely. It also contains a number of valuable resources to help parents and children be aware of, and express, their preferences about information that is collected online and how it is used. Your efforts to instill responsible information practices will help steer your children to appropriate sites, and will go a long way toward ensuring that your children have enriching experiences online.
[This privacy statement can be found at http://busradio.com/home/privacy.]