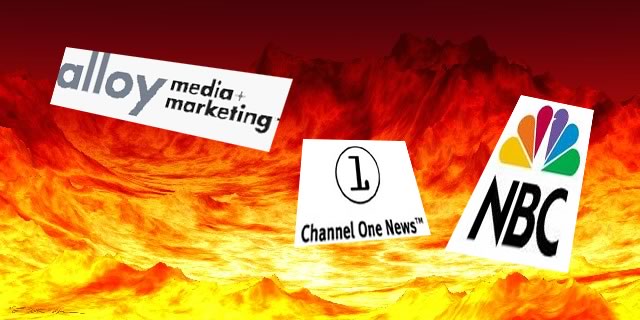 It a startling development, NBC News announced two weeks ago that they will become a major partner with the controversial Channel One company.
NBC will provide much of the news content on the show starting this fall. NBC wants to capitalize on Channel One's captive audience to create a brand preference among teens and preteens for NBC.
This is a bold move that puts NBC in the middle of a nationwide backlash against Channel One's style of classroom marketing.
Obligation's Jim Metrock said, "Let's review what has happened. For the past three years, Primedia, Inc. tried to sell Channel One but no company wanted it. On the verge of closing down, a controversial teen marketing firm called Alloy Media and Marketing said they would take the company off Primedia's hands. Channel One had zero net worth. Alloy promised to spend a measly $12 million to upgrade Channel One's ancient equipment. Now Alloy announces Channel One will no longer produce their own news but will use the services of NBC News. This will make NBC Channel One's largest advertiser. NBC wants to imprint their brand on what remains of Channel One's captive audience.
"NBC didn't do a good job of investigating Channel One. They didn't know that the 'Channel One' brand is dead. 'Channel One' has negative connotations to educators, students, and parents. The stink that comes from partnering or advertising on Channel One is a stink that doesn't easily wash off. There are a lot of companies that can attest to that. NBC will just be the latest."
Here are several articles mentioning the NBC deal with Alloy/Channel One:
NBC News to Provide Content for Channel One
By LIA MILLER
New York Times
Published: July 9, 2007
Channel One has been described as controversial for the nearly two decades it has been broadcasting advertiser-supported news programs into middle and upper schools. Now the network, which changed hands in April, can claim a new connection, as a partner with NBC News.
Founded in 1989 by the entrepreneur H. Christopher Whittle, Channel One was sold in 1994 to Primedia (which publishes magazines like Motor Trend and Soap Opera Digest) and this year to Alloy Media and Marketing, which helps companies reach the teenage market.
Although Channel One has been in dire straits, Alloy has vowed to give it a makeover, including a $12 million technology upgrade and better programming.
Lyne Pitts, vice president for strategic initiatives at NBC, said that NBC was putting together a team to produce original content for Channel One's 10-minute broadcasts, which are shown in more than 10,000 schools in the United States. NBC may also include news clips from its main nightly news broadcast, she said.
Ms. Pitts called the arrangement ideal for NBC to reach a new audience and turn young people into "consumers of news." NBC will also benefit from Alloy's research on youths.
Matt Diamond, chief executive of Alloy, said that the partnership would give Channel One "more in-depth coverage" and the advantage of working with a dedicated group of NBC employees. "For us to make this a very strong network again, you're not going to get it from commercial entities, but a network that is interested in learning more about this demographic," Mr. Diamond said.
Channel One has been controversial because its 10-minute news program includes two minutes of commercials. Schools that enroll with Channel One receive free equipment like televisions and VCRs, which has meant that poorer districts may be more inclined to sign up for the service.
Last year, the American Academy of Pediatrics reported that children who watched Channel One tended to remember the commercials more than the news. And Massachusetts is considering a bill that would ban advertising in schools from kindergarten through high school; during recent testimony, Channel One was cited as a flagrant example of commercialism in schools.
Mr. Diamond said that Alloy was obligated to ensure that commercials would be appropriate for schools and that principals could preview them.
NBC, Channel One classmates
By Paul J. Gough The Hollywood Reporter
July 9, 2007
NEW YORK — "Channel One News," the nearly 20-year-old news program aimed at millions of American pupils inside the classroom, is moving its production to New York in a new partnership with NBC News.
The 12-minute daily show, which has been available since 1989 to nearly 7 million middle- and high-school students in 11,000 schools, will be produced at Rockefeller Center in conjunction with NBC Prods. beginning in the fall. The move follows parent company Channel One's April acquisition by Alloy Media and Marketing after a rocky and sometimes controversial run.
Alloy CEO Matt Diamond said the NBC partnership would give "Channel One News" resources that the show would never have been able to acquire on its own. NBC News vp strategic initiatives Lyne Pitts said that the alliance will give NBC News a chance to explore how a new generation of viewers consume news.
Pitts said that when Channel One was acquired, NBC News let Alloy know that it would be interested in a partnership. NBC News not only does work under its own banner but also for such other entities as Discovery, A&E and the History Channel.
"They had expressed a lot of interest in the past in various efforts, and we knew they would be able to put production value behind it," Diamond said. "We could never have afforded that as a stand-alone. Their willingness to invest in the partnership, it really is an opportunity for us."
Channel One's production unit will move from Washington to New York, where it will be housed within NBC's production unit. The staff will be a mixture of Channel One and NBC employees, as many as 30 in all. Ultimate editorial control will rest with Channel One.
That's important to Diamond, who said that improving Channel One's editorial quality had begun under president and CEO Judy Harris and would continue under Alloy. Channel One debuted in 1989 as the first news program that was beamed directly into schools; in exchange for TV equipment for each school, Channel One provided a 10-minute news program daily with two minutes of ads. Those ads proved somewhat controversial over the years, though Diamond said that Alloy's aim was to run ads and PSAs in that time and wouldn't, for example, irresponsibly promote fatty products.
"This affords us from a commercial perspective to have a very good business model without looking to commercialism at the expense of these students," Diamond said.
Pitts said there won't be that much NBC on-air talent working for the Channel One show, though she didn't rule it out in extraordinary circumstances. Valuable for NBC News is the chance to see how to produce news for the 12- to 17-year-old.
"We're always looking at the next generation of news viewers. Certainly that's a priority as we look at how we're going to be delivering news in the future," Pitts said.
NBC News connects with students
Net pacts with Channel One to target teens
By MICHAEL LEARMONTH Variety.com
NBC News has inked a three-year deal with student news net Channel One under which the Peacock will produce the web's daily newscast and other news content for teens starting in the fall.
NBC News is devoting a production staff of 15 to the project, but Channel One will also have access to all of the news org's newsgathering capabilities to assist in stories such as the U.S. presidential campaign and the malaria epidemic in Africa.
NBC said its commitment to Channel One will give the service "the full power of its news organization to cover the news wherever and whenever it breaks."
Channel One reaches 7 million students with its 12-minute newscasts through wired middle and high schools across the country.
"We need to reach a new generation of news consumers," said NBC News VP of strategic initiatives Lyne Pitts. "These kids need to know what's going on in the world, and we can teach them about good journalism."
NBC execs also hope that integrating Channel One talent into the network will create a farm team of young anchors and correspondents who could move on to the network.
Channel One alumni include CNN's Anderson Cooper, CBS' Tracy Smith and Lisa Ling, a special correspondent for "The Oprah Winfrey Show."
Below is Channel One's own press release. Whenever you read that Channel One is "preeminent" in anything it was written by people paid by Channel One.
Channel One Partners with NBC News for Its Daily Award-Winning Newscast
The New Production Unit Will Combine Channel One's Teen-Oriented Programming With the Worldwide Reach of NBC News
NEW YORK–(BUSINESS WIRE)–Channel One, the preeminent news and public affairs content provider for teens, reaching approximately seven million students in middle schools and high schools across the country, announced today a partnership with NBC News, America's leading source for news and information. Beginning in the fall of 2007, Channel One will work with NBC News' dedicated Channel One production team to create quality programming for its daily news and public affairs broadcast, fostering lively discussion between teens and educators on the big issues of the day. NBC News' global newsgathering capabilities will further enhance Channel One's trusted brand of news delivery that informs and educates America's next generation of leaders.
In working with NBC News to take the next step with its award-winning journalism platform, Channel One correspondents will continue to follow their tradition of pursuing news stories relevant and meaningful to teens, from the U.S. presidential campaign, to the malaria epidemic in Africa to global environmental issues. In addition, NBC News offers the full power of its news organization to cover news wherever and whenever it breaks – locally, nationally and globally. This collaboration will strengthen Channel One's unique position as a supplement to schools' current affairs course curriculum.
Judy L. Harris, CEO of Channel One said, "For so many of tomorrow's voters and future leaders, Channel One is the only source of news they turn to in the course of a day. And our educators rely on Channel One News as a tool to spark lively discussion and debate inside the classroom, shifting the learning environment from passive to active and engaged.
"Channel One's obligation is to inform and educate through unbiased, balanced coverage of the news. We're heading into our 17th year of broadcasting with NBC News because they offer immediate and far-reaching access to headlines of the day, and the quality content and production expertise to further elevate our standing as the only for-teens news organization. We view this collaboration as an opportunity to improve news literacy for our next generation and as another important marker in the evolution of the Channel One news platform."
"This is yet another way for NBC News to tell the story of world events to a new generation of citizens," said Lyne Pitts, Vice President of Strategic Initiatives for NBC News. "It also provides us with an opportunity to teach teens who may be confused by a variety of illegitimate or fake news sources the value of accurate journalism on a regular basis."
Broadcasting since 1990, Peabody and Webby Award-winning Channel One News is the leading source of news and information for young people. The 12-minute news broadcasts are delivered daily. Channel One News and its award-winning Web site, ChannelOne.com, feature stories on breaking news and relevant issues that affect the world, the nation and, specifically, America's teenagers.
About Channel One
Peabody and Webby Award-winning Channel One, an Alloy Media + Marketing Company (NASDAQ: ALOY), is the preeminent news and public affairs content provider reaching approximately seven million teens in middle schools and high schools across the country, nearly 30% of teenagers in the U.S. In recent months, Channel One News has covered fast-breaking world events from regions such as Iraq, Kuwait, Afghanistan, Thailand, Sri Lanka, Jordan, Cuba, Venezuela, North Korea, Myanmar, and Qatar. Channel One News programming has been featured on leading networks and news programs, including CNN, ABC News, the WB, Nightline, and The Today Show. Visit the Webby Award-winning website ChannelOne.com to learn more.
About NBC News
NBC News has been a leading source of global news and information for more than 75 years, first on radio, and today via broadcast and cable television, the Internet, radio and cell phones. Operating around the clock with bureaus in key cities in the United States and overseas, NBC News provides immediate coverage and in-depth reporting of major events to a worldwide audience.
For more than a decade, NBC News has served as the dominant force in television news, watched by more Americans than any other news organization. NBC News provides more than 25 hours of weekly programming, including Nightly News with Brian Williams, the top-rated Today program and Meet the Press with Tim Russert. Dateline NBC is the signature broadcast for NBC News in primetime. As the only broadcast news division with an affiliated cable channel, MSNBC provides 24-hours a day coverage of news events around the globe with the dedicated resources of NBC News. MSNBC.com consistently ranks as one of the leading news and information sites on the Internet — winning both of the Industry's top honors for online news in the past year. NBC Mobile provides news and information updates and show excerpts to cell phone users throughout the day reported by the anchors and correspondents of NBC News, and NBC News Radio produces up-to-the-minute radio reports for affiliated stations in all major markets across the country.
Contacts
Media:
Channel One:
Sloane & Company
Amanda Cheslock, 212-446-1884
acheslock@sloanepr.com
or
NBC News:
NBC News Productions
Jenny Tartikoff, 212-664-2271
jenny.tartikoff@nbc.com