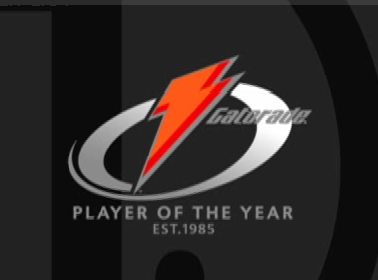 When Alloy Media and Marketing bought Channel One News this spring their CEO Matt Diamond told the press that Alloy would never have any of the junk food and drink commercials that had been on the show before.
It didn't take a week for Channel One to go back to their old ways. Gatorade sponsored a segment on the September 7 show.
Although there was no formal Gatorade commercial the sponsored "Player of the Year" segment is well-known to all students forced to watch Channel One. The very recognizable logo is prominent in this story that has little value other than plugging Gatorade's brand.
This same week Gatorade announced it is coming out with a new product called G2 to answer critics of its higher calorie sports drink. That higher calorie drink is what has been advertised on Channel One News for the past seven years.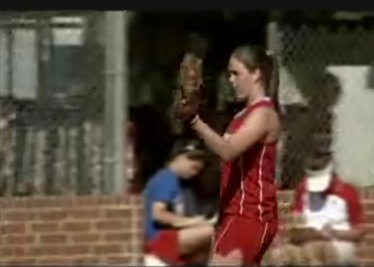 Students put down their school books are watch Ashley Brignac throw a softball. Channel One's "reporter" Tony Anderson is treating this as a major news story. Students watch as a Gatorade executive hands Ashley the Player of the Year award. (Gatorade hands out many Player of the Year awards. One for each sport and one for male and female. This results in a lot of promotional opportunities and most of them are covered by Channel One News. This is easy work for Channel One. The advertiser provides most of the footage and yet it can be made to look like NEWS.)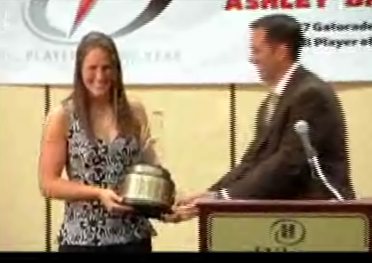 From Channel One's transcript for September 7, 2007:
TONY: THIS SUMMER ASHLEY BRIGNAC LEAD THE U.S. JUNIOR SOFTBALL TEAM TO
VICTORY AT THE WORLD CHAMPIONSHIPS.
BUT IT'S HER WORK OFF THE FIELD THAT HAS MADE ASHLEY GATORADE PLAYER OF THE YEAR.
IT LOOKS STRANGE AT FIRST, BUT ASHLEY BRIGNAC'S PITCH HAS WON HUNDREDS OF SOFTBALL GAMES
AND SEVERAL HIGH SCHOOL CHAMPIONSHIPS.
THE TEENAGER HELD A FOUR-POINT-O
GRADE POINT AVERAGE AND WAS CO-VALEDICTORIAN OF HER HIGH SCHOOL CLASS.
SHE'S NOW GETTING READY FOR HER NEXT CHALLENGE…
FRESHMAN YEAR ON THE UNIVERSITY OF LOUISIANA – LAFAYETTE TEAM.
ASHLEY: "I JUST WANT TO GO IN AND MAKE A DIFFERENCE WITH THAT PROGRAM.
MY GOAL AND I KNOW THEIR TEAM'S GOAL AND THE COACH'S GOAL IS TO MAKE IT
TO THE WORLD SERIES AND HOPEFULLY I'LL BE ABLE TO BRING THEM THERE."
TONY: AND JUDGING BY THE HEAT SHE'S THROWING, HER CHANCES LOOK PRETTY
GOOD.
At the end of August, Alloy also added McDonald banner ads to Channel One's web site. Every ad that appears on Channelone.com has been chosen on purpose. Alloy and Channel One are specialists in target marketing to kids. Mr. Diamond might be "lovin' it" but students, parents and teachers should be very concerned about Channel One's move back to junk food advertising.