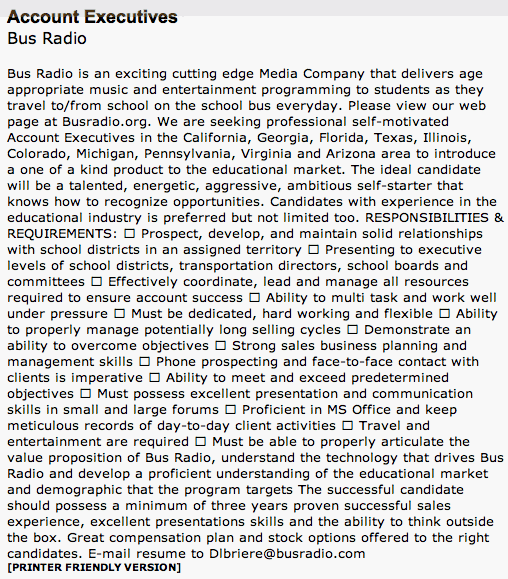 Above is a Bus Radio advertisement for sales people. Among the usual "self-starter" language there is something that stands out.
"Travel and entertainment are required."
Travel is understandable, but ENTERTAINMENT is a red flag for school boards that may be considering a contract with the controversial Bus Radio company.
Who is going to be entertained? Certainly not school board members. Virtually all school boards have a code of conduct that goes overboard to avoid even the appearance of a conflict of interest.
It would be absurd to think Bus Radio would invite members of a school board to a golf outing or a pro sports game and then take them out to a lavish dinner, then the next week have that same board vote on a Bus Radio contract.
Would Bus Radio sales people take the Superintendent out to a nice white-tablecloth restaurant? Superintendents don't have a vote on most school boards but they could recommend Bus Radio to the board. Having the Super in your corner would be a big benefit to a controversial vendor trying to get their foot in the school house or school bus door. But no Superintendent is going to compromise themselves by taking anything of value from Bus Radio's sales people.
Q: So who is going to be the beneficiary of Bus Radio's entertainment budget?
This is an easy one. Don't over think it.
A: School transportation directors.
Obligation has no way of proving Bus Radio has wined and dined school employees, but there appears to be a pattern of government-paid school employees who are in charge of bus transportation "going ape" over Bus Radio's deal.
It is one thing for a transportation director to investigate a new service and give their opinion to higher ups, but it is another thing for these same public employees to become unpaid advocates and sales people for a potential vendor. In several newspaper articles transportation directors are the MAIN person pushing for adoption of Bus Radio. They go before the Board and they go talk to reporters with "facts" and figures supplied to them by Bus Radio.
These school employees may well be sold on Bus Radio and no one should tell them to not express their opinions. After all they are in charge of bus transportation and they should be searching out new ways to enhance bus safety and efficiency. But it would be prudent for school administrators and the school board to ask some simple questions of any transportation employee who stands up and proclaims the need for Bus Radio.
Have you received anything of value from anyone associated with Bus Radio? Has Bus Radio paid for any of your meals? Have you been promised anything for your agreement to say positive things about Bus Radio?
School administrators should ask employees for copies of all emails and regular letters they have received from Bus Radio and have sent to Bus Radio.
Any employee who stands up and promotes the acceptance of Bus Radio's contract should be asked how they obtained their information and "talking points" about the company. Did the employee contact Bus Radio or did Bus Radio make the first contact?
State ethics laws should be reviewed by the school board attorney so he or she can determine if school employees have acted within the boundaries of such laws.
It would be prudent for school administrators to instruct all transportation employees to report all contact with Bus Radio personnel so the school attorney can determine if there is any problem with district or state regulations.
California
Jim Miller, Pajaro Valley's transportation director, said his drivers were sold on Bus Radio after the district piloted the system in three buses last month.
He said Bus Radio's offer to share ad revenue generated by the program isn't what's driving interest. Drivers often use the bus radios to calm their young passengers, and the drivers and students who tuned into Bus Radio during the test liked what they heard.
"We're not looking at this as a moneymaker," Miller said. "We want to have some control over the types of music and what kids are listening to"
Minnesota
Touting the benefits
According to District 196 transportation coordinator Randy Dukek, many of the district bus drivers play the radio as they drive their routes. The district tries to limit what they listen to — mostly Radio Disney or lite-FM stations — but he still hears parent complaints about the music, the DJs' language or the advertising.
"We thought [Bus Radio] was a better environment to have if we're going to play radios," he said.
Dukek also touted the benefits of the free equipment the district is getting. The custom-designed radios will also have GPS sensors.
Connecticut
According to Johanna Garcia, the district's specialist on transportation, none of the district's school buses currently have a PA system, forcing drivers to yell at the students just to be heard. All the buses are equipped with two-way radios for drivers to communicate with dispatch, and some currently have AM/FM radios. Garcia said that the drivers are instructed not to play the radios, as they can serve to distract, but said some may do so anyway.
http://www.wiltonvillager.com/wilton_templates/wilton_story/352751846249759.php
New Hampshire
The school district's transportation director, David Rauseo, is also recommending the district go with the company. He initially sought it out because of complaints about content being played on school buses.
"We know it's all clean because all the music's pre-screened," he said. "That means I don't have to play radio cop."
Rauseo said he had to ban some stations, including KISS 108 and JAM'N 94.5, because of the complaints. Rauseo said the use of Bus Radio could help improve behavior on the buses, as well as ensure no profanity or inappropriate content comes over the airwaves.
http://www.nashuatelegraph.com/apps/pbcs.dll/article?AID=/20070909/NEWS01/209090401
California
The 13,000-student district installed and began using Bus Radio on most of its 101 school buses over the last several weeks, said district transportation director Raul Lopez.
"I have had a lot of complaints from parents in the past about the music drivers are subjecting kids to listening to. I have had no complaints about Bus Radio," Lopez said. "Now we have control over what's on the radio."
Below is a director of transportation that understands what Bus Radio is all about.
Virginia
Radio on the bus helps keep students "focused," says Linda Farbry, director of transportation for Fairfax County Public Schools in Virginia, the nation's 13th-largest school system. She says most of the district's buses play radio from an approved list of stations, and because the ads aren't directed at students, kids easily ignore them. Farbry opposes Bus Radio because she says it would be harder for kids to tune out ads geared to their interests.