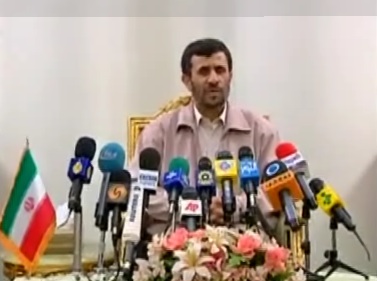 I want to give a "shout out" to Channel One News.
From Channel One's script for September 25, 2007. Obligation's remarks are in red.
CHRIS BROWNE (Channel One reporter): MANY CONSIDER HIM A SWORN ENEMY OF THE UNITED STATES. HIS
Hold it!: "Many consider him"? This script could have been written several ways. A media literate person would hear these words and wonder how else could this introduction be made.
Mr. Ahmadinejad IS a sworn enemy of America. Channel One's reporter could have said, "He is considered a sworn enemy of the United States" or "Most consider him…" "Many consider him" is purposefully weak. The impression here is that it is far from certain that Ahmadinejad is unfriendly to the United States.
Our country is seriously considering going to war with his country. Weapons from Iran are regularly killing American soldiers in Iraq and Afghanistan. The producer of this Channel One story have a goal in mind. Channel One is in the middle of a three-year relationship with the Knight Foundation. This Foundation offered the cash-strapped Channel One $2.25 million! if they would create stories that advanced the Foundation's view of the First Amendment. Not every American would agree with the sometimes radical Knight Foundation's opinion of our most valued Amendment.
When Columbia University offered this bloody dictator a chance to speak to students, Channel One HAD to be supportive of this effort and they HAD to do a story that was supportive of Columbia University because that would please the money people at the Knight Foundation.
When a news organization, even a faux one like Channel One News, takes money in exchange for producing stories, all sorts of bad things happen. The fact that it is happening to young people just makes it worse. Anyway, back to the script.
COUNTRY IS AT ODDS WITH OUR GOVERNMENT OVER EVERYTHING FROM NUCLEAR
DEVELOPMENT TO TERRORISM.
Hold it!: "to terrorism" that's the only reference to terrorism? Our State Department considers Mr. Ahmadinejad's country the largest state sponsor of terrorism today. Why didn't Channel One make that point to kids? They couldn't because that would lessen the case for Mr. Ahmadinejad's First Amendment rights.
BUT ON MONDAY, IRANIAN PRESIDENT MAHMOUD
AMADINEJAD CAME HERE, TO COLUMBIA UNIVERSITY IN NEW YORK. A SPEECH THAT
HAS GENERATED WAVES OF PROTEST AND CONTROVERSY. COLUMBIA'S PRESIDENT
SAYS IT'S THE FIRST AMENDMENT THAT GIVES AHMADINEJAD THE RIGHT TO BE
HERE.
Hold it!: Why did Channel One relate this statement by Columbia's president without at least suggesting to students that the U.S. Constitution's First Amendment MAY NOT give Mr. Ahmadinejad any protection? He is not an American citizen.
It is clear in this slanted story that Channel One News believes in the radical idea that this Iranian dictator has First Amendment rights. The people at Channel One News appear to be clueless about our Constitution. They believe whatever the Knight Foundation tells them to believe. For the record, Channel One News, the First Amendment applies to Americans, not citizens of foreign countries.
TODAY, WE'LL TAKE A LOOK AT THIS CONTROVERSIAL LEADER AND A LOOK
AT THE ROLE THAT FREE SPEECH PLAYS, IN OUR "ONE VOICE" REPORT.
Hold it!: Channel One is equating this madman's appearance in New York to other expressions of free speech. "One Voice" is the series of stories that are on the classroom TV screens because of the Knight Foundation's money. Money buys stories at Channel One News. If you have a group and they have a viewpoint that they want young people to appreciate then write Channel One News a check and news stories about your favorite topic will begin to appear in American classrooms. This is creepy stuff. This is not journalism. This is the opposite of journalism. This is paid-for propaganda.
BROWNE: MAHMOUD AHMADINEJAD. YOU HEAR HIS NAME A LOT IN THE NEWS, BUT
WHO IS THIS MAN FROM IRAN? AND WHAT IS GOING ON BETWEEN HIS COUNTRY AND
OURS? MAHMOUD AHMADINEJAD IS THE PRESIDENT OF IRAN. IRAN USED TO BE
CALLED PERSIA. IT IS ALSO A MOSTLY MUSLIM COUNTRY. AHMADINEJAD HAS BEEN
IN OFFICE FOR TWO YEARS. DURING HIS PRESIDENCY, HE HAS SAID SOME
CONTROVERSIAL THINGS. TOUTING HIS COUNTRY'S NUCLEAR PROGRAM, DENYING
THE HOLOCAUST EVER HAPPENED, AND CALLING FOR AN END TO THE ISRAELI
STATE.
KENNETH POLLACK, IRAN EXPERT: "Mr. Ahmadinejad is his own worst enemy.
He says things that are outrageous, that frighten the rest of the
world, and typically leave Iran worse off than before he opened his
mouth."
BROWNE: SOME HAVE CALLED HIM A MADMAN, BUT EXPERTS SAY HE'S CRAZY LIKE
A FOX. A SHREWD POLITICIAN WHOSE STATEMENTS HAVE CAUSED IRE FROM THE
WEST, BUT HAVE BOLSTERED SUPPORT AT HOME.
MARTIN INDYK, THE BROOKINGS INSTITUTION: "He is not a madman. He is a
carefully calculating politician who has found a formula that is
working for him."
Hold it!: OK, Channel One, we get it. The Iranian president is NOT a madman. Chris Browne the Channel One reporter says that and the pundit from the liberal Brookings Institution says that. Wow. How silly of others to think otherwise. Thankfully the overwhelming majority of secondary schools in the U.S. do not expose their students to Channel One News.
BROWNE: THIS WEEK, HE IS IN NEW YORK. AND HIS VISIT HAS ALREADY CAUSED
CONTROVERSY. HE WAS DENIED ACCESS TO THE WORLD TRADE CENTER SITE. AND
YESTERDAY'S TALK AT COLUMBIA UNIVERSITY BROUGHT THRONGS OF PROTESTERS.
CHRIS, COLUMIBA UNIVERSITY STUDENT: "I'm protesting him as an
individual. I believe he's an evil person and I think he's a dangerous
threat to the world and world peace."
MODERATOR: "The first question is…"
BROWNE: COLUMBIA UNIVERSITY STUDENTS WERE ABLE TO CHALLENGE HIM ON HIS
PAST STATEMENTS, EXCERCISING THEIR RIGHT TO FREE SPEECH.
Hold it!: This is a silly reference to "free speech." Channel One must get paid for each mention of "free speech." Of course students have the right to ask questions. Why not
AHMADINEJAD (THROUGH TRANSLATOR): "We love all nations. We are friends
with the Jewish people."
Hold it!: This is awful. Ahmadinejad has repeatedly proclaimed he wants to "wipe Israel away." Channel One mentions this earlier in the script but Ahmadinejad's own words will stick with students. Maybe he once had a problem with Israel and Jews but now he's changed. Channel One's producer chose this one translated statement to be played for students. A man like this, with so much love in his heart, should be afforded First Amendment rights. Thanks Knight Foundation and Channel One News for opening our eyes.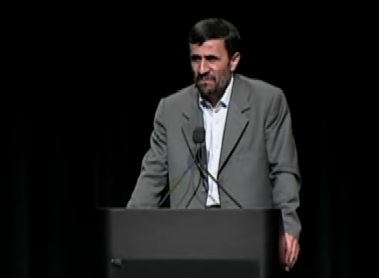 "We love all nations. We are friends with the Jewish people."
These are the ONLY words students hear the Iranian president say.


BROWNE: AHMADINEJAD PRESIDES OVER A COUNTRY RUN BY STRICT ISLAMIC LAW.
BRUCE RIEDEL, THE BROOKINGS INSTITUTION: "This man is a true believer. He has been a supporter of the Islamic revolution since he first got
into politics."
BROWNE: AHMADENIJAD WAS RAISED NEAR TEHRAN, IRAN'S CAPITAL. HE WENT TO
IRAN'S UNIVERSITY OF SCIENCE AND TECHNOLOGY WHERE HE STUDIED
ENGINEERING. IN 2005, AHMADENIJAD ROCKETED FROM BEING MAYOR OF TEHRAN
TO PRESIDENT OF THE COUNTRY, MAKING HIM THE SECOND-MOST POWERFUL MAN IN
IRAN AFTER THE SUPREME LEADER, THE AYATOLLAH KHAMENEI.
BROWNE: THE IRANIAN PRESIDENT'S VISIT TO NEW YORK CITY COULD BE A
GLIMPSE INTO THE FUTURE RELATIONSHIP BETWEEN HIS COUNTRY AND OURS. HIS
SPEECH AT COLUMBIA UNIVERSITY COULD BE A FIRST STEP TOWARD AN OPEN DIALOGUE. CHRIS BROWNE, CHANNEL ONE NEWS.
Hold it!: "Could be a first step to an open dialogue"?? If students only had Channel One News as their news source they would have a "feel good" opinion about the Iranian president. He must want an "open dialogue" and misguided Americans who oppose him must be very narrow-minded.
Nobody thought Ahmadinejad's visit would be a first step to an "open dialogue." This was just Channel One parroting what the Knight Foundation wanted them to say.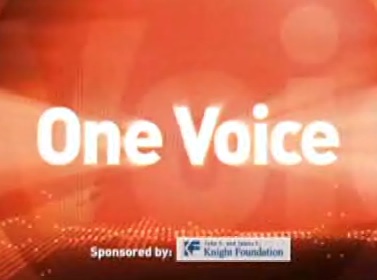 Students probably couldn't read who was the sponsor of this news story because Channel One's TV sets are so small (19"). This is how the Ahmadinejad story started. "Sponsored by the Knight Foundation." The news is for sale at Channel One. That's just another reason to pull the plug on this controversial TV show.