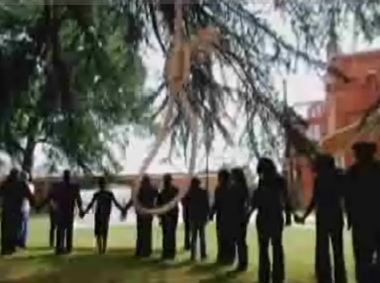 This inflammatory image was broadcast on Channel One to millions of students ages 18 to 10.
This is a staged photo. The noose was prepared for benefit of the camera crew.
From Jim Metrock:
Why would Channel One News seek to inflame racial tensions in high schools and middle schools?
Channel One has jumped into the Jena 6 controversy with both feet and they are taking students along with them.
Why show a hangman's noose on the classroom TV? This is the very image that rightfully upset so many in the Louisiana town. Channel One's producer showed total disregard for the sensitivities of the young captive audience that has to watch this show. Few students watch Channel One because they WANT to watch it. They watch because Channel One has a contractual agreement with their school – the school can keep the Channel One loaner TV sets as long as students are shown the Channel One TV show with commercials. When you audience has little choice about viewing, a producer should be extremely cautious about what is shown.
Channel One lost a lot of schools this past summer. The remaining schools ought to review Channel One's reckless Jena 6 story and their recent "Ahmadinejad's First Amendment Story" and seriously consider joining the vast majority of other secondary schools in the U.S. and remove Channel One from the classroom.
Channel One News Jena 6 Transcripts
From the CHANNEL ONE NEWS SHOW SCRIPT 9/21/07
DEMONSTRATORS: "What do we want? Justice! When do we want it? Now!"
BROWNE (Channel One reporter): THIS WAS THE SCENE YESTERDAY IN JENA, LOUISIANA.
DEMONSTRATOR: "Support of the Jena 6. It's injustice. We're coming for
justice."
BROWNE: HUNDREDS OF BUSES ROLLED INTO THE NORMALLY SLEEPY TOWN AS
RESIDENTS PREPARED THEMSELVES FOR MORE OF THE TENSION AND CONTROVERSY
THAT HAS SURROUNDED JENA RECENTLY.
TONY: IT ALL STARTED LAST YEAR AT JENA HIGH, WHEN A BLACK STUDENT ASKED
TO SIT UNDER A TREE WHERE WHITE STUDENTS USUALLY GATHERED. THE NEXT
MORNING, THREE NOOSES IN SCHOOL COLORS WERE FOUND HANGING FROM TREES.
NOOSES–A POWERFUL SYMBOL TO BLACK AMERICANS, WHO HAVE BEEN HANGED FROM
THEM BY WHITE MOBS AT OTHER TIMES IN AMERICAN HISTORY. THREE WHITE
STUDENTS WERE SUSPENDED AS A RESULT OF THE INCIDENT.
BROWNE: AS RACIAL TENSION MOUNTED IN JENA, FIGHTS BROKE OUT BETWEEN
BLACK AND WHITE STUDENTS AT THE HIGH SCHOOL. ON DECEMBER 4TH, A WHITE
STUDENT WAS BEATEN DURING A FIGHT WITH BLACK STUDENTS. SIX BLACK
STUDENTS WERE ARRESTED AND EXPELLED FROM SCHOOL. THEY'RE NOW REFERRED
TO AS THE JENA SIX.
TONY: FIVE OF THE SIX STUDENTS WERE CHARGED AS ADULTS WITH ATTEMPTED
SECOND-DEGREE MURDER. ONLY ONE OF THE CHARGED STUDENTS WAS 18.
BROWNE: SUPPORTERS OF THE JENA SIX SAY THAT RACE WAS A FACTOR IN THE
CHARGES. THEY SAY STUDENTS SHOULD NOT HAVE BEEN CHARGED AS ADULTS, AND
THAT THE INJURIES CAUSED BY THE ATTACK ON THE WHITE STUDENT WERE MINOR
AND DID NOT MERIT SUCH A STRONG CHARGE.
DEMONSTRATOR: "We have a District Attorney who charged these young men
with attempted murder, then he comes back and charges them with assault
and battery after the fact, when initially he should have charged them
with assault and battery from jump street."
TONY: THE CHARGES AGAINST THREE OF THE JENA 6 HAVE BEEN REDUCED. BUT
THE LEGAL BATTLE HAS TAKEN A BACK SEAT TO THE CONTROVERSY OVER THE ROLE
RACE HAS PLAYED IN THE JENA SIX CASE. LAST WEEK AN APPEALS COURT TOSSED
OUT THE ONLY CONVICTION, AND SAID THE STUDENT HAD BEEN IMPROPERLY TRIED
IN ADULT COURT. HE IS STILL BEING HELD IN JAIL WHILE PROSECUTORS DELIBERATE OVER WHETHER TO FILE NEW CHARGES AGAINST HIM IN JUVENILE
COURT.
BROWNE: YESTERDAY, WHEN DEMONSTRATORS WALKED TO JENA HIGH TO SEE THE
TREE WHERE THE NOOSES HAD BEEN HUNG, THEY COULDN'T. THE TREE THAT, MANY
SAY, STARTED THE JENA 6 CONTROVERSY, HAD BEEN CUT DOWN.
BROWNE: THE JENA 6 CASE IS COMPLICATED BECAUSE IT RAISES TOUGH
QUESTIONS ABOUT THE ROLE RACE PLAYS IN THE JUSTICE SYSTEM–AND IN
SCHOOLS. NEXT WEEK, WE'LL TAKE A MORE IN-DEPTH LOOK AT THE HISTORY
BEHIND THIS CONTROVERSIAL CASE.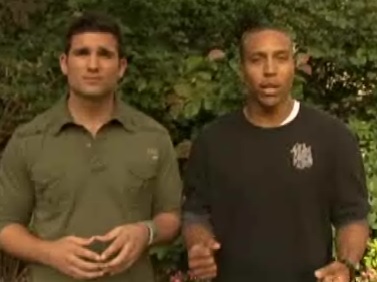 Channel One reporter Tony Anderson on the right, on cue, makes two fists as he asks children if the Jena 6 story makes them angry. Everything in a Channel One News story, including facial expressions and making a fist, is scripted and rehearsed. Channel One is a taped show. What message did Channel One's black reporter want to send to students? to black students? If you are angry about something you should hit somebody? Why didn't the producer or the camera person tell Mr. Anderson to repeat his lines but don't hold his fists up?
TONY: WE'RE GOING TO JENA LOUISIANA AND WE WANT TO KNOW HOW YOU FEEL
ABOUT THIS CASE. DOES IT MAKE YOU SAD, ANGRY, OR DO YOU FEEL THAT
EVERYTHING THAT'S GOING DOWN THERE IS BEING HANDLED RIGHT? LET US KNOW.
EMAIL US AT CHANNELONE.COM AND GIVE US SOME INPUT SO WE KNOW WHAT
STORIES TO BRING YOU.
CHANNEL ONE NEWS SHOW SCRIPT 9/27/07
TONY: IT'S THURSDAY, SEPTEMBER 27, 2007, WE'RE AT JENA, LOUISIANA, AND
WE'RE GOING TO LET YOU KNOW THIS DAY WHY THIS SMALL TOWN IS GETTING SO
MUCH ATTENTION.
Hold it: Channel One News devotes the ENTIRE SHOW on September 27 to the Jena 6 story. There is apparently nothing happening in any other part of the world. By the context of the show, Channel One News is telling students that there is nothing more important than the Jena 6 story.
BY NOW, MOST OF YOU HAVE ALREADY HEARD ABOUT JENA, LOUISIANA. THIS
SMALL TOWN HAS MADE INTERNATIONAL HEADLINES BECAUSE OF A SERIES OF
RACIALLY CHARGED EVENTS THAT BEGAN AT THIS HIGH SCHOOL RIGHT BEHIND ME.
NOW, THERE'S BEEN A LOT OF FINGER-POINTING FROM BOTH SIDES OF THIS
CONTROVERSY, BUT WE'RE GOING TO BREAK IT ALL DOWN FOR YOU AND LAY OUT
THE FACTS OF THIS STORY.
TONY: IT ALL BEGAN ABOUT A YEAR AGO, SEPTEMBER 1ST, 2006. THREE NOOSES
WERE HUNG FROM A SHADE TREE AT JENA HIGH WHERE WHITE STUDENTS USUALLY
GATHERED. THIS, AFTER A BLACK STUDENT, ACCORDING TO PUBLISHED REPORTS,
ASKED AT A SCHOOL ASSEMBLY TO SIT BENEATH THE TREE. IN THE MONTHS
AFTER, STUDENTS SAY, TENSIONS ROSE BETWEEN BLACKS AND WHITES. FINALLY,
LAST DECEMBER, A FIGHT THAT SENT A WHITE STUDENT, 17-YEAR-OLD JUSTIN
BARKER, TO THE HOSPITAL. SIX BLACK STUDENTS, NOW KNOWN AS THE "JENA
SIX," WERE CHARGED WITH ATTEMPTED SECOND-DEGREE MURDER. IT WAS, MANY
SAID, A PUNISHMENT THAT DID NOT FIT THE ALLEGED CRIME.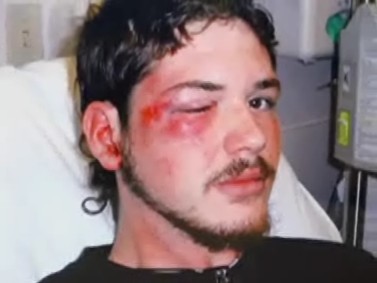 Why show this picture to students? In virtually all schools that still show Channel One there is no time for teachers to help students deal with these images. The school in Jena, LA isn't the only school with racial tension. What if another one of those schools watched this broadcast? Parts of the show might tend to easy tensions but other parts are just inflammatory.
TINA JONES: "We're not treated equal in this town, you know, so I'll
just leave it at that."
TONY: THE CHARGES WERE LATER REDUCED. BUT SEVENTEEN-YEAR-OLD MYCHAL
BELL, THE ONLY ONE OF THE SIX TO ACTUALLY BE TRIED FOR A CRIME, WAS
FOUND GUILTY OF SECOND DEGREE BATTERY. AND THOUGH HIS CONVICTION WAS
OVERTURNED, HE REMAINS IN JAIL.
PROTESTERS: "No justice, no peace…"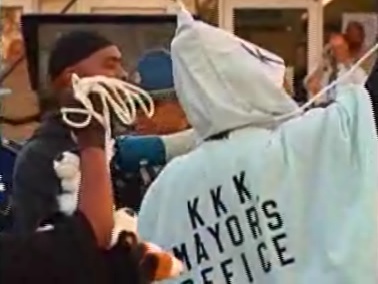 Isn't this a little over the top? Why did Channel One's producer pick this image from hundreds of protesters? Are students to think the mayor of Jena, LA is a member of the Ku Klux Klan? Channel One appears to be using hot button words and images to arouse their students to watch their TV sets. Many schools simply don't show Channel One even though they are suppose to. Many turn the sound down or off and leave the picture on. Kids seeing dead bodies, and a beaten up student, and "KKK" might ask for the sound to be turned up. Violence always gets our attention.
TONY: WHICH BRINGS US TO LAST THURSDAY, WHEN TENS OF THOUSANDS OF
DEMONSTRATORS FLOODED THE TOWN TO SUPPORT THE JENA SIX. THE PROTESTORS
PERCEIVE A DOUBLE STANDARD IN THE TREATMENT OF THESE STUDENTS.
REV. AL SHARPTON: "We sit and stand in a city that says it's a prank to
hang a hangman's noose but that it is attempted murder to have a
fight."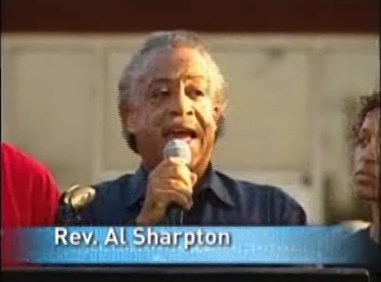 TONY: STEPHANIE, WHO PREFERED WE DIDN'T USE HER LAST NAME, IS A JENA
NATIVE AND PERSONALLY KNOWS JUSTIN BARKER, THE VICTIM AT THE CENTER OF
THIS CASE.
STEPHANIE: "He was unconscious the whole time, he couldn't fight back,
and they just proceeded to keep kicking him until somebody got them
apart."
TONY: SHE BELIEVES PROTESTERS AND THE NEWS MEDIA HAVE BLOWN THIS STORY
OUT OF PROPORTION.
STEPHANIE: "Justin was walking out of school and six people jumped him.
It wasn't a color issue. If it would have been six white boys then they
would have been in just as much trouble."
TONY: WHILE EXACTLY WHAT HAPPENED IN THE ATTACK REMAINS UNCLEAR, MANY
JENA RESIDENTS FEEL THEY'RE BEING UNFAIRLY CATEGORIZED AS RACIST.
TIFFANY THOMPSON: "I just feel like our town is just being seen as a
really bad place. Like an old western. Like we're just horrible and not
all of us are."
TONY: BUT FOR MANY AMERICANS, THE EVENTS IN JENA HAVE AROUSED THEM TO
GET PERSONALY INVOLVED.
MALE PROTESTER: "I think that this Jena Six movement is gonna be the
beginning of something bigger you know. I just want to be a part of
it."
TONY: THE BARRICADES ARE STILL HERE AT THE LA SALLE PARISH COURT HOUSE.
A REMINDER OF THE THOUSANDS OF PROTESTERS THAT WERE HERE ONLY A WEEK
AGO. LOOKING AROUND, THINGS SEEM PRETTY NORMAL, BUT IT'S HARD TO
BELIEVE THAT JENA OR THE COUNTRY WILL EVER BE THE SAME. TONY ANDERSON,
CHANNEL ONE NEWS.
JESSICA: WE'VE BEEN FLOODED WITH EMAILS ABOUT THE JENA 6 CASE FROM ALL
OF YOU, AND NOW IT'S YOUR TURN TO HEAR WHAT YOU HAVE TO SAY.
BREANA FROM LOUISIANA WRITES: "IT IS SAD TO SEE THAT IN TODAY'S
SOCIETY, AFTER ALL WE AS AMERICANS HAVE BEEN THROUGH, THINGS LIKE THIS
ARE STILL GOING ON."
SPEAKING ABOUT MYCHAL BELL, THE BLACK STUDENT IMPRISONED FOR ASSAULTING
THE WHITE STUDENT, ZACH FROM LOUSIANA SAYS: "I THINK THE GUY SHOULD
STAY IN JAIL, BECAUSE IT DOESN'T MATTER IF WHO HE BEAT UP IS WHITE OR
BLACK. HE STILL BEAT UP SOMEONE."
AND FROM SOUTH CAROLINA, DISIREE TOLD US: "RACIAL TENSION BETWEEN
BLACKS AND WHITES WILL NEVER STOP IN MY OPINION…"
JESSICA: WE'LL SHARE SOME MORE OF YOUR THOUGHTS A LITTLE LATER ON.
ANNOUNCER: TO SEE IMAGES OF PREJUDICE AND STEREOTYPES FROM THE PAST AND
THE PRESENT, LOOK FOR THE TOLERANCE TEST AT CHANNELONE.COM, AND LAUNCH
THE PHOTO GALLERY.
[COMMERCIAL BREAK]
BROWNE: MANY BELIEVE THE CONTROVERSY BEHIND THE JENA 6 CASE BEGAN WITH
ONE POWERFUL SYMBOL OF HATE: THE NOOSE. NOW, WE'LL TAKE A DEEPER LOOK
INTO WHY THE NOOSE HAS BECOME A SYMBOL OF RACIAL INTOLERANCE, AND WHY
FOR MANY, IT STILL REPRESENTS AN UGLY SCAR ON THE FACE OF AMERICAN
HISTORY.
BROWNE: LYNCHING WAS ONCE CALLED "OUR COUNTRY'S NATIONAL CRIME." IT
REFERS TO THE PRACTICE BY WHICH A MOB TAKES THE LAW INTO ITS OWN HANDS
IN ORDER TO EXECUTE A PERSON ACCUSED OF WRONGDOING. LYNCHING TOOK ON
ITS CURRENT MEANING AFTER THE CIVIL WAR, DURING A PERIOD IN THE SOUTH
CALLED RECONSTRUCTION, WHEN FREED SLAVES WERE TRYING TO REBUILD THEIR
LIVES, MOB VIOLENCE BECAME A WEAPON USED AGAINST THEM. THE MOB'S USUAL
MEANS OF EXECUTION: THE HANGMAN'S NOOSE. A POWERFUL SYMBOL EVEN TODAY.
SPOKEN WORD ARTIST, DEVYNITY WRAY.
WRAY: "The noose is a part of my American history, it's my heritage of
tragedy, it's my current reality… It means slavery, it means
suppression, it means death, it means slaughter."
BROWNE: LYNCHINGS WERE SEEN AS A WAY OF "PUNISHING" AFRICAN AMERICANS
AND OTHERS WHO THREATENED WHITE DOMINANCE. AND IT DIDN'T STOP AFTER
SLAVERY. IN THE 1960'S, CIVIL RIGHTS ACTIVISTS WERE OFTEN TARGETED.
HISTORICAL RECORDS SHOW BETWEEN 1882 AND 1968, OVER 4,000 PEOPLE WERE
KILLED BY LYNCH MOBS. 80% OF THEM WERE BLACK AMERICANS. MEXICAN
AMERICANS WERE THE SECOND MOST TARGETED VICTIMS. THE LEGACY OF LYNCHING
IS ONE OF HATE AND INTOLERANCE. AND ALTHOUGH IT NO LONGER OCCURS TODAY,
YOU CAN SEE WHY LYNCHING HAS LEFT BEHIND SUCH A POWERFUL SYMBOL. CHRIS
BROWNE, CHANNEL ONE NEWS.
TONY: WE WANTED TO TALK TO YOUNG PEOPLE FROM THE SOUTH ABOUT THE RECENT
EVENTS IN JENA. SO WE CAME TO NEARBY LOUISIANA STATE UNIVERSITY AT
ALEXANDRIA AND HAD AN OPEN DISCUSSION WITH SOME COLLEGE STUDENTS. TAKE
A LOOK.
Images taken from Channel One's shocking Sept. 27th show.
As students hear Channel One's Chris Browne talk about lynchings, middle school students are visually assaulted with horrific pictures of victims of the lynch mobs.

More dead bodies for Channel One's captive audience. C1's producer allows the camera to pan up the victims body but then cuts away before the upper body is seen. How sensitive of Channel One News.

(The hanging victim's legs are shown to the upper right.)

Teachers were unprepared for Channel One's racial charged show and its horrific images. What a way for children as young as ten to start their day.

All these images were taken from Channel One's broadcast that went to high schools AND middle schools. Obligation has tried to get C1N to spare middle school students some of the more gruesome images on the Channel One broadcast. They have ignored our pleas.
Hold it: Why is Channel One interviewing college students? from another city? Possibly because no high school wanted Channel One stirring up racial trouble.
TONY: SO WHAT ARE SOME OF YOUR THOUGHTS ON THE WHOLE JENA 6 SITUATION?
MALE STUDENT #1: "The media has over-hyped what a small situation
turned into a large situation now because of the media."
MALE STUDENT #2: "I actually don't believe the media blew it out of
proportion. It's a big deal to me. I believe it's a big deal, what's
right is right and what's wrong is wrong."
MALE STUDENT #3: "Their attitude towards the little town of Jena in
general…to say that there's not racism there is kind of ridiculous
because, I mean, it's just a ubiquitous type thing. Racism exists
wherever there's people."
TONY: DO YOU FEEL AS THOUGH, YOU KNOW, COMING FROM THE SOUTH, AND BEING
A LOUISIANAN, THAT A LOT OF TIMES PEOPLE LOOK AT YOU AS THIS RACIST
PLACE?
FEMALE STUDENT #1: "People think Louisiana is just a bunch of rednecks.
Uneducated people down here, missing their teeth in their head, and
it's not like that at all. I'm sure there's a lot of people in Jena
that are not racist. But if you have a few, or a group, or if you're
ever labeled that, you'll be labeled that forever."
TONY: HAVE YOU EVER ENCOUNTERED ANY RACISM? ANYBODY CALLING YOU A NAME?
MALE STUDENT #1: "Yeah, I have, I've actually had at my grandmother's
house, we actually had a white neighbor, one day my little sister went
over there and he pulled his daughter to the side and said listen, what
did I tell you about hanging with those N-words. We actually talked to
the guy and he admitted it and everything, it's not the first time I
encountered it, and it definitely wasn't the last time."
TONY: HAS ANYBODY HERE GONE TO THE RALLIES? HOW DID IT MAKE YOU FEEL
LIKE, GOING THERE?
FEMALE STUDENT #1: "I was there. I had a white lady on the side of me,
we were singing Lean on Me, and we were having fun. It wasn't about
black, it wasn't about white, Hispanic, Mexican, it was about right and
wrong and about justice."
PROTESTERS: "What do we want? Justice! When do we want it? Now!"
FEMALE STUDENT #2: "Once you got in that crowd, Al Sharpton was
preaching, and he was screaming to the crowd. What do we want? And
everybody was, Justice! I wasn't [unintelligible] but I was right there
with it, and I was just shouting, go for it! I'm Cambodian, and if I
would have jumped on somebody, I would highly doubt somebody would make
a rally for me. I doubt Al Sharpton would have came down here you know
and spoke for me to get out of jail, it just wouldn't happen."
MALE STUDENT #1: "Black and white people do not represent this country.
We're not it. Especially right now when there's, what, the Latino
population is probably growing larger than either of us."
TONY: DO YOU FEEL THAT THIS JENA 6 SITUATION IS GOING TO CHANGE
ANYTHING, OR IS IT JUST GOING TO STAY THE SAME?
MALE STUDENT #1: "If Jena 6 never came up, and we never known about it,
we probably be the same way. But if we don't change, we got to be able
to [unintelligible]."
FEMALE STUDENT #1: "In 6 months, I don't think there's going to be any
Jena 6 hype at all. It will just kind of get blown away. But I think in
that town and in other small towns, politicians will have to treat
everyone more equally, or they'll have to face the consequences of the
media."
FEMALE STUDENT #2: "It has made history. And I think it's gonna go down
in history, in world history."
TONY: HEY GUYS, WHEN WE WENT TO LOUISIANA, WE DIDN'T KNOW WHAT TO
EXPECT. BUT YOU GUYS SHOWED US A GREAT TIME, AND WE WANT TO THANK YOU.
WE ALSO WANT TO THANK EVERYONE WHO SENT US EMAILS, WE APPRECIATE IT SO
MUCH. IF YOU WANT TO CONTINUE TO GIVE US FEEDBACK, LOG ON TO
CHANNELONE.COM AND CLICK ON "YOU TELL US." BECAUSE WITHOUT YOU, THERE
IS NO US.
[COMMERCIAL BREAK]
CORRESPONDENT: EARLIER WE SHARED SOME EMAILS WITH YOU ABOUT THE JENA 6
CASE. AND HERE'S SOME MORE VIEWS ON THIS HOT-BUTTON ISSUE.
CHANDLER FROM NEW ROADS, LOUISIANA, WROTE: "IF MYCHAL BELL WAS GOING TO
BE CHARGED WITH ATTEMPED SECOND DERGREE MURDER, THE KIDS WHO HUNG THE
NOOSES FROM THE TREE SHOULD HAVE DEFINITELY BEEN EXPELLED FROM SCHOOL
AND MAYBE EVEN HAVE CHARGES PRESSED AGAINST THEM FOR COMMITTING A HATE
CRIME."
AND 16-YEAR-OLD KATELYN, ALSO FROM LOUSIANA: "TWO WRONGS DO NOT MAKE A
RIGHT! WHITE KIDS DESERVED HARSHER PUNISHMENT FOR THEIR ACTIONS. THEY
SHOULD HAVE BEEN EXPELLED. BLACK KIDS SHOULD HAVE RESPONDED WITH AN
ORDERLY PROTEST & NOT VIOLENCE."
AND DARNELL FROM NORTH CAROLINA SHARED THIS COMMENT: "I THINK THAT IS
GOING WAY TO FAR WITH THE ROPE ON THE TREE. I ALSO THIK THAT AFRICAN
AMERICANS ARE DOING GOOD WITH THIS SITUATION. I KNOW THAT MARTIN LUTHER
KING JR. IS LOOKING DOWN SMILING."
TONY: ALRIGHT GUYS, THAT'S OUR SHOW FOR TODAY. REPORTING FROM JENA,
LOUISIANA, I'M TONY ANDERSON, WE WILL SEE YOU HERE TOMORROW. SIGNING
OFF FOR CHANNEL ONE NEWS. TAKE CARE.