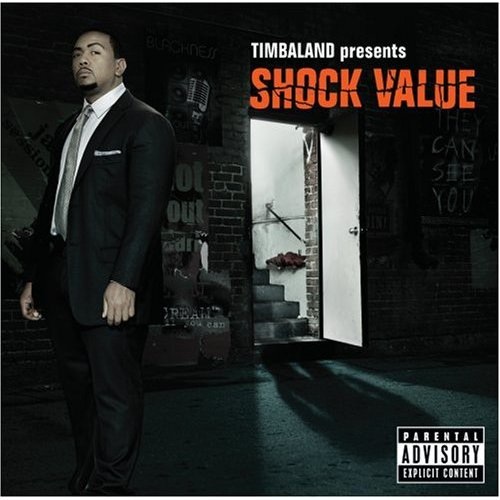 Bus Radio has messed up big time AGAIN. This company just can't stay away from dirty artists.
For two weeks Timbaland's song "The Way I Are" has been the number two most requested song by students. Since Bus Radio has played a portion of this song on its weekly countdown, we are assuming it has been played in full on the buses. If the song was considered too vulgar for students it would not be played on the bus or even be eligible for voting by students.
Bus Radio employees unfortunately have a different idea of what is offensive and what is not.
The song in question comes from the above CD. Notice the CD has a parental warning on it. This is where Bus Radio executives and DJs get confused. They think that it is perfectly OK to play music from a group or an artist known for explicit lyrics or from a CD that has a parental warning for explicit lyrics IF they bleep out the bad words or if they play the "clean" version. We don't think parents agree with this way of thinking.
Bus Radio by playing a part of "The Way I Are" or the whole song, either the clean or dirty version, is advertising the song, which in turn is advertising this CD. If Bus Radio sells kids on liking the "clean" or bleeped out version of Timbaland's music they will ultimately be buying his raunchy version.
Obligation's Jim Metrock said, "If you want age-appropriate music for students, you don't want Bus Radio in their lives. No school should turn over their children's minds to this start-up company trying to make millions off the backs of young bus riders. I emailed Lucia xxxxxxx who is one of the DJs who is heard mentioning Timbaland's name and song title as it plays for kids. I asked her if Bus Radio played the whole song for bus riders. She has not replied. I guess she thinks what Bus Radio plays for students is just between the company and the students."
Bus Radio Is Busted – Here's the proof.
Hear for yourself: "The Way I Are" comes in second.
Another week and the song is still very popular with Bus Radio riders.
For those unfamiliar with this song here are the lyrics:
Bus Radio's "Kid-Friendly" Let Me See You Strip" Song
The Way I Are lyrics
(feat. Keri Hilson, D.O.E.)

[Verse 1: Timbaland]
I ain't got no money
I ain't got no car to take you on a date
I can't even buy you flowers
But together we'll be the perfect soulmates
Talk to me girl

[Bridge: Keri Hilson]
Oh, baby, it's alright now, you ain't gotta flaunt for me
If we go there, you can still touch my love, it's free
We can work without the perks just you and me
Thug it out 'til we get it right

[Chorus: Keri Hilson & (Timbaland)]
Baby if you strip, you can get a tip
'Cause I like you just the way you are
(I'm about to strip and I want it quick
Can you handle me the way you are?)
I don't need the G's or the car keys
Boy I like you just the way you are
Let me see ya strip, you can get a tip
'Cause I like, I like, I like

[Verse 2: Timbaland]
I ain't got no Visa
I ain't got no Red American Express
We can't go nowhere exotic
It don't matter 'cause I'm the one that love you best
Talk to me girl

[Bridge 2: Keri Hilson]
Oh, baby, it's alright now, you ain't gotta flaunt for me
If we go there, you can still touch my love, it's free
We can work without the perks just you and me
Thug it out 'til we get it right

[Chorus: Keri Hilson & (Timbaland)]
Baby if you strip, you can get a tip
'Cause I like you just the way you are
(I'm about to strip and I want it quick
Can you handle me the way you are?)
I don't need the G's or the car keys
Boy I like you just the way you are
Let me see ya strip, you can get a tip
'Cause I like you just the way you are

[Verse 3: D.O.E.]
Baby girl, I don't got a huge ol' house I rent a room in a house
Listen baby girl, I ain't got a motorboat but I can float ya boat
So listen baby girl, once you get a dose of D.O.E. you gon' want some mo'
So listen baby girl, when I make it I want you back, want you back, yeah