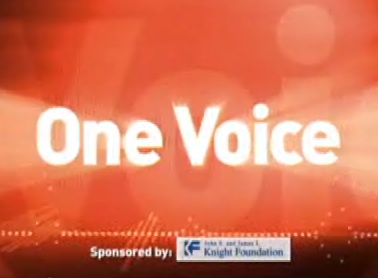 Channel One News no longer pretends to be a balanced source of news. Channel One News has become an agenda-driven company. They will run certain "news" stories if companies PAY for them. Below is a story about a Congressional hearing looking into offensive rap lyrics. One would think there would be two sides to this story: those who think something should be done about record companies that make money off of songs that glorify drugs and murder and those who don't mind things just like they are.
This story presented to schoolchildren is totally one-sided. It is one-sided on purpose. One side has paid money to get young people to THINK DIFFERENTLY about the First Amendment. The Knight Foundation doesn't see two sides to this story. Since they are paying for the story, their view of the First Amendment will prevail. They believe that ANY restriction on speech, even if children are involved, does violence to the First Amendment. The problem isn't that this is a wrong or right. The problem is that the story is so one-sided.
Should rap artists be allowed to publish any content they want? no matter how vile and repugnant? The Knight Foundation wants young people to say "Yes." To say "No, there should be some limitations on content creators" would be a trampling of the First Amendment. This is a far-out position but that is what the Knight Foundation and their hand puppet Channel One News believe. That's why the story below aired and was written the way it was.
The radical Knight Foundation has lots of money and they are not ashamed to use that money to change the thinking of impressionable young people. The Knight Foundation promised Channel One $2.3 million last year IF they would run stories about the First Amendment on the in-school TV show. Now if you are the executives at Channel One (and there are few left), would you take Knight's money and run stories that are opposed to the Knight Foundation's position? No, you would not. Channel One is thinking about the NEXT grant from the Foundation. They want more money after the initial $2.3 million runs out. They have to please the Knight Foundation and therefore schoolchildren are going to get a radical version of the First Amendment forced down their throats.
The Knight Foundation wants kids to understand that parents and other adults are wrong when they seek to ban vile rap lyrics. If this story was more balanced, then Knight's view of the First Amendment would be diluted. That might upset Knight and they might end their flow of money to Channel One. We have seen Channel One do utterly goofy things to keep the Knight people happy. Their Bong Hits 4 Jesus story should not have been played in schools without some warning to school officials, but Channel One has to have a large number of stories to show Knight's people at the end of the year. Knight will want to know what they got for their $2.3 million. The Jena 6 story was also another story you would never have seen in a classroom (they actually started the story off with showing a noose hanging from a tree and showed several hanging victims to middle school students) if it wasn't for the Foundation's money. The Foundation can take away the money at any time. If that money disappears, so will Channel One News. Channel One News stories are up for sale to the highest bidder. This is journalism at its worst.
Channel One's Bizarre Story On Explicit Lyrics – October 17, 2007 transcript
TONY ANDERSON(Channel One's reporter): THE FIRST AMENDMENT GUARANTEES US FREEDOM OF EXPRESSION THROUGH THE WAY WE DRESS, OUR HAIR AND EVEN THE MUSIC WE LISTEN TO. BUT DOES FREEDOM OF EXPRESSION HAVE ITS LIMITS IF IT OFFENDS OTHERS? WELL, NOW HIP-HOP IS THE TOPIC OF DEBATE FOR ITS ALLEGED VIOLENT AND OFFENSIVE LYRICS. THE DEBATE HAS MADE ITS WAY ALL THE WAY TO CONGRESS. TAKE A LISTEN TO IT.
Hold it!: "Alleged violent and offensive lyrics"??? This isn't just a slip up by Mr. Anderson. This is a script that was written and rewritten until Channel One News got exactly what they wanted the students to hear. Maybe someone wrote "now hip-hop is the topic of debate for its violent and offensive lyrics" and Mr. Anderson said, "No, I want 'alleged' put in there." However they arrived at this line, Channel One News is intentionally sending wrong information to young people. Channel One News doesn't want to sound like somebody's mother. Channel One wants to be hip and edgy. There is no question that a large amount of hip hop music has violent and offensive lyrics. The pro-explicit lyrics people interviewed in this one-sided story admit that. This is lousy writing and shows that Channel One News has an agenda with kids.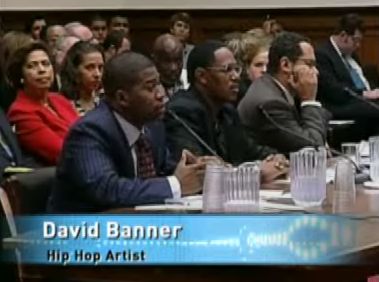 Channel One's editing process makes students think David Banner's music must be clean. Channel One misleads its audience to help push the Knight Foundation's agenda.
(SOT:) "One of the problems is that in most cases you guy s don't listen to our music, so you don't know what I have actually done."
TONY: RECENTLY, CONTROVERSIAL RAPPER DAVID BANNER WAS ONE OF THE ARTISTS THAT TESTIFIED ON THE HIP HOP CONGRESSIONAL HEARING AT CAPITOL HILL, IN WASHINGTON DC.
Hold it!: There was plenty of hearing footage Channel One could have used in this Knight Foundation sponsored story but why show David Banner? Why did Channel One only play the clip where he tells members of Congress that they don't really know what he is all about? The impression is Mr. Banner's lyrics are NOT violent and offensive. He is dressed in a suit and tie and the student who had never heard his songs might think he was being unfairly grilled by the nasty people in Congress. A student might buy one of his CDs because he appeared on Channel One and said his music was being unfairly criticized.
Let's see what David Banner has "actually done." Here is a sample of one of Banner's milder songs:
"Yall talk s***while we still winning
She's on my d*** cuz my rims kept spinnin'
Then I bust up the block
The system that knocks
I keep f*****' yo bitches, while yall keep bitin' the pot
(Diamond in the back, the sunroof top)
(Pilled up my stocks, now I'm pissin' off the cops)
F*** that sangin' my nigga
We can chop up them pigs
Man I'm ready for war, if any my niggaz get killed"
The Knight Foundation and Channel One News would say that ALL children should have the God-given right to be able to listen to this type of cop-killing, sexually violent music. Students forced to watch Channel One are getting a very disturbing impression of the First Amendment.
TONY: CRITICS ASK WHY THE MUSIC IS SO AGGRESSIVE. BUT MYCHAEL ERIC DYSON, PROFESSOR AT GEORGETOWN UNIVERSITY DEFENDS THE RAW LYRICS AS TYPICAL OF WHAT ART DOES.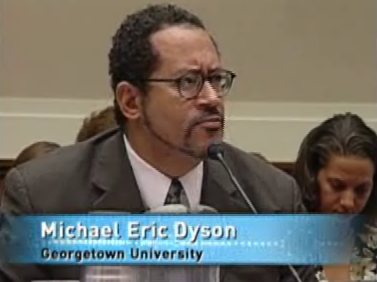 Angry professor defends cop-killing lyrics. Channel One News will give him a forum to express his beliefs but not others who disagree with his radical position.
(SOT:) "All art should not make you feel good, some art should get in your face."
Hold it!: Maybe this professor isn't correct. MAYBE there are people with a different opinion. Why doesn't Channel One have a clip from someone who believes differently?
TONY: SOME OF THE MUSIC INDUSTRIES MOST POWERFUL EXECUTIVES WERE IN ATTENDANCE AT THE HEARING. I MET WITH TWO HEADS OF BLACK ENTERTAINMENT TELEVISION AT A RECENT AWARD SHOW IN ATLANTA. THEY DEFENDED ARTIST FIRST AMENDMENT RIGHTS.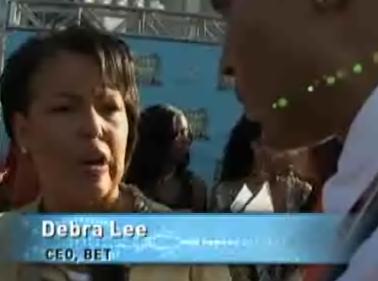 The CEO of Black Entertainment Television broadcasts many offensive rap videos. Of Course Ms. Debra Lee thinks its parents fault for not protecting their children. Ms. Lee wants a lot of leeway in what she can broadcast to kids.
(SOT:) "Sometimes they are trying to tell the story and I respect that, but as parents, we have to be careful about what our young kids listen to."
Hold it!: This lady works for a company that makes money off airing suggestive rap videos. She advises parents to be more careful. Channel One refuses to put any person in this story that would say it is THE INDUSTRY that should be more careful. By the way, Tony Anderson, the Channel One reporter on this poorly done story, used to work at the BET Network and doesn't see any need to disclose that to the students watching. Anderson doesn't challenge the BET executives or ask them any hard questions. In fact, he doesn't ask any questions, he just holds the microphone for his former employer to spout their position.
(SOT:) "What people have to think about is, is something genuinely artistic or is it clich