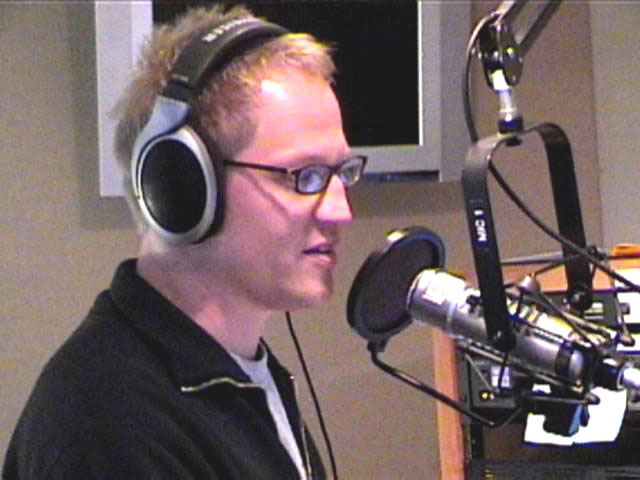 We found "Mat" in Milwaukee.
From Jim Metrock:
I have urged Bus Radio's president Steve Shulman to make his company and radio show as transparent as possible – Don't keep anything from the public. Instead the company and radio show remain shrouded in secrecy.
Take for example the two DJs that children are forced to listen to on their bus ride.
Bus Radio has only one show: The Mat and Lucia Show which is hosted not surprisingly by – Mat and Lucia.
Even in their official press releases, Bus Radio has refused to disclose the last names of their DJs. One could understand not using a last name when they are on air. Radio DJs like to create and maintain a certain persona separate from their everyday lives and that is understandable, but Mat and Lucia are different.
These two DJs have hundreds of thousands of young people down to age SIX forced to listen to them. Mat and Lucia didn't EARN their audience. Contracts were signed by school board members with gray hair requiring these DJs to become an important part of young people's lives. Most radio shows EARN their audience by being better than their competition. Mat and Lucia don't have to be good – and they aren't. The few clips I have heard of these two are abysmal. The two DJs obviously are seeking to come across as buffoons and they succeed. They are buffoons that pitch kids products they don't need and they promote music acts that kids shouldn't be listening to – in other words they are perfect for the "get rich" scheme called Bus Radio.
Yet if kids are going to be forced to have two new "friends" in their lives, shouldn't parents know SOMETHING about them? At least their last names?
Lucia is Lucia XXXXXXX. She is the second banana on the show and she is a singer in the Boston area. While she awaits her big break she is making a living as a Bus Radio DJ.
Mat is the top dawg on the show and finding out his real identity was a bigger challenge. Thanks to Stephen in San Diego, I found out that Mat is really XXXXXX XXXXXX and he is a radio personality in the Midwest.
I don't know how he and Ms. XXXXXXX handle taping their shows in Needham, Massachusetts, home to Bus Radio, but most of their shows can be taped weeks in advanced from what I have heard. The show is taped and sent out later via satellite.
When I read that XXXXXXX XXXXXX is the real Bus Radio Mat, I realized why Steve Shulman didn't want his name to be known. Mr. Shulman has gone around America telling school board members that Bus Radio was created to keep young bus riders from having to hear the terrible content found on drive-time radio shows. Drive-time radio DJs play awful music and they say awful things.
XXXXXXX XXXXXX is a drive-time DJ. Uh-oh.
XXXXXX has hopped from one station to another for years. He has recently been a drive-time DJ in Washington DC, Kansas City, and Denver.
On the Bus Radio bio page for "Mat" they list his age as "Older than you." Of course, with Bus Radio the audience ranges from those who have just graduated from kindergarten to high school seniors without cars. Steve Shulman doesn't want to tell kids Mat's age because Mat is old. "Old" for Bus Radio's audience for sure. He's 34. He tries to act like a ten-year-old but he's been around the block a few times and "Mat and Lucia" works better if the kids are not informed too much about their hosts. It's all an illusion. Bus Radio is devoted to young people. The DJs can relate to the students. They are not like your parents. Everything is done for the benefit of the students and not the advertisers and featured music artists.
There are more than a few elementary school children listening to Bus Radio who have daddies younger than Mat of the Mat and Lucia Show. Bus Radio doesn't want the kids to know that.
XXXXXXX XXXXXX, aka Mat, brings an edgy attitude to Bus Radio. Did he help make the decision to have music from Fergie, Akon, Nickelback and other artists known for their explicit lyrics played on the buses?
Here is an audio clip from XXXXXXX XXXXXX website that is probably the property of the radio stations he worked at before. This gives you a taste of how Mat, aka XXXXXXX XXXXXX, would talk on a radio show if he could get away with it.
XXXXXXX XXXXXX highlight audio from former radio jobs. (This is NOT from a Bus Radio broadcast.)
Notice the marijuana joke.
XXXXXXX XXXXXX: "You're smoking the reefer?"
Caller: "Yeah."
XXXXXXX XXXXXX: "So now you are good."
XXXXXXX XXXXXX: "Take care of that glaucoma." Said in a joking way. XXXXXX normalizes the use of pot by making it funny. Smoking pot will make you "good."
XXXXXX also talks about gay sex and three-way sex. Doesn't he care about who is listening? If this was drive-time radio, then he probably had kids listening if moms had turned to his station.
As more and more young people are required to listen to Mat and Lucia, it becomes more and more important to pull away the tarp of secrecy that has been covering the identities of these two DJs. What they think is important, what they laugh at, what they make fun of, what they dislike, is all going to come through on their show. The public has a right to know who these influencers are.
Below is the Bus Radio "bio" on "Mat." He evidently wrote this himself. As I said he doesn't tell his age – doesn't want to alienate his "loyal" listeners. He also doesn't tell where is from. "Bus Radio, USA" is I guess Needham, MA where the headquarters is located. He's not from there.
He doesn't say he is from Milwaukee, Wisconsin. Why? Telling the truth would give people the feeling that he isn't really committed to his Bus Radio job, when indeed, Bus Radio is not his main job at all.
It is not certain yet that Bus Radio is going to make it as a going business. Right now they are burning through venture capital money like it grows on trees. Mat, aka XXXXXXX XXXXXX, is playing it safe keeping his day job in Milwaukee.
What is also interesting about this self-written bio is Mat mentions his two cats, Brother Jules and Ladybug, and his many cousins but not his WIFE and CHILD.
Q: How could he forget about them? A: He didn't forget about them.
He was told not to mention them because that could possibly destroy the illusion Bus Radio wants to maintain. Mat needs to be right out of high school. Just like the products Mat and Lucia sell kids on the bus, they are products that have to be packaged and sold. This bio shows how Bus Radio plays with words and no one is ever sure if they are understanding what is actually being said. Read any piece of Bus Radio sales literature and you get that creepy feeling that there is always something between the lines.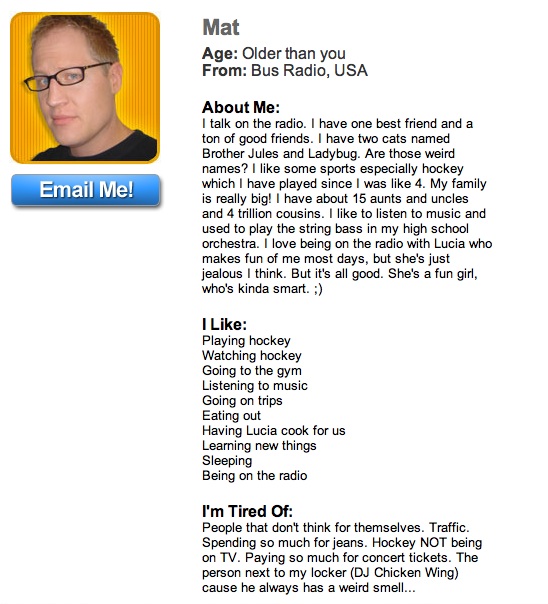 As I said Bus Radio's Mat actually works for WKTI (94.5) in Milwaukee. Since taking over the morning drive-time show in May 2007, the station's ratings have fallen from like a rock. Maybe it IS time to quit the day job and go full-time with Bus Radio.
From the The Business Journal of Greater Milwaukee
October 18, 2007
"WKTI, fell by eight positions, from sixth to 14th, in the key demographic of listeners ages 25 to 54 for the summer ratings period that ended Sept. 19 compared with the same period a year ago. WKTI's average audience share this summer was 2.7, compared with 5.5 in summer 2006.
The station's morning show, now led by XXXXXXX XXXXXX, ranked 12th with that demographic compared with third in the summer of 2006. The audience share dropped to 2.9 from 7.6."
The good people of Greater Milwaukee have a huge advantage that young school bus riders don't have. If they are in their cars coming into Milwaukee on I-43 or I-94 and they hear XXXXXXX XXXXXX on the radio they can turn to another station, switch to AM, turn the sound down until his show is over, or they can just turn the radio off.
Kids don't have that control. The bus driver does, but students have to listen to XXXXXXX XXXXXX, aka Mat, for the entire ride to school and the entire ride back home. The ratings are sinking into Lake Michigan at WKTI but the ratings are soaring for the Mat and Lucia Show. "Radio Your School Board Demands You Listen To." Doesn't seem fair.
P.S. It turns out we haven't unmasked the real Mat of the Mat and Lucia Show. XXXXXXX XXXXXX has told a reporter that "XXXXXX" is not his real name. Ugh. We still don't know who this guy really is.