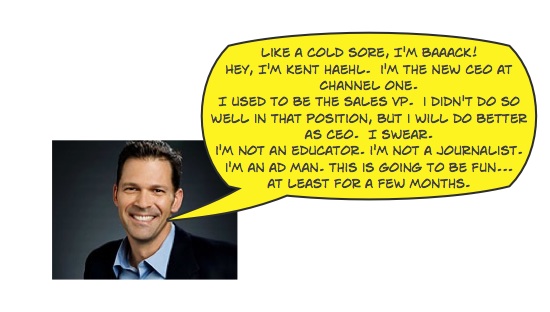 From Jim Metrock:
Channel One News is no longer hiding the fact its main mission is to help advertisers connect with young people.
The new CEO of Channel One News is Kent Haehl. He used to be Channel One's Vice President of Sales. He was the man responsible for some awful commercials in our public schools. We'll review Mr. Haehl's disgusting record in the Sales Department in another article.
I called Mr. Haehl's office this morning and ask him to call me back. I would like to know, and I know the public would like to know, what are his plans for Channel One. Mr. Haehl loved signing up junk food advertisers. Pepsi made his job real easy. Take Pepsi money and run the ads for the kids. So what if they are getting fatter. Mr. Haehl made good money pushing Twinkies on students (yes, he actually agreed to run a major ad campaign for Hostess Twinkies and Cupcakes at a time that everyone was talking about the obesity crisis among children and teens).
I don't expect him to call. That's just the mentality of the folks at Channel One. Hide as long as you can. That way no questions have to be answered.
Can you imagine this ad man making a presentation to educators? What is this man going to talk about? After he left Channel One he became the Vice President of Sales for a company that bringing advertising into grocery stores. His company was called In-Store Broadcasting. Wow, what credentials for the Channel One CEO job.  Yet it makes sense: To Channel One executives a school is like a store. There's money in that school. It just takes the right marketing genius to tap it.
I imagine when Mr. Haehl looks into a classroom, he doesn't see 20 students, he sees 20 allowances that he wants a piece of. Students are a source of revenue. They are not much more than a "target market" to exploit. You'll be shocked at some of Kent Haehl's quotes over the years.
More on Mr. Kent Haehl soon.