We have already documented Channel One's anti-"Merry Christmas" policy. (NBC produces The Today Show and Channel One News (so they can advertise their brand to young people). Anchors on the Today Show routinely wish viewers a "Merry Christmas" but it's "Happy Holidays" on the show aimed at young people.)
It's interesting this week before Christmas, Channel One's website has dusted off its Kabbalah Love Calculator and have placed it prominently on their home page. Someone at Channel One must be deeply devoted to Kabbalah religious beliefs or are into mysticism, for this content to have been off and on this children's website for nearly three years. We wonder why Channel One has such a major problem with "Christmas" but not with the Jewish "Kabbalah"? Channel One is also featuring horoscopes for kids so they can see what 2008 might bring them. Doesn't sound like a good web site for kids, huh?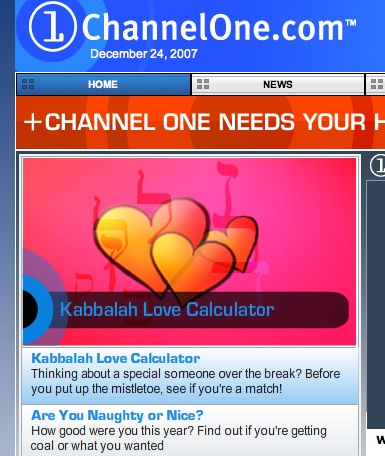 Above: Channel One News serves up a big dish of Kabbalah content for kids of all ages.
We have reported on how Channel One was questioning kids on whether a "Christmas" tree should be called a "Holiday" tree. The fearless reporters at Channel One News covered that NON-STORY twice the week before Christmas (oops, sorry Channel One, "before that holiday next Tuesday") and Channel One only broadcast four days that week.
In the transcript below you will see that Channel One News is again closing up shop for an EXTENDED vacation. They do this every year. This year we thought their connection with NBC would make them a little more serious about covering news on a daily basis, but the opposite has happened.
Channel One's anchor says they are finished covering the news for the year and will see the students on January 2, 2008. That's twelve days off. That's a lot of time to be off the air.
Channel One and their partner NBC have the capability to do several newscasts each day and stream them on the Channelone.com site. They would do that IF informing young people was their mission. It is not. Making money off of young people is their mission and when school is out the captive audience is gone and few teens and preteens would view a streaming Channel One News show on the web because, and let's be frank, the show is lousy. Advertisers can only get the attention of kids when Channel One News is forced on them in their classroom.
That is why Channel One employees walked away from their cameras and desks and microphones on December 20 (actually they left the day before because the show was taped on the 19th if not earlier). Obligation hopes Channel One employees get plenty of rest. Exploiting schoolchildren is a tiring job.
CHANNEL ONE NEWS SHOW SCRIPT 12/20/07

CHRIS: IT'S THURSDAY, DECEMBER 20TH. I'M CHRIS BROWNE AND TODAY OUR
FINAL SHOW OF THE YEAR, WE'LL REVIEW THE HOTTEST STORIES OF 2007.
BUT FIRST HERE ARE YOUR HEADLINES, FROM CHANNEL ONE NEWS….
CHRIS: THAT DOES IS IT FOR CHANNEL ONE NEWS FOR 2007. THANKS AS ALWAYS
FOR WATCHING AND WE'LL BE RIGHT BACK HERE JANUARY 2ND, 2008. BUT BEFORE
WE LEAVE HERE'S A SPECIAL SEASONS GREETING FROM OUR FAMILY TO YOURS.
JESSICA: FROM ALL OF US HERE AT CHANNEL ONE NEWS
CHANNEL ONE STAFF: HAPPY HOLIDAYS!