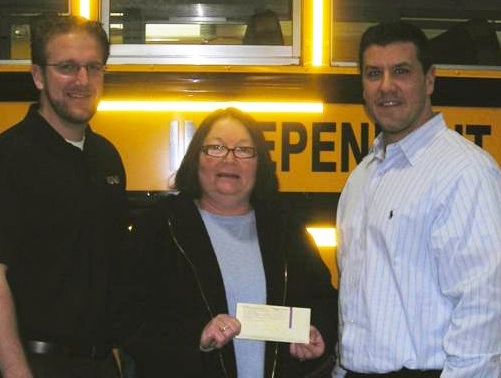 Give it back! Give it back!
Bus Radio is running yet another contest for bus drivers. This time they may have gone too far.
Currently the company is offering bus drivers a chance to win one of three American Express gift cards, each valued at $500. This is a very bad idea.
Nobody has ever accused Bus Radio's management of being overly intelligent and that's a good thing, because this contest will have negative repercussions for the company for a long time.
First, this adds to our fears that Bus Radio is a distraction for drivers. School boards that have approved this experiment with Bus Radio need to err on the side of being OVERLY CAUTIOUS and they should immediately suspend the airing of any Bus Radio programming until a full, community-involved, investigation into Bus Radio can be conducted. It is no longer acceptable to just take the recommendation of a transportation director that thinks Bus Radio is "swell."
Bus Radio requires drivers to call Bus Radio to enter the contest and then drivers are to listen for their name to be called out on show while they drive their route. The driver and his or her riders will most certainly be listening for the driver's name to be mentioned. That's the point – to get more students listening to the show and the ads so Bus Radio can generate more ad revenue.
Once the driver's name is called, he or she has two days to call and claim the prize. By entering the contest, the driver agrees to give permission to Bus Radio to use his or her name and picture to promote the company. What is important is the winner will be identified as a school employee. It will not be "Joe Smith wins $500" it will be "Joe Smith a bus driver for the Jefferson County School District won $500" and there is a big difference between those two descriptions. Are drivers obtaining permission from the school district to be in effect a spokesperson for Bus Radio? Would a superintendent EVER give a school employee permission to promote the private interests of a school vendor? We doubt it.
Bus Radio has to have the loyalty of drivers. That is hard to do because the company has been so insulting to drivers in their sales literature. If you listen to Bus Radio, no school district can trust their no-good drivers who take great joy in playing raunchy FM stations for their elementary school and middle school bus riders. On November 29, 2007, Bus Radio issued a statement attributed to its president Steve Shulman. Shulman says, "BusRadio was founded as an alternative to the inappropriate commercial FM radio content being played on more than half the school buses in this country."
Hogwash, Shulman.
Bus drivers are selfless people working a very stressful job for too little pay, yet this marketing guy, Steve Shulman, has the nerve to say that "more than half" of drivers are so insensitive and indifferent to the welfare of the children in their charge that they would expose kids to profanity-laced music.
What driver would ever take money from Bus Radio? Well, we have one that we know of. Nancy Hegg (pictured) may not have read the fine print but she has agreed to allow Bus Radio to plaster her picture anywhere they want to help promote their controversial company. Ms. Hegg ought to be concerned about Minnesota's state ethics laws and regulations. Do we really want our teachers and bus drivers to be accepting cash and prizes from companies dependent on the school district for their revenue?
This second concern about ethics laws is real. What Bus Radio is doing is nothing more than paying government employees to promote their company. Obligation would encourage Ms. Hegg to immediately give back the gift card and to ask her school board attorney to give her a written legal opinion as to the legality of accepting such a gift. If the board attorney says it is OK, we would still urge her to refuse the gift because accepting money from Bus Radio looks really, really bad.
What if a driver is fired for accepting a financial gift from a school vendor? Like Bus Radio? Can that driver sue Bus Radio over their lost paychecks? In this country anybody can sue anybody, but Bus Radio has included special language to help protect the company from the wrath of terminated or demoted bus drivers. Check out the "No Liability" clause near the bottom of the contest rules. Bus Radio is making every effort to make sure no bus driver has recourse against the company.
Uh Oh – Bus Radio tells drivers they are on their own.
NO LIABILITY: By participating, entrants agree to release, discharge, indemnify and hold harmless the sweepstakes Entities and each of their respective officers, directors, employees, representatives and agents from and against any claims made by winners, entrants, or any other third parties, related in any way to the operation of this sweepstakes as well as any other claims, damages or liability due to any injuries, damages or losses to any person (including death) or property of any kind resulting in whole or in part, directly or indirectly, from acceptance, possession, misuse or use of any prize or participation in any sweepstakes-related activity or participation in this sweepstakes.