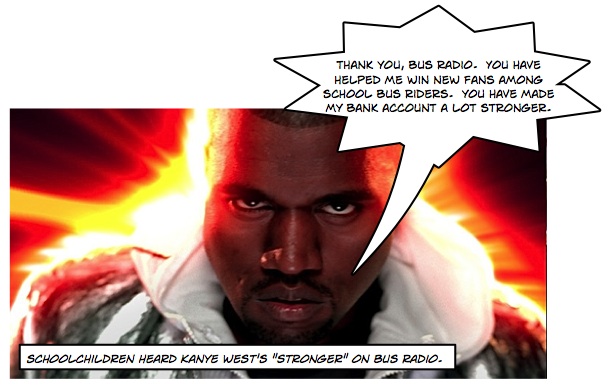 Bus Radio claims they did not play "Stronger" for elementary school kids. Elementary school bus driver Danny Kenny in Colorado said they did. "Nobody can hear it but the driver and the kids. They played Stronger by Kanye West, and I was thinking this is not an appropriate song for kindergartners or fifth-graders."
Although Bus Radio carried a "clean" version of Stronger, Kenny said it was still easy to determine which profane words were being disguised. He also objected to Timbaland's The Way I Are, which refers to stripping. [From the Rocky Mountain News]
Who are you going to believe, Bus Radio or Danny Kenny? (Hint: This is a real easy question. Don't overthink it.)
From Jim Metrock: It's Sunday night and I'm watching the Grammy's. One of Bus Radio's favorite artists comes on the stage. Kanye West is in some futuristic outfit singing his song "Stronger." Kids will remember the tune from their school bus. Many were forced to listen to Mr. West's "Stronger" on their ride to and from school.
Are we beginning to see the problem with Bus Radio?
Listen again to Bus Radio executive Ed Maloney admit, almost with pride, that Bus Radio played portions of "Stronger" on its "Mat and Lucia Show." He later contradicts himself and says the song was never played. It appears Mr. Maloney gets a little nervous in radio interviews and can't remember what he said a few moments before.
Check out Bus Radio's Ed Maloney's confused defense of his company's decision to play a portion of this song for school kids. Mr. Maloney may think Kanye West's "Stronger" is a perfect example of " Age-Appropriate" music for school buses, but I think most parents and educators would disagree with him.
Think about it: This filthy song was approved by the producer of the Bus Radio show. It was given a thumbs-up by Ed Maloney the Vice President of Programming. It was approved by xxxxx xxxxxxx and xxxxxxx xxxxxx the two DJs. They could have protested the song, but they don't want to rock the boat. They are mainly concerned about their paycheck. The song presented no problems to the mysterious and probably non-existent Bus Radio Content Board. (This is the anonymous group that makes sure all songs and other content on Bus Radio are "age-appropriate.")
How could so many people be so messed up when it comes to confusing a dirty song with an age-appropriate song?
Of course Bus Radio defends its promotion of Kanye West and his explicit content CD called "Graduation" (this is the CD that "Stronger is from) by claiming they protected the children by bleeping out certain vulgar words and by not playing the ENTIRE song. Bus Radio's management just doesn't GET IT. They are making their radio show RADIOACTIVE. Because they continue to PLAY GAMES with the public they will lose their right to be in ANY school.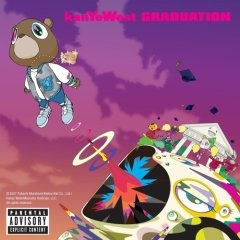 Has your child asked permission to buy this CD? Wondered why he or she is interested in this often vulgar music? Thank your local school board and superintendent. Because they were too lazy or "too busy" they failed to do their homework on Bus Radio.
Bus Radio had a chance to say that playing Kanye West was a MISTAKE. They had a chance to say they were SORRY; that it would NEVER HAPPEN AGAIN. The company sent their VP of Programming to talk to the public about the playing of West's controversial song to young bus riders. The arrogance of this company is incredible. The only thing one can take from Ed Maloney's comments is that Bus Radio will do this type of thing again and again in the future.
It makes me mad to think that this company is so reckless with the music they play on their radio show. And don't forget how reckless they have been on their web site. Just go through our archives to see what Bus Radio thinks is "age-appropriate." Obligation has documented what they have done. You don't have to take our word. When Bus Radio promoted filthy entertainment like Aliens in America, we provide the hard proof of it.
We disrespect our children when we sell their school bus time to this company.
Bus Radio introduced young children to Kanye West by playing this song on the "Mat and Lucia Show." Bus Radio said they received requests for the song so they played a portion of it for their captive audience.
"Stronger" by Kanye West
(Work it, make it, do it,
Makes us harder, better, faster, STRONGER!) [played throughout]
(Work it harder make it better,
do it faster makes us stronger,
more than ever, hour after
hour work is never over ) [played throughout]
Th-th-that that don't kill me
Can only make me stronger
I need you to hurry up now
Cause I can't wait much longer
I know I got to be right now
Cause I can't get much wronger
Man I been waitin' all night now
That's how long I've been on ya
I need ya right now
I need ya right now
Let's get lost tonight
You could be my black Kate Moss tonight
Play secretary, I'm the boss tonight.
And you don't give a f**k what they all say, right?
Awesome, the Christian in Christian Dior
Damn they don't make 'em like this anymore
I ask, cause I'm not sure
Do anybody make real s*** anymore?
Bow in the presence of greatness
Cause right now thou has forsaken us
You should be honored by my lateness
That I would even show up to this fake s***
So go ahead go nuts, go ape s***
Especially in my pastel, all my bape s***
Act like you can't tell who made this
New gospel homey take six, and take this, haters
N-n-now th-that that don't kill me
Can only make me stronger
I need you to hurry up now
Cause I can't wait much longer
I know I got to be right now
Cause I can't get much wronger
Man I been waitin' all night now
That's how long I've been on ya
I need ya right now
I need (Me likey) ya right now
I don't know if you got a man or not
If you made plans or not
If God put me in your plans or not
I'm trippin', this drink got me sayin' alot
But I know that God put you in front of me
So how the hell could you front on me
There's a thousand yous
And only one of me
I'm trippin', I'm caught up in the moment right?
'Cause it's Louis Vuitton Don night
So we goin' do everything that Kan like
Heard they'd do anything for a Klondike
Well I'd do anything for a blonde dyke
And she'll do anything for the limelight
And we'll do anything when the time's right
Uh, baby you're makin' it
(Harder, better, faster, stronger)oh
Th-that that don't kill me(oh)
Can only make me stronger(oh)
I need you to hurry up now(oh)
Cause I can't wait much longer(oh)
I know I got to be right now(oh)
Cause I can't get much wronger(oh)
Man I been waitin' all night now
That's how long I've been on ya
I need ya right now
I need ya right now
You know how long I've been on ya?
Since prince was on Apollonia
Since OJ had Isotoners
Don't act like I never told ya
Don't act like I never told ya
Don't act like I never told ya
Don't act like I never told ya
Don't act like I never told ya
Uh, baby you're makin' it
(Harder, better, faster, stronger)
N-n-now th-that that don't kill me
Can only make me stronger
I need you to hurry up now
Cause I can't wait much longer
I know I got to be right now
Cause I can't get much wronger
Man I been waitin' all night now
That's how long I've been on ya
I need ya right now
Never over