BUS RADIO PLAY's "LET'S GET IT STARTED"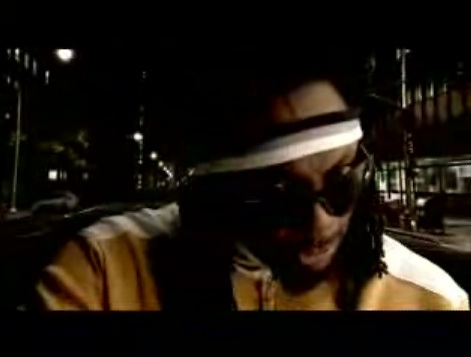 This picture is from the music video for the Black Eyed Peas' "Let's Get It Started." This is the lead singer who calls himself "will.i.am". Many students, especially in younger grades, have never heard of this group or of will.i.am. Now thanks to Bus Radio there are many more young fans for this often profane group. Mr. am(?) also has a solo career that Bus Radio is – unbelievably – plugging to its young listeners. His CDs are even dirtier than his group's. Both usually have a "Parental Warning" sticker on the CD cover. Lucia xxxxxxx, one of Bus Radio's DJs had the audacity to interview will.i.am ON AIR for kids. Another singer in the group, Fergie, also has a separate solo career and last year Bus Radio ran a contest to see which child could best sing one of Fergie's songs. (Thank goodness it wasn't one of Fergie's raunchier songs.)
Bus Radio continues it audio assault on kids with the recent addition of "Let's Get It Started" by the Black Eyed Peas.
What can we say about this song?
1. The Black Eyed Peas are a group known for their explicit lyrics. Bus Radio's programming people knew the group was an outrageous act to be playing for young people, but they knew few would complain.
2. This song was originally called "Let's Get Retarded." The name was changed so it could play on radio stations. The words "retarded" and "stupid" can have several meanings in pop culture, but with the Black Eyed Peas it means to get intoxicated, high. The "text" of the song may be about dancing, but there is a "subtext" about getting drunk or "stupid" and having sex.
3. Bus Radio either bleeped out the s-word in the first verse or they are playing a version with it cut out. Unfortunately, another explicit content group gets promoted on the school bus. Bus Radio executives continue to believe that a song is "age-appropriate" if there are no bad words in the song. Playing a "clean" song from a dirty CD made by a dirty group or artist is "A-OK" to the clueless Bus Radio employees.
Hear for yourself: Bus Radio plays "Let's Get It Started" for kids. (The full-length song was played for children. Only a portion is replayed here.) Notice the "Shout Out" before the song. Bus Radio's DJs encourage this type of disruptive behavior on school buses, in fact, they are so proud of it they rebroadcast it to other students.
LET'S GET IT STARTED
And the bass keep runnin', runnin'
And runnin', runnin' [7x]
In this context, there's no disrespect
So when I bust my rhyme, you break your necks
We got five minutes for us to disconnect
From all intellect, collect the rhythm effect
To lose your inhibition, follow your intuition
Free your inner soul and break away from tradition
Cause when we beat out, girl it's pullin' without
You wouldn't believe how we wow sh*t out
Burn it till it's burned out
Turn it till it's turned out
Act up from north, west, east, south
[chorus]
Everybody, everybody
Let's get into it, get stupid
Get it started, get it started, get it started
Let's get it started (ha), let's get it started in here
Let's get it started (ha), let's get it started in here
Let's get it started (ha), let's get it started in here
Let's get it started (ha), let's get it started in here
Yeah
[Taboo]
Lose control of body and soul
Don't move too fast people, just take it slow
Don't get ahead, just jump into it
Y'all here a body, the Peas are through it
Get started, get stupid
You'll want me body, people will walk you through it
Step by step, like you're into new kid
Inch by inch with the new solution
Transmit hits, with no delusion
The feeling's irresistible and that's how we movin'
[chorus]
Everybody, everybody
Let's get into it, get stupid
Get it started, get it started, get it started
Let's get it started (ha), let's get it started in here
Let's get it started (ha), let's get it started in here
Let's get it started (ha), let's get it started in here
Let's get it started (ha), let's get it started in here
Yeah
Runnin' runnin', and runnin' runnin'
And runnin' runnin', and runnin runnin' and
C'mon y'all, lets get woohoo!
Lets get cuckoo (in here)
Lets get cuckoo
Lets get cuckoo (in here)
Lets get cuckoo
Lets get cuckoo (in here) ow, ow, ow
Ya, ya, ya…
[Apl.de.apl]
Let's get ill, that's the deal
At the gate, we'll bring the bud top drill
(Just) lose your mind, this is the time
Y'all test this drill, and just bang your spine
(Just) bob your head like me, Apl.de
Up inside your club or in your Bentley
Get messy, loud and sick
Y'all mount past slow-mo in another head trip
(So) come then, now do not correct it
Let's get ign'ant, let's get hectic