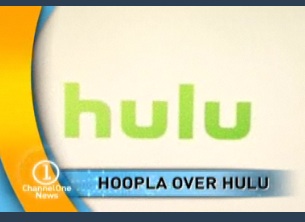 The first part of each Channel One News show is devoted to short "hard news" reports.
On March 12, Channel One pulled a fast one on students and teachers.
Angela Hunter, the new Channel One News Executive Producer, did something sneaky. She slipped in a "hard news" story about a new website called Hulu. com. Channel One treated the debut of this website as if it was world-shaking news.
The picture above is from the actual broadcast children saw. The title of the report is "Hoopla Over Hulu." This conveys a feeling that people across the country are flocking to this new site on the Internet. The choice of "Hoopla" was a poor one since there was no evidence that anyone was getting excited over this site. In fact, Hulu.com was unveiled to the general public on March 12 and Channel One News – a taped show – prepared this promo/"hard news" story on March 11 – the day before! We guess Channel One's producer ANTICIPATED hoopla over this new site.
There are dozens of interesting and important websites created each week. Why did Channel One News consider this one particular site so important?
It seems that NBC (the company that produces Channel One News) is a half-owner of the site. There's a lot riding on the success of this site since this is Big Media's attempt to counter You Tube's success. NBC obviously dictates what will be on Channel One News since they are the company's biggest benefactor.
The journalist-wannabes at Channel One News SOLD OUT. What they did was unethical.
Yes, Channel One's reporter says at the end of the "report" that NBC produces Channel One but that doesn't go far enough and misses the whole point. Channel One is trying to pass off an advertisement as hard news. Making a commercial into a news story makes the ad so much more effective, especially with impressionable children.
Obligation's Jim Metrock said, "This stinks. Young people are getting a pretty pathetic idea of what journalism is about if they are forced to watch Channel One News. Bad things happen when a marketing company tries to produce a news show. To these marketing people there is little difference between news and advertising. Here's yet another reason for schools to permanently turn this TV show off. In the last five years, Channel One News lost two million of its viewers. One thing we know for certain – there is no 'hoopla' over Channel One News."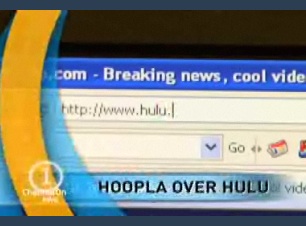 That's what you do, kids. Just type H U L U dot C O M and our buddies at NBC will be very happy.
Here is the portion of the transcript for 3/12/08.
We included a line about the next story to show how Channel One dropped this self-serving promotion piece in the hard news portion of the program.
ANNOUNCER: TODAY, TWO BIG COMPANIES ARE LAUNCHING A WEBSITE THEY HOPE
WILL COMPETE WITH YOUTUBE.
ANNOUNCER: IT'S CALLED "HULU", AND IT OFFERS TV SHOWS, MOVIES AND
SPORTS. THERE'S AT LEAST ONE KEY DIFFERENCE FROM YOUTUBE ALL THE CLIPS
ON HULU HAVE ADVERTISEMENTS.
ANNOUNCER: THE WEBSITE IS A JOINT VENTURE OF NEWS CORP AND NBC
UNIVERSAL, WHICH PRODUCES THIS BROADCAST.
ANNOUNCER: AN UPDATE TO A STORY WE BROUGHT YOU LAENVIRONMENTAL GROUP THE FBI CALLS ECO-TERRORISTS.