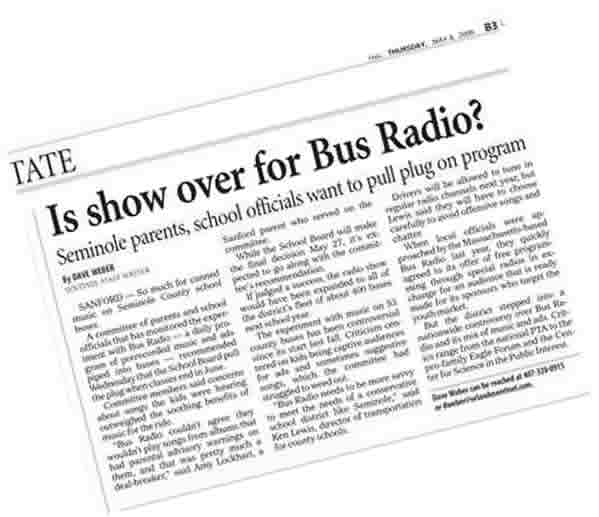 Show could be over for Bus Radio on Seminole County school buses
Seminole parents, school officials want to pull plug on program
Dave Weber | Sentinel Staff Writer
May 8, 2008
SANFORD – So much for canned music on Seminole County school buses.
A committee of parents and school officials that has monitored the experiment with Bus Radio — a daily program of prerecorded music and ads piped into buses — recommended Wednesday that the School Board pull the plug when classes end in June.
Committee members said concerns about songs the kids were hearing outweighed the soothing benefits of music for the ride.
"Bus Radio couldn't agree they wouldn't play songs from albums that had parental advisory warnings on them, and that was pretty much a deal-breaker," said Amy Lockhart, a Sanford parent who served on the committee.
While the School Board will make the final decision May 27, it's expected to go along with the committee's recommendation.
If judged a success, the radio show would have been expanded to all of the district's fleet of about 400 buses next school year.
The experiment with music on 53 county buses has been controversial since its start last fall. Criticism centered on kids being captive audiences for ads and sometimes suggestive songs, which the committee had struggled to weed out.
for the rest of the article http://www.orlandosentinel.com/news/local/seminole/orl-busrad0808may08,0,5094823.story