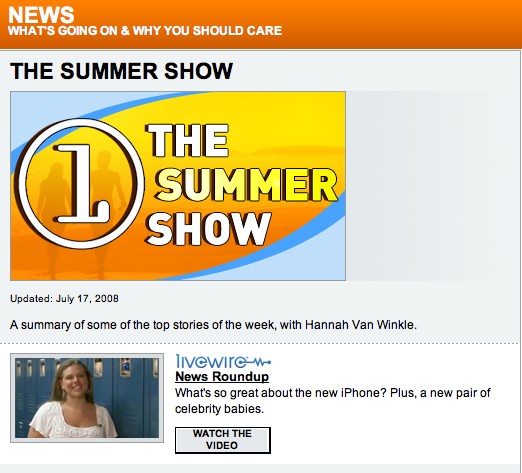 Last year Channel One tried "The Summer Show" and the results were ugly. CLICK HERE.

Now, Hannah Van Winkle is the face of the NEW and IMPROVED "Summer Show." Ms. Van Winkle is a new Channel One employee. In a terrible career move she left NBC for C1 – yipes!

Hannah is the host of this flimsy effort to "update" kids about current events during the summer. Hannah could have had two or three shows A DAY if Channel One was serious about being the "only news source" for millions of young people. But alas, Hannah and the rest of the small group at Channel One are incredibly lazy. She has been doing one show each week.

Hannah reads the teleprompter as Associated Press video clips are displayed. The Summer Show is taped. so if she messes up she can do it over. It looks like one try is all she needed. It might take up to 3 calories to do one taping of "The Summer Show." There is little effort on her part and on the part of her producer.

The Summer Show takes all of 2 minutes and 9 seconds.

Like the regular C1N show, this news is stale – real stale.

Hannah tells viewers that Hurricane Bertha is far out to sea. Why is this one of the top stories of the week?

Channel One is only doing one news update EACH WEEK. There are only four stories on a show. Why in the world spend 1/4th of your self-limited time reporting on a hurricane that not only is not a threat to the U.S. but never was. There was no computer model of Bertha that came close to suggesting it was going to be a problem for the U.S. mainland.

Channel One takes 1/4th of their show saying "bye, bye" to Bertha. Give us a break.

The next story is about the rush for the new iPhone. The only problem is the cell phone went on sale on July 11 – today is July 18.

Hannah of course is not going down to the Manhattan Apple store to get current information that could be of value to young people, heck, that would take energy, and money, and why do that when you have AP footage from a week ago.

Hannah ends her news update with a way too long report about Angelina Jolie and Brad Pitt having twins.

Good grief.

Ms. Van Winkle ends her incredibly "strenuous" two-minute webcast by holding up two fingers. No, she is not giving the victory sign and she is not giving the peace sign. She is indicating to the few young people actually watching her "Summer Show" that she will be back in TWO WEEKS. It seems that doing a two-minute news update every seven days is just too hard for Hannah and Channel One.

With two weeks off Ms. Van Winkle has an opportunity to catch up on some sleep.