It appears that Channel One has dropped The Summer Show.
We suspect a mercy killing.
This short, 2-minute video was their feeble attempt to update kids on news stories over the summer.
There is no link or mention of The Summer Show on Channelone.com's homepage or on their "News" page. This is interesting since Channel One announced last week they will be delaying the start of their broadcast season by one week.
Below: Here is Channel One's homepage today. There used to have The Summer Show logo on the first page. Notice how there is little timely news on this page. In the past, Channelone.com had thrown kids a bone by running a "crawler" of AP wire headlines across their page. Even this is gone from what appears to be a close-to-abandoned Channelone.com.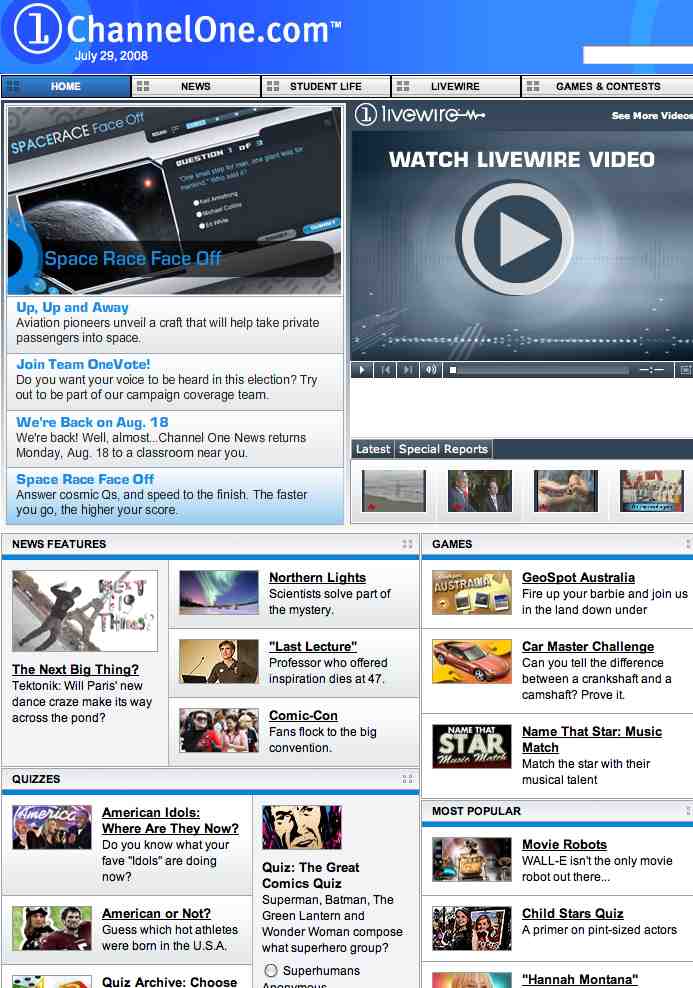 We did find a remnant of The Summer Show when we clicked on "Livewire." Doing that brings up the "latest" Summer Show clip from July 16 that is covering the release of the new iPhone on July 11 and Brad and Angelina's twins. No self-respecting 10-year-old would ever consider Channel One a good source of timely, important news stories.
You don't have to be a journalist or a Channel One-pretend journalist to know The Summer Show was created for one reason. Channel One now can say they update kids over the summer. They can brag to school boards about how they take seriously the job of informing young people. They don't have to tell the details. They don't have to explain that they only had a few updates the entire summer.
This is typical of Channel One News. They are all public relations. They take a little truth and mix it with a big dose of never happen. Like their DIGITAL UPGRADE. There is a little truth to their digital boasting but it is purposefully misleading. Channel One provides no school with digital TV sets although the public is led to believe that.
Below: When a young person clicks on "Livewire" they see the lost Hannah Van Winkle host of The Summer Show reporting on extremely old news.