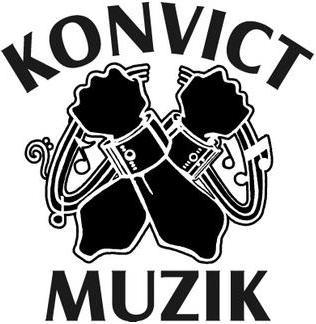 From Jim Metrock:
I wrote about this type of thing before, but here we go again.
Yesterday afternoon, November 14, middle school bus riders heard a song on BusRadio called "What You Got."
It's by Colby O'Donis.
You've never heard of him and many "with-it" iPod-listening young people haven't either.
He is a new artist. Real new.
Getting air time on BusRadio is a big career break for O'Donis. His first CD came out only six weeks ago.
There appears to be no problem with the lyrics of this song. The CD it came from does NOT have a parental warning. That's a good thing, but there's more.
I would like you to listen to the song by clicking on the link below.
I did not record the whole song, just the first part then about 32 seconds into the song I spliced together another part of the same song. All I would like you to do is listen for two different voices.
"What You Got" by Colby O'Donis.
Any bus driver hearing this song would not think a thing about it. This song exemplifies why no bus driver or school transportation person can effectively screen BusRadio songs. It would take too much work. It would cost too much.
Although BusRadio says this song is "What You Got" and it is sung by Colby O'Donis, that isn't quite true.
The full, correct title of the song is "What You Got (feat. Akon)." Below is what kids will see when they go to iTunes to download the song they heard on BusRadio.

"feat." of course means "featuring" and this has become a widely used technique in popular music, especially with hip-hop, rap artists. Very often a well-known rap singer will be "featured" on a new artist's song to draw listeners to the lesser known act.
Akon is the big star. O'Donis is a rookie.
Here are some of Akon's best known CDs: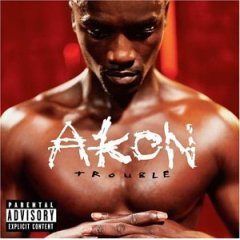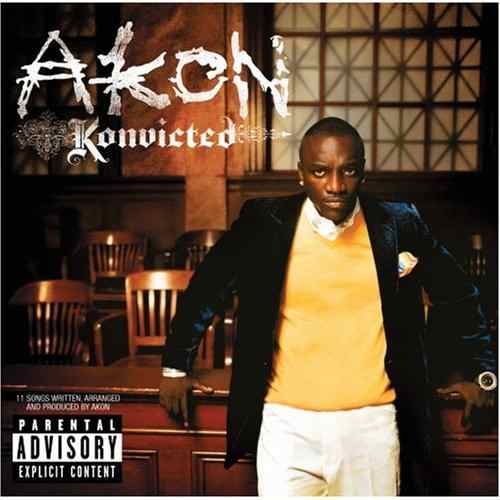 There is no version of "What You Got" without Akon singing with O'Donis. The music video heavily features Akon. There is good reason for this.
Akon has made so much money selling his explicit-content music to kids that he now owns several companies. One of his record labels is Konvict Muzik. This company has signed O'Donis to a six-album record deal. O'Donis works for Akon.
Akon is obsessed with the "Konvict" brand. One Wikipedia article about Konvict (not a reliable source by any means) says, "At the beginning of most Konvict Muzik artists' songs there is the sound of the clank of a jail cell, followed by Akon uttering 'Konvict'."
Akon's companies want the Konvict brand to be more than just a young person's favorite brand of rap music. They want young people to totally buy into the brand. That is why they have a Konvict apparel company. No joke. You can't make up stuff like this.
Wouldn't your be proud to see your son in this stunning Konvict hoodie?: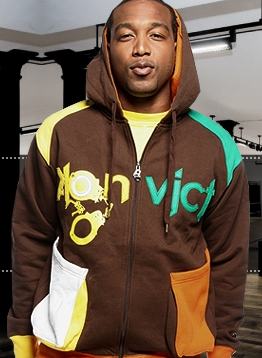 The handcuffs are a standard part of the Konvict "look."
And let's not forget your daughter. If she hears enough of the Konvict music (or "muzik") on BusRadio she will probably be asking for some sensational Konvict clothes. This is from Akon's Lady Konvict line: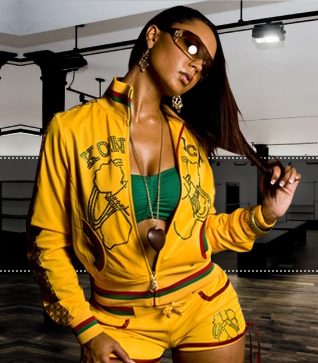 Yes it is stylish but she'll probably get sent to the principal's office fairly soon after walking into homeroom.
http://www.konvictonline.com/ Your one-stop source for all things Konvict.
This article below is from an interview with Akon's business partner and brother.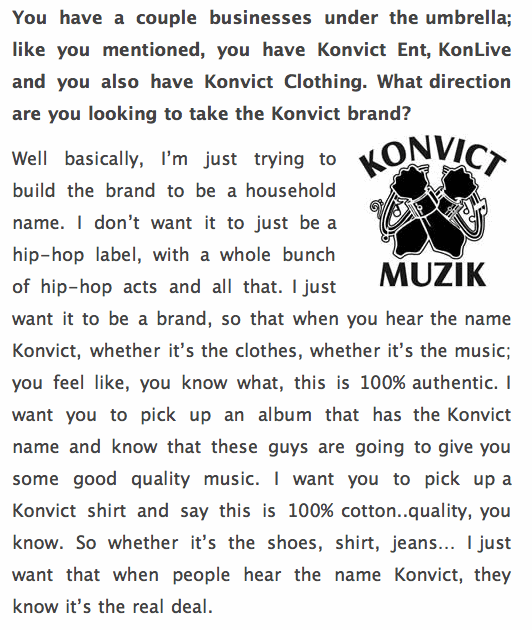 OK, so what?
Back to the nice song by Colby O'Donis, featuring Akon.
Akon shouldn't be heard on any school bus. It's one thing to hear this guy on a regular AM/FM radio and another when children are compelled or forced to listen to him on the school's OFFICIAL radio station. When a school signs a contract with BusRadio, they make BusRadio the school district's radio station. That is why few schools sign up with this company. A district becomes responsible for what is played and the district has no control over what BusRadio plays. (Districts can complain about music and it might or might not be taken off their local BusRadio programming but that isn't control. That's complaining. And you have to be an expert on all popular music to be able to complain.)
Right now, November 2008, BusRadio is promoting Konvict Muzik artist Colby O'Donis to students. THEY made that decision in Needham, Massachusetts, BusRadio's home. THEY didn't ask school transportation personnel in Florida, Tennessee, Colorado, Arkansas, or California if that was "OK" or not. This is why BusRadio will constantly be a nightmare for the school districts that have installed their radios.
Go back to Seminole County, FL to see what happens when parents find out about BusRadio's "Clean songs from dirty artist" policy.
BusRadio happens on taxpayers' time. Taxpayers have paid the cost of transporting schoolchildren. BusRadio wants to usurp that time and sell the attention of children to anybody THEY choose. This time they chose to sell the kids to Konvict Muzik recording artist Colby O'Donis. Kids that are forced to listen to BusRadio will get to like this song and they will get to like Akon too. It's his song almost as much as O'Donis.
Every song on BusRadio is an advertisement.
BusRadio is helping to promote Konvict's release of O'Donis's first CD ("Colby O") released just six weeks ago. This CD has no parental warning, but few parents would want their school district helping promote one of the sleazier record labels around.
Few bus drivers could tell what was really happening when "What You Got" came blaring out of their BusRadio on the afternoon of November 14, 2008.
Below: Colby O'Donis does the thug Konvict Pose.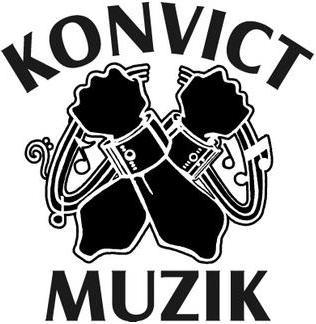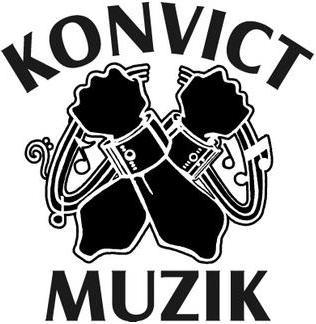 Bus drivers should be watching to see if kids start displaying this Konvict salute when Konvict muzik (or "music") comes on BusRadio. It might be a sign that it is time to turn off BusRadio for good.

Middle school kids on busses equipped with BusRadio are hearing Colby O'Donis over and over again. (He's the guy in the middle above.)
When kids buy O'Donis' CD they will not only hear Akon but will also hear T-Pain, the guy on the right. (This guy's music will make you sick at your stomach. He also is a "featured" artist on the O'Donis's CD.)
This is how kids slide into the world of dark, disturbing music. Anybody forcing kids to listen to BusRadio have a hand in introducing kids to this type of music.
If a driver wanted to protect his or her riders, and I have to think that maybe 99.99% of them do, he or she would have to devote hours and hours to researching the songs on BusRadio.
There is no way bus drivers can screen BusRadio.