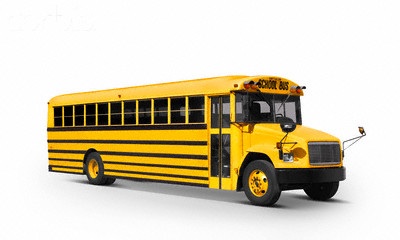 1. Count the side windows.
2. Read this:
In 2006, Education Week published an article about the BusRadio controversy ("School Bus Radio Venture Raises Safety, Commercialism Concerns"). After quoting BusRadio's president saying his radio show will "soothe the beast on the bus" the article when on:
"But one transportation official said encouraging radios on school buses goes against a trend toward restrictions on those radios since the National Transportation Safety Board weighed in on the matter several years ago.
In a 1995 incident in Fox River Grove, Ill., and a 2000 incident near Conasauga, Tenn., trains collided with school buses as they drove over or were parked at a rail crossing, killing and injuring several children. In both cases, the federal safety board found that radios playing at the time of the accidents probably interfered with the drivers' ability to hear the approaching trains.
Following both accident investigations, the NTSB recommended that radio speakers located near school bus drivers' heads be disabled, and that states develop guidelines for the use of radio on buses and the placement of speakers.
Most states heeded that advice, said Robin L. Leeds, the industry specialist for the National School Transportation Association, a Washington group that represents privately owned school bus companies.
"There are a lot of buses that have had the capacity to provide commercial radio, but have stopped in the wake of those accidents," said Ms. Leeds, whose organization neither endorses nor opposes the Bus Radio venture. "While the NTSB recommended that speakers in the drivers' compartments be disconnected, some states went further, to say that there couldn't be any radio speakers."
Ms. Leeds added that she knew of no independent research to support Bus Radio's own survey finding that children were quieter and better behaved when a radio was in use."
National Transportation Safety Board – Safety Recommendation – January 22, 2002 – H-01-47
3. Watch and listen to this YouTube video:
4. BusRadio is LOUD. We estimate that there are at least nine windows behind these girls. We do not know the size of their bus. There are school buses that are longer and shorter than the one we have pictured. We picked the above bus because it looked like a standard school bus size to us.
Notice the girl on the right can clearly hear and sing along with the blaring BusRadio songs even with her iPod ear buds in her ears.
How close are these bus riders to the bus driver? We don't know, but this video should raise serious concerns with parents and school administrators.
On a separate note, the last song on this YouTube video is The Way I Live by Baby Boy Da Prince. BusRadio is so busted. Once again they are caught playing a toxic artist for a captive audience of young bus riders.