From Jim Metrock:
Anchor Bay Entertainment is owned by Starz, LLC (Starz and Encore cable movie channels).
Anchor Bay distributes DVDs. They are best known for their horror titles such as Dawn of the Dead, Day of the Dead, Army of Darkness, and The Evil Dead. The company also has a children's home video unit. It's that part of its business that is facing a big challenge this month.
The Velveteen Rabbit DVD is due to be released on the 17th of March. In these bad economic times, many parents may think twice about whether their child truly needs one more $24.95 DVD. That's the challenge for Anchor Bay's sales department.
It is not surprising to see the company advertising on BusRadio. It's a perfect fit.
Anchor Bay doesn't have to convince the parents to buy it, with BusRadio, they can simply convince the child that he or she needs it.
BusRadio advertising is beyond the control of parents. BusRadio will have a captive little conversation with the potential consumer…er…child and the child will convince (read: nag) the parents to make the purchase.
BusRadio offers benefits that other advertising vehicles can't. First there is the captive audience. A captive audience is dream-come-true for companies like Anchor Bay Entertainment.
When a school district agrees to experiment with BusRadio and they tell drivers to play BusRadio's programming, then that programming becomes the official radio station of the district. EVERYTHING on the show is approved or endorsed by the school district. That may not be the intent of the district, but that's reality. Children have every reason to think that if the ads and music are required to be played on their bus, then the school stands behind everything the children hear.
BusRadio also offers the services of xxxxxxx xxxxxx their DJ. Children who have been on school buses playing BusRadio have gotten to know his voice, his goofy antics on air, and his caring nature as he reminds them to be safe on the bus. He is the one students can call to give a "shout out" to their friends. He is the nice man that plays song requests. xxxxxx is known as "Mat" to the young riders and Mat IS their friend. Mat would never suggest anything that is not in a child's best interests.
Mat, however, is a better friend to advertisers like Anchor Bay Entertainment. That's because Mat can convert, if he chooses to, the trust the kids have placed in him into dollars for the advertiser. If Mat can be persuaded to actually voice a commercial for a company, then that company's products have a much better chance of selling. What are the chances that Mat can be convinced to do such a deed? Fairly high. In the 100% range.
Listen to Mat the Salesman:
That was on the ELEMENTARY SCHOOL show. Mat, the DJ, doesn't even bother to tell these extremely young listeners that they are about to hear an "advertisement." How much trouble would that have been? No, Mat wants, and needs, to be a constant, consistent voice of authority. Everything he says to children has to be from the "same Mat." The Helpful Mat, the Funny Mat, the Mr. Safety Mat, and Pitchman Mat have to be indistinguishable. Otherwise Mr. xxxxxx would be a less effective product promoter.
If you are a parent and you were to write down a list of people who have great influence in your child's life, I imagine you would not have "xxxxxxx xxxxxx" on that list, but you should – that is if you are unfortunate enough to have BusRadio on your child's bus. BusRadio boasts Mat is heard by 1,000,000 school bus riders. If that is true, this man has the power to make cash registers ring across the country. Anchor Bay Entertainment is counting on Mr. xxxxxx to come through for them, and from what we have heard, Mr. xxxxxx will "deliver the goods."
The ad campaign for this DVD continues in earnest on Busradio.com. This first image is from BusRadio's homepage. Notice the MapleStory ad.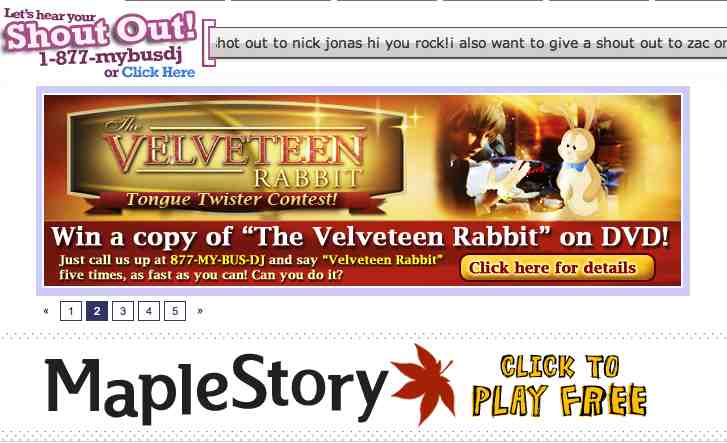 When children click on "Click here for details" they go to this page on Busradio.com: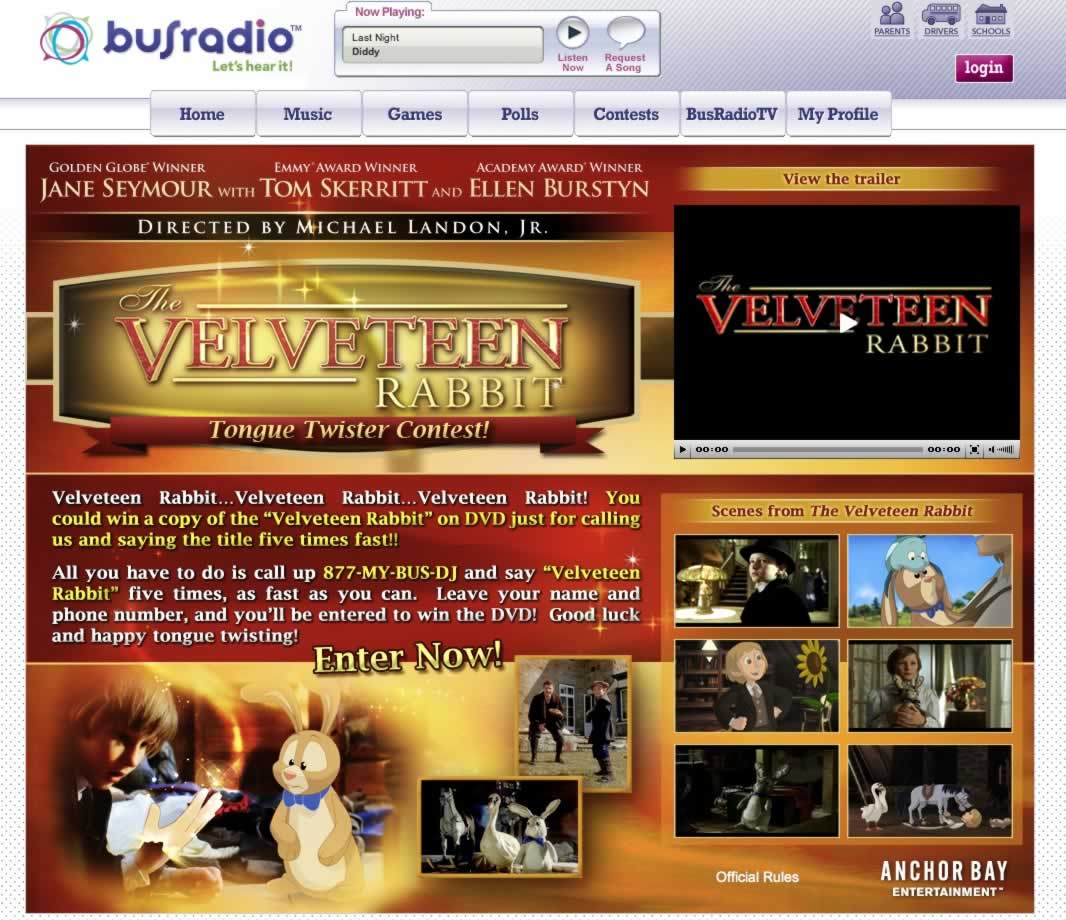 Check out the official rules that elementary schoolchildren are suppose to read before entering. OFFICIAL RULES