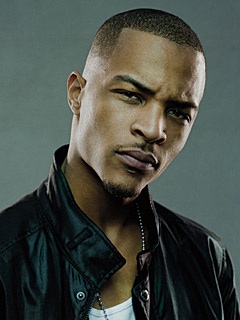 Many parents out there are very familiar with the smooth, melodic songs of Clifford Harris, known as T. I. to his fans. [Previous article]
Who hasn't grooved out to the uplifting lyrics of Dope Boyz, Don't You Wanna Be High, and Da Dopeman?
His romantic songs span the spectrum from the evocative Big Sh** Poppin' (Do It) to the tender Chillin' With My Bitch.
Over the seven years he has been on the charts, this versatile singer has hit it big with Porn Star , Get Ya Sh** Together and F***ing Around.
Well now thanks to the magical technology of BusRadio young people can get their own personal dose of T. I. both on the way to school and coming home.
No, they won't be hearing the sophisticated songs mentioned above, but they will hear sanitized versions of T. I.'s newest hits.
Below is a short sampling of the song played last week on BusRadio's high school show. It starts off with a chorus by Justin Timberlake and then T. I. takes over. You'll hear a blank spot on this audio clip and you'll notice from the lyrics below that whole parts of the song are excluded. Count on BusRadio to be looking out for the young folks.
T. I. is one of the most played artists on BusRadio. Now young people and their "with-it" parents will have at least one thing in common to talk about at the dinner table.
For those parents who aren't "with-it" you might want to check and see if your school district has BusRadio. If it's NOT in your school take a little time and thank your Board, Superintendent, and the Transportation Director. If your school has BusRadio, call these same people and demand it be removed immediately.
Dead and Gone
[Spoken – T.I.]
Ay
Let me kick it to you right quick, man
That on some gangsta sh** man, on some real sh**
Anybody done been through the same thing, I'm sure you feel the same way
Big Phil
This for you pimpin'
[Chorus (Justin Timberlake (T.I.)):]
Oh
I've been travellin' on this road too long (too long)
Just tryna find my way back home (back home)
The old me is dead and gone, dead and gone
And oh
I've been travellin' on this road too long (too long)
Just tryna find my way back home (back home)
The old me is dead and gone, dead and gone, dead and gone
[Verse 1 – T.I.]
Ever had one of them days wish would've stayed home
Run into a group of niggas who gettin' they hate on
You walk by
They get wrong
You reply then sh** get blown
Way outta proportion
Way past discussion
Just you against them, pick one then rush 'em
Figure you'll get jumped, hell that's nothing
They don't wanna stop there now they bussin'
Now you gushin', ambulance rushin'
You to the hospital with a bad concussion
Plus ya hit 4 times
Plus it hit ya spine
Paralyzed waist down now ya wheel chair bound
Nevermind that now you lucky to be alive
Just think it all started you fussin' with 3 guys
Now ya pride in the way, but ya pride is the way
You could f*** around, get shot, die anyday
Niggas die everyday
All over bull sh**, dope money, dice game, ordinary hood shit
Could this be 'cos of hip hop music?
Or did the ones with the good sense not use it?
Usually niggas don't know what to do when their back against the wall so they just start shootin'
For red or for blue or for blo I guess
From Bankhead or from your projects
No more stress, now I'm straight, now I get it, now I take
Time to think, before I make mistakes just for my family's sake
That part of me left yesterday
The heart of me is strong today
No regrets I'm blessed to say
The old me dead and gone away
[Chorus (Justin Timberlake (T.I.))]
[Verse 2 – T.I.]
I ain't never been scared, I lived through tragedy
Situation could've been dead lookin' back at it
Most of that sh** didn't even have to happen
But you don't think about it when you out there trappin'
In apartments, hangin', smokin', and rappin'
Niggas start sh**, next thing ya know we cappin'
Get locked up then didn't even get mad
Now think about damn what a life I had
Most of that sh**, look back, just laugh
Some sh** still look back get sad
Maybe my homboy still be around
Had I not hit the nigga in the mouth that time
I won that fight
I lost that war
I can still see my nigga walkin' out that door
Who'da thought I'd never see Philant no more?
Got enough dead homies I don't want no more
Cost a nigga his job
Cost me more
I'd took that ass-whooping now for sure
Now think before I risk my life
Take them chances to get my stripe
A nigga put his hands on me alright
Otherwise stand there talk sh** all night
'Cos I hit you, you sue me,
I shoot you, get locked up, who me?
No more stress, now I'm straight, now I get it, now I take
Time to think, before I make mistakes just for my family's sake
That part of me left yesterday
The heart of me is strong today
No regrets I'm blessed to say
The old me dead and gone away