The web site for Channel One News is becoming much more commercialized.
Channelone.com did not have advertising when it began in 1996. That is the way it should have remained, but over the years as Channel One's financial health has deteriorated, advertising was added to the site and has steadily grown in volume.
Today, the web site is a royal mess.
Whatever news there is on the site is from the AP wire. Most "articles" which are nothing more than quizzes and feature stories stay up for months or years. There is no news value to them and there is nothing timely about the content.
Channel One News is now adding "sponsored news" articles that appear on their "news" page. This is ugly journalism. The message is: Your company can become the "news" for kids, if you pay us (Channel One News) enough money.
Sponsored-news is however slightly better than another practice of Channel One and that's the "ad-masking-as-the-news."
An example of that is this shot of a section of Channel One's home page this morning.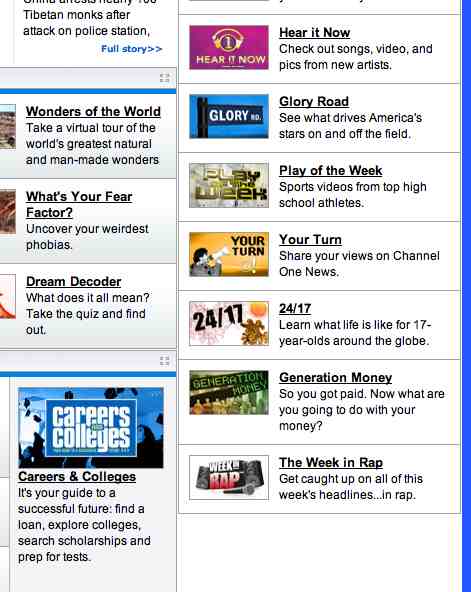 Clicking on the "Career and Colleges" article will take a young person to a sister company of Channel One's that seeks to obtain personal information from students looking for colleges to attend. They will then sell that information to various companies. Career and Colleges, Channel One, and Alloy are all marketing companies. They consider students "targets" and they make their money by trading on information about, and access to, young people. Channel One should have some words to indicate this is an advertisement. They don't because their interest in making money off of young people is greater than their interest in informing young people.
Check out Career and Colleges and go through the process of setting up an account and seeking information about schools and scholarships. It is quite an experience.
Below is the "News" page at the Channelone.com site: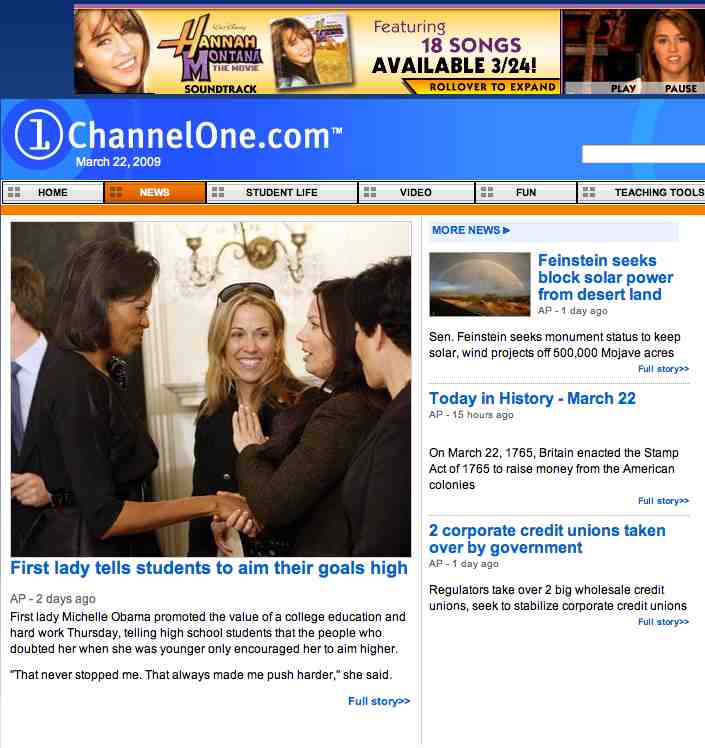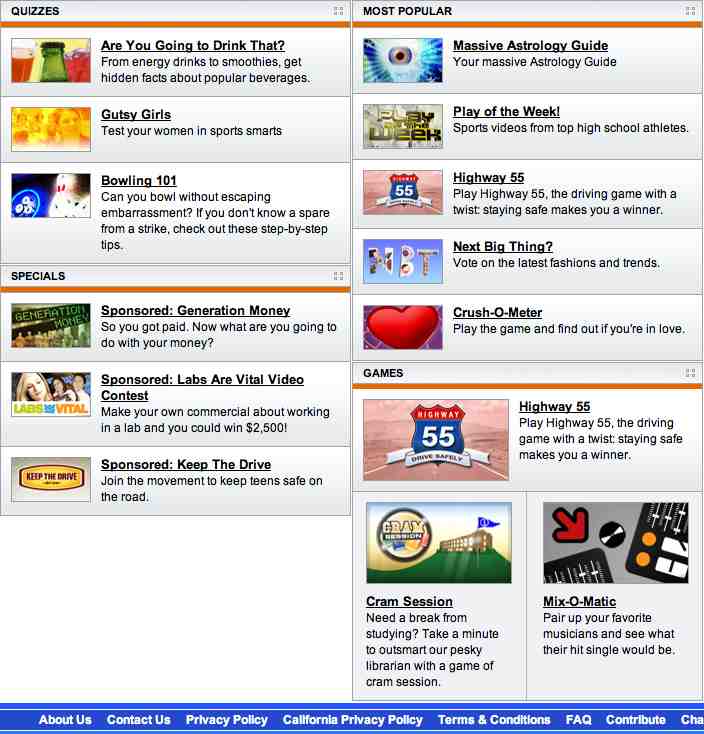 There is nobody left at Channel One News to write a news story. They see something on the wire and they paste in on their site. It's not just that they are lazy, it's that they appear not to care anymore. "Crush-O-Meter" on the news page?! Is there so little news in the world that Channel One thinks this is acceptable? This "Crush-O-Meter" content has been a fixture on this site for over two years.
The webmaster of this site probably has several other jobs. The site is outdated and stale – much like the in-class TV show. The copyright notice for the site still reads "2008" and people who haven't worked at Channel One in over a year are still listed as employees. During holidays and the summer the site is routinely unchanged for weeks. These are minor things but they are an indication that Channel One has at least partially abandoned its site.
To see Channelone.com's eroding traffic stats visit Alexa.com. http://www.alexa.com/data/details/traffic_details/channelone.com