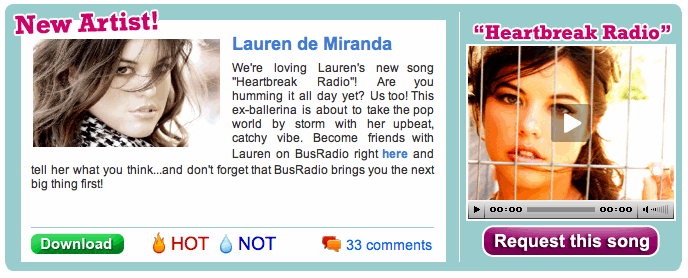 One of BusRadio's ads for Lauren de Miranda.
From Jim Metrock:
Lauren de Miranda is one of BusRadio's in-house artists.
Last Friday, May 22, she and her publicist rode on a Jonesboro School District (AR) school bus and handed out copies of her music to bus riders.
It is hard to believe school administrators allowed this to happen. School officials evidently felt so comfort with a rock singer promoting herself on a district school bus that the press were notified and a story was written about Ms. de Miranda on the bus. This ultimately doesn't turn out well for BusRadio because it results in an Jonesboro Sun editorial urging school officials to reexamine their contract with BusRadio. [If there ever was a "gang that couldn't shoot straight" it's the gang at BusRadio.]
This editorial provides the citizens of Jonesboro with enough information to start asking some good, hard questions of their school district's Board of Directors and Dr. Kim Wilbanks the Superintendent.
It is said that sunshine is the best disinfectant.
Sun Editor Roy Ockert Jr. has put a white hot spotlight on BusRadio's presence on Jonesboro school buses. The public will now determine if BusRadio is a good idea or not.

Jonesboro school administrators and members of the Board of Directors should take a closer look at the BusRadio program, which has been allowed on district buses for some time. We hadn