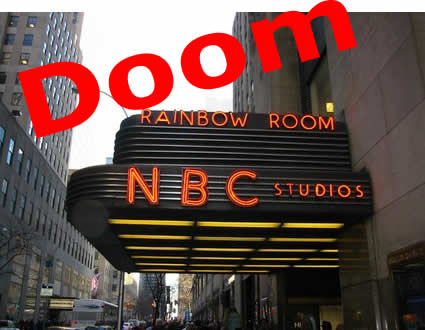 This is a picture we ran in 2007 saying NBC's deal with Channel One News would not work.
Exactly two years ago Alloy Media and Marketing announced deal with NBC News.
NBC agreed to produce Channel One's TV show in a small corner of NBC's Rockefeller Plaza studios.
NBC was so excited. Alloy was so excited. The few remaining people left at Channel One News were so excited.
It didn't work out.
NBC tired of Channel One and Alloy.
Bags were packed. Don't let the screen door hit you on the way out.
Great and exciting news however, CBS is thrilled to be the new production company for Channel One News.
This has a lot to do with a man named Jeff Ballabon.
Mr. Ballabon is a lobbyist who made a bunch of money year after year trying to help Channel One News. All he did was help himself. His tactics helped to give Channel One News a worse reputation than they already had. That is saying something.
Mr. Ballabon unbelievably is now a vice-president of media relations at CBS. Good luck to CBS with this man as your top "communications" person. Anyway, he probably had something to do with the decision to take in the gypsies of Channel One News.
In April 2006 Channel One News announced they were closing down their LA studio and dismissing all their production people. They were moving to a rent-a-studio operation in a strip mall in Washington DC.
In April 2007 Alloy Media and Marketing became the new owners of Channel One News. After years of Jack Abramoff, Jeff Ballabon and the like, Channel One News had no value. When all was said and done, Primedia, Channel One's previous owners gave Alloy $5 million to take the stinking company off their hands. It's like having a yard sale in your drive way and you are paying a passerby to take all all your stuff.
Things didn't work out in DC. Shortly after the Alloy "purchase" Channel One moved their crew from DC to NBC News in New York City.
At least Channel One News lasted two years at NBC.
What can CBS do for Channel One News? What can Channel One do for CBS? The answer to both is "nothing."
Channel One News is a dead brand. Schools have tuned it out. The equipment continues to deteriorate.
It is a sign of how low CBS News has fallen that they are partnering with Channel One a company that under force of contract compels an audience to watch its news show. How sad is that?
Press release:
CHANNEL ONE NETWORK AND CBS NEWS TO CO-PRODUCE AWARD-WINNING WEEKDAY NEWSCAST FOR TEENS BEGINNING THIS FALL
Partnership Provides New Resources for Channel One; A New Audience and a New Outlet for CBS News
NEW YORK, NY (June 21, 2009) – Channel One Network, the preeminent news and content provider for teens, today announced it has partnered with CBS News to form a new production unit. Commencing in fall 2009, CBS News Productions will co-produce Channel One's longstanding, award-winning news broadcast, Channel One News, which reaches more than six million middle and high-school students across the country on a daily basis.
"CBS News is committed to providing outstanding coverage, breaking news, politics and human interest stories across many platforms to many audiences and we view America's youth as a uniquely important audience," said Sean McManus, President, CBS News and Sports. "Our partnership with Channel One expands our commitment to the next generation by reporting the news stories that are important to teens and sharing their unique insights with other CBS News viewers."
CBS News' dedication to including young Americans in the national forum is a commitment that most recently has included the unique ongoing "CBS REPORTS: Children of the Recession," series of segments exploring the many ways the current economic climate is impacting our country's youth.
"Channel One and CBS News share the same values of creating the highest quality news and current affairs programming," stated Margery Baker, Vice President CBS News and the executive in charge of CBS News Productions. "We are very pleased at the prospect of producing content that specifically resonates with and educates young students through this collaboration."
Partnering with CBS News Productions in the production of the daily 12-minute Channel One News broadcast offers Channel One the ability to draw on the vast resources of CBS News, thereby further enhancing Channel One's ability to deliver topical and thought-provoking features to students. Channel One News will premiere its fall broadcast from a newly designed and visually dynamic set within CBS News.
"As we approach our twentieth anniversary of delivering news directly to America's youth, we are elated to partner with a news organization that shares our steadfast commitment to broadcasting quality content that enriches teens' learning experience and prepares them to become successful citizens," commented Kent Haehl, CEO of Channel One Network. "CBS News brings a tremendous and storied history of exceptional, award-winning news programming. We look forward to adding their expertise to Channel One's own unique voice, as well as conveying CBS News' coverage to an extensive and vital generation of viewers."
Additionally, through You Tell It (www.YouTellIt.com ), Channel One's emergent user-generated video platform, the Channel One Network is providing teens with a unique channel in which they may share newsworthy experiences affecting their generation. You Tell It video submissions will be selectively integrated into the Channel One News broadcast, giving teens a platform through which they may voice their opinions and share their stories with like-minded peers.
Angela Hunter, SVP, Executive Producer of Channel One News, offered, "Channel One's broadcast and new social media platforms are fueling young America's thirst for information and providing valuable resources for peer-driven storytelling and responsible reporting."
"Our collaboration with CBS raises the volume of the youth voice," added Ms. Hunter. "We look forward to welcoming students back to school with visible energy and advancements in Channel One's programming, from a fresh and vibrant backdrop to broadened and in-depth coverage on the immediate issues facing their generation."