Hey I'm so raw, and I'm so rich
And you so flawed niggaz ain't 'bout s***
I'll take yo' broad, I can f*** yo' bitch
Know that I'm gon' ball every chance I get
Every chance I get, real talk, no s***
Every chance I get, make money on this
I'll take yo' broad, I can f*** yo' bitch
Know that I'm gon' ball every chance I get, every chance I get
From Jim Metrock:
Those are the lyrics to a song from a rap album called Paper Trail.
The singer of this filth is a rap artist from Atlanta called T.I.
Actually T.I. is currently residing in a federal prison in Forrest City, Arkansas. Weapons and drugs have been a weakness for this singer.
If your child rides a bus equipped with BusRadio, he or she is very, VERY familiar with T.I. And that is not good.
I have written before about BusRadio's infatuation with this thug's music. [Why Is T.I. Still On The Bus?, Dead And Gone, T.I. vs. T.I.P. is S.T.U.P.I.D.and T.I.]
After his latest felony conviction in March 2009, I urged BusRadio executives to remove him from their play lists. They didn't.
This past Monday, July 27, I went to Busradio.com and listened to the rebroadcast of the latest BusRadio programming. T.I. was featured again. Now I want to be give a very explicit example of the explicit artists that are being featured on BusRadio. Listen to the cleaned-up songs from this filthy album and then if you dare listen to a sample of the other songs that kids will be exposed to if they buy Paper Trail.
WARNING: EXTREMELY VULGAR
AUDIO FILE: Every Chance by T.I.
This song is from the CD Paper Trail.
This song was NOT heard on BusRadio. This is an example of the content a young person would hear if they bought the album promoted on BusRadio.
When I hear a defender of BusRadio say they have heard the program and proclaim the content is age-appropriate, I know that person has not taken the time to investigate who is singing the songs. BusRadio has an odd practice of not announcing the artist name. On regular radio one will hear, "Now the XYZ Band with their latest hit 'ABC.'" Or, "That was 'ABC' by the XYZ Band." That is rare on BusRadio. So an average adult listener would be in the dark on most BusRadio artists. The kids however would know who is singing.
T.I. is not the only BusRadio-featured artist that is known for explicit lyrics.
BusRadio has a whole stable of foul artists that get air time on their school bus radio shows. Teens and preteens who listen to BusRadio have heard clean or cleaned-up songs from these artists or interviews with them plugging their music. (All of them have CDs with parental warning stickers): Buckcherry, Hinder, Kanye West, Diddy, Kevin Rudulf, Seether, Missy Elliott, One Block Radius, Ne-Yo, Akon, Lupe Fiasco, Simple Plan, Fabolous, Timbaland, Black Eyed Peas, Fergie, and My Chemical Romance.
Few parents are going to put up with BusRadio's policy of playing "cleaned-up songs from dirty artists" much longer.
BTW: Another song on this BusRadio promoted CD is called "Porn Star." You don't want to know.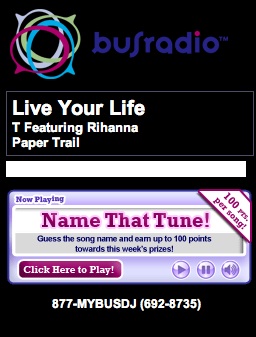 Screen grab from Busradio.com.
Notice that BusRadio misidentifies "T.I." as "T." Is this to confuse nosey parents?